Archive for the 'Fighter of the Month' Category
It's nearly a disservice to have such a late article on, dare I say, one of the top 5 streetfighters in history.  I feel as if the builder, Toni Kivinen and the double aspirated evolution of his GSX-R, deserve a novel, not just a measley blog post.  In lieu of taking even longer to complete the tale of a Cruel Handjob, may I present to your the Fighter of the Year for 2011.
I can remember the first time I stepped foot, so to speak, in Toni's build thread.  Twincharged, I thought, have I died and gone to horsepower heaven?  I, along with everyone else that had the pleasure of observing this beast come to life, was in awe of the idea and the build itself.  "Cruel Handjob" is not your run of the mill Streetfighter, in fact, I will venture to say that Toni's GSXR is the paradigm.  Toni has hand-made two Fighters of the Month and two Fighters of the Year; with two different motorcycles.  That many wins speaks highly to his moto-prowess.  Toni is a fighter legend and has set a high bar for Streetfighters not only in America, but also the world.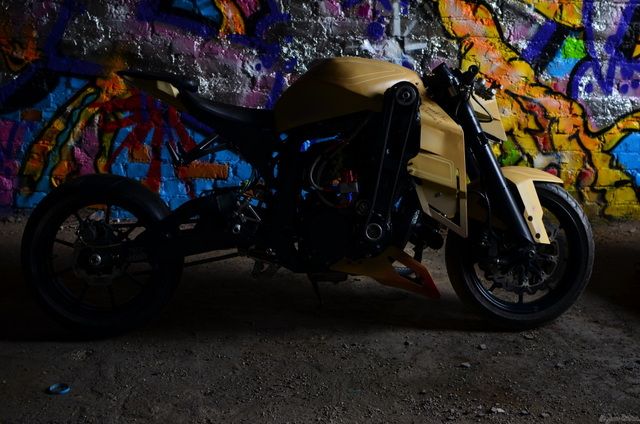 It's pretty obvious gazing upon this monster that it's not a "kit" bike or a catalog bought, bolt on affair. Just about everything between the tires is as custom as custom gets. For example, the tank is handmade and was built around the plenum, specially made to ensnare the twin-charged air.  The carburetors were scrapped for electronic fuel injection, which is no easy task whatsoever, but gives Toni the awesome levels of tune-ability.  And such a fire-breather bitch takes a bit of adjusting.
Let's not forget the most redeeming quality of Cruel Handjob, two mechanisms of rubber melting, RPM abusing forced induction.   The turbo, providing extreme boost on the top end is supplemented by the supercharger, which fuses pure power throughout the rev range and provides exponential boost enhancement.   The only thing the bike is missing is a container to hold the colossal balls of steel that are needed to pilot this unadulterated velocity contraption.
The FOTY winning Cruel Handjob only stayed in it's first form for a few weeks.  Toni wanted to continue developing the the whole bike.  The CH fuel system was scrapped for one that Toni built himself. "Supercharger mounting was made again. Upgraded it's ratio for more boost…Then even bigger turbo was installed. Now heavily modified Holset HX35 inline with that Rotrex supercharger."  I don't think I had mentioned before that this monster is running alchohol.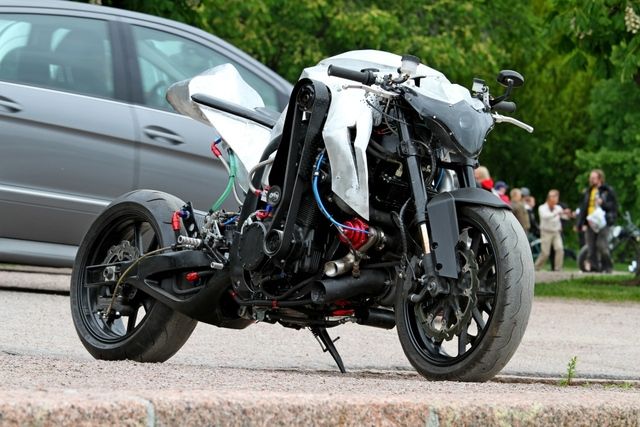 Toni continued with a custom GSX-R headlight setup, and melded it into a gorgerous bare metal body. "Subframe and bodywork is made to be my own style.. Took 2mm aluminium plate and started to cut and weld. Subframe is now 19litre fueltank that is filled with alcohol." Next he moved on to other areas of the bike, including putting the power to the ground and slowing down. "Swingarm [was] changed from GSXR to 05 R1 with homemade extensions welded to arm. I made rear brakes again using GSXR front caliper." And speed holes! The second coming is evolving into even more of a gnarly beast. Don't believe me? According to Toni,"Power starts with [the] number five…and that's on the wheel."
Congratulations, Toni, on "Cruel Handjob" and the second Fighter of the Year win. Unfortunately for us at CustomFighters, Toni has chosen to reduce his internet exposure for personal reasons.  So it's likely that most of us will have the privilege of witnessing the next evolution of his twincharged power-child. I feel honored to have the opportunity to write this article for one of the most prestigious fighterers on the planet Earth.   May the fighter spirit carry on within us during this life and beyond, Motohorho.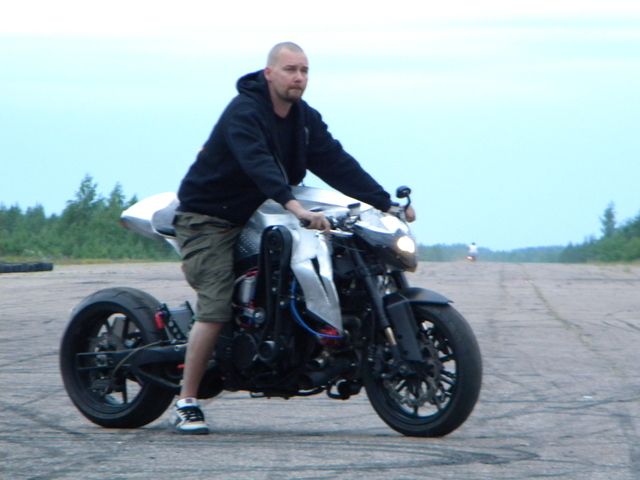 Kippis!
-Al Musacchia "thaOrleanyte"
Lance A. Lewsader: I didn't do an interview with Motohorho after this win. Wasn't really much more we could ask him that we haven't asked him before. After winning 1 FOTM already and then getting a Blog Feature this guy isn't new to CF. He is quickly blazing a trail through the Awards though. Here is a quick look at his December 2011 Fighter Of The Month winner….and FOTY contender!

Lance A. Lewsader: What got you into motorcycles?
Yantosh: Always been into motorcycles, don't remember a time when I wasn't, grandpa had them, dad had them, cousin, step brothers……. I had toy ones as a child , my first ever bike was a plastic bike and sidecar (I was about 3), as soon as I was 17 I was on the road and I never stopped , 42 this year…
Lance A. Lewsader: What got you into motorcycles?
1WheelFelons: I have loved motorcycle as long as I can remember. My first bike was a 5hp Briggs & Stratton lawn mower engine on some homemade frame that I saved up for 25$ back in the day. I always had broken down stuff that no one wanted are was laying around in someone's back yard collecting dust & dirt and had to fix it up. My first real bike was a 125 dirt bike that I bought right out of the Army. This is when my real love for bikes started.
Lance A. Lewsader:  What got you into motorcycles?
HardCore:  My brother was the person who got me interested in motorcycles. He had a '71 Ironhead. I wanted a bike, but I wanted something more aggressive and when I came to Custom Fighters I knew what I wanted.
LL:  What got you into Streetfighters?
HC:  I was looking for something badass I could do to my Speed Triple and found the website.
LL: Why did you build the bike you did?
HC:  I actually didn't build the bike. I bought the original Speed Triple from eBay. I brought it to my bothers house in between my deployments to Iraq and Afghanistan. I figured out with him what we wanted to do and while I was deployed to Afghanistan my brother took it to his friend Kyle Ford, The Shop Supervisor and Bike Builder at Southeastern Steel Choppers in Jacksonville, NC.
LL:  Why did you enter this month's FOTM?
HC:  I had finally gotten all the little things done to the bike I wanted to, like the drag bars and front end painted, the brake reservoirs on, and the switches under the tail.
LL:  You relocated all your switches under the tail. Has this ever been an issue for you?HC:  It's never been an issue really. I like having all that off the front bars more then I dislike having to reach back to start it or switch the headlights.