Archive for the 'Streetfighter Features' Category
Finally.  It's been down about as long as my ktm, which I finally got running and repaired.  Changed the oil two years after first buying the stuff to do it!Seeing as I finally have a rideable bike and am back on the road, I'll preach about gear.  My girl is an RN at a hospital with a level one trauma center, aside from shootings, work related accidents, elderly joint repair, etc., the occasional motorcycle wreck comes through her rehab floor.  Two since the start of the season.  Both wrecks were caused by cagers, both cagers fled the scene, and both bikers wore their gear and lived.  One dude lost his leg below the knee, and the other guy was bruised and banged up (big ol' fat guy, whose mass absorbed much of the impact, which he also used as an argument for his old lady to lay off the diet thing).
So wear your gear; full face helmet, full or partial leather jacket with crash pads, some natural fiber pants or riding pants, above the ankle boots, and leather gloves.
And always be vigilant for the other guy.
-eatabullet
It's nearly a disservice to have such a late article on, dare I say, one of the top 5 streetfighters in history.  I feel as if the builder, Toni Kivinen and the double aspirated evolution of his GSX-R, deserve a novel, not just a measley blog post.  In lieu of taking even longer to complete the tale of a Cruel Handjob, may I present to your the Fighter of the Year for 2011.
I can remember the first time I stepped foot, so to speak, in Toni's build thread.  Twincharged, I thought, have I died and gone to horsepower heaven?  I, along with everyone else that had the pleasure of observing this beast come to life, was in awe of the idea and the build itself.  "Cruel Handjob" is not your run of the mill Streetfighter, in fact, I will venture to say that Toni's GSXR is the paradigm.  Toni has hand-made two Fighters of the Month and two Fighters of the Year; with two different motorcycles.  That many wins speaks highly to his moto-prowess.  Toni is a fighter legend and has set a high bar for Streetfighters not only in America, but also the world.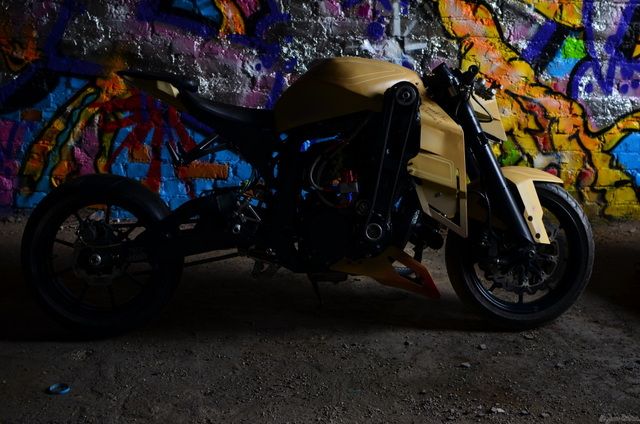 It's pretty obvious gazing upon this monster that it's not a "kit" bike or a catalog bought, bolt on affair. Just about everything between the tires is as custom as custom gets. For example, the tank is handmade and was built around the plenum, specially made to ensnare the twin-charged air.  The carburetors were scrapped for electronic fuel injection, which is no easy task whatsoever, but gives Toni the awesome levels of tune-ability.  And such a fire-breather bitch takes a bit of adjusting.
Let's not forget the most redeeming quality of Cruel Handjob, two mechanisms of rubber melting, RPM abusing forced induction.   The turbo, providing extreme boost on the top end is supplemented by the supercharger, which fuses pure power throughout the rev range and provides exponential boost enhancement.   The only thing the bike is missing is a container to hold the colossal balls of steel that are needed to pilot this unadulterated velocity contraption.
The FOTY winning Cruel Handjob only stayed in it's first form for a few weeks.  Toni wanted to continue developing the the whole bike.  The CH fuel system was scrapped for one that Toni built himself. "Supercharger mounting was made again. Upgraded it's ratio for more boost…Then even bigger turbo was installed. Now heavily modified Holset HX35 inline with that Rotrex supercharger."  I don't think I had mentioned before that this monster is running alchohol.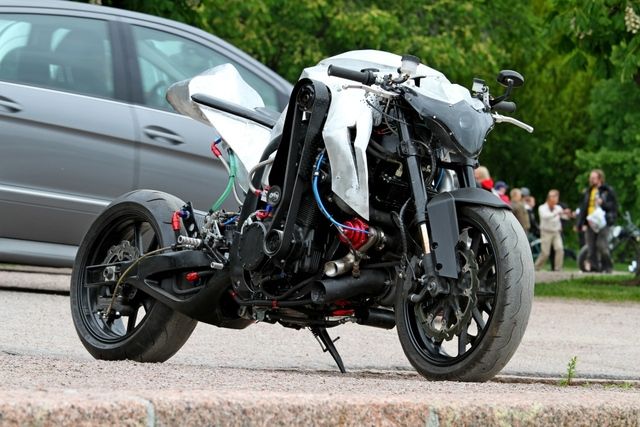 Toni continued with a custom GSX-R headlight setup, and melded it into a gorgerous bare metal body. "Subframe and bodywork is made to be my own style.. Took 2mm aluminium plate and started to cut and weld. Subframe is now 19litre fueltank that is filled with alcohol." Next he moved on to other areas of the bike, including putting the power to the ground and slowing down. "Swingarm [was] changed from GSXR to 05 R1 with homemade extensions welded to arm. I made rear brakes again using GSXR front caliper." And speed holes! The second coming is evolving into even more of a gnarly beast. Don't believe me? According to Toni,"Power starts with [the] number five…and that's on the wheel."
Congratulations, Toni, on "Cruel Handjob" and the second Fighter of the Year win. Unfortunately for us at CustomFighters, Toni has chosen to reduce his internet exposure for personal reasons.  So it's likely that most of us will have the privilege of witnessing the next evolution of his twincharged power-child. I feel honored to have the opportunity to write this article for one of the most prestigious fighterers on the planet Earth.   May the fighter spirit carry on within us during this life and beyond, Motohorho.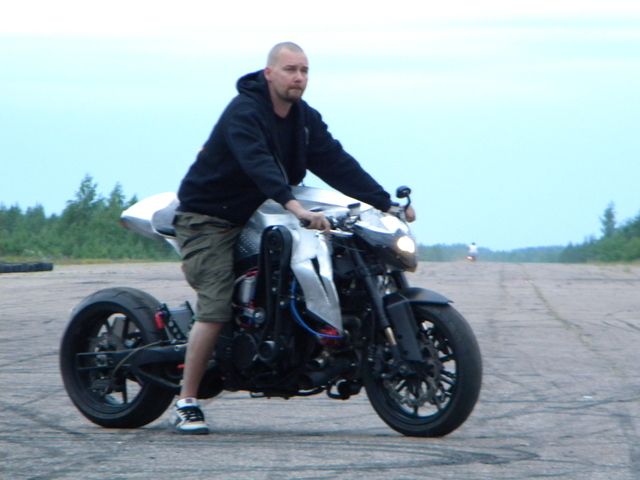 Kippis!
-Al Musacchia "thaOrleanyte"
It's Mothers Day again and we all remember to tell our mothers Happy Mothers day. But do we remember our E-Mom? Donna has warmed her way into our hearts and become an integral part of the community. So on this day we say Happy Mothers Day E-Mom from all your children here at CF. Below are just a few sentiments shared from our members.
"when mm passed mom was always on the phone giving everyone updates and making sure i was ok and always asking what she could do to make things easyer … she has always been there for everyone … i love ya mom  …"
"Mine isn't so much of a time. But of what she does. No matter what thread she is viewing she has a way of really being MOM. She can reprimand someone and put them in their place in such a loving way. No one else could get away with that."
"You've been there for us all, and inspired us all to be there for each other. Customfighters has not been the same since you came on board."
"I haven't really interacted with her much. But she was very welcoming to me when i came aboard!"
"Wow where do I start. Donna is one of the nicest, most supportive members we have here. She never has anything bad to say, She has put some people in there place, but even then she does it in a nice way. I have had some medicale problems and she has always been there for me. Donna is on my bucket list of people I want to meet. We all love you. Happy Mothers Day."
"Emom was very kind and welcoming to me, especially when I was just starting out on the forum. She really made me feel like a member of the CustomFighters family. You really make the forum a better place, Donna. Thanks for everything!"
"I consider Emom one of my biggest fans and supporters. And I say 'fan' because she has a way of making every person she talks to feel like a superstar. I've been lucky enough to be granted another mum, because she truly is that honored, motherly figure to us all. And every time I log onto facbook and have 20+ notifications, I smile to myself and know it's my Emom, congratulating me on every little thing in my life. Lol! <3"
"Mom's mailed me about 5 times over my incarceration, she sent me pics of gavin and i she had a uncanny ability of being very calming though her words and the pictures she sent me. I've talked with E mom VIA PMs and shes a very strong level headed woman…. I also remember an incident where she pretty much said to an old member "taiden" YOU JUST DOWNLOAD PORN THEN DUH! shes a fantastic lady and they just simply do not make them like Donna anymore. After meeting Gavin and getting to meet Donna on here you can tell why Gavin was why the way he was, he had a great person like donna to be around."
CF Mum! We was very fortunate that our Ma' figure joined us here at CF,she has become a E-Mum ,E-sistah anda real good frend to most here.Never a harsh word( LOL mebe once or twice)always a helpfull prod and without fail a supporter of all here who have hard times.I find her posts and comments uplifting and a shinin example of how a true compasinate fellow hooligan' shoud be .Read her comments follow her example lads we all stand ta learn a thing or two from OUR E-MUM 

Happy mothers day Donna luv ya !
Robbo'
(At least a pro-amateur)
I have always been into photography. Since I was little, I would steal my dad's Canon and take rolls of photos. I thought all my photos were amazing. Most of them were not, but they triggered memories; which was all I cared about at the time.
As I got older, I started wondering why my photos didn't look…. good. They reminded me of what I was doing, where I was, who I was with, how much fun I was having, etc, but I didn't want to show them to anyone. I wanted photos that not only stirred my memories, but would also stir up the memories of anyone who looked at it. To do that, I needed to get better at photography.
I needed to understand photography better. I needed to practice. I needed to take photos. Read most of the threads about welding on this forum, and the common theme is "practice, practice, practice." Photography is the same way. There are lessons though, that can be applied and bring about better photographs immediately
For me, nothing is worse than the threads that feature a talented builder making an awesome bike, with terrible photos. Let me say this as bluntly as possible: BAD PHOTOS KILL GOOD BIKES! While I was working to convey better emotion in my photos, I also realized I was better showing what I did and saw around me. Suddenly the reason I took a photo was coming across more clearly. This is the reason I wanted to write this article, not to talk about photography, but to help people better show what they did to make their bike, their own awesome beast!
Consider this an open ended checklist to help take better photos.
1. Take photos, lots of photos.
An easy rule to remember is for every one hundred photos taken, twenty look okay, ten look good, five look great, but only one is amazing. Don't ever feel bad about taking lots of photos; it's how you get that one great shot. To give an example, I recently completed a project that had eight prints. To get those eight prints, I took almost 350 photographs. Of those eight, only one made people say "wow."
2. MOVE!!!
            Taking side on photographs of anything gets boring. Walk around the bike, taking photos as you go. After that, lay down on the ground and take photos. Get up on a ladder and take photos. Get really close to your bike and take photos. Take photos of everything from every direction possible. If I don't come away from a photo shoot with dirt on my back, knees and stomach, then I wasn't doing my job.
3. Be Adaptable.
            While I was working with Venturi Moto to photograph a few of their bikes; one of the owners said "We'd like to do something industrial, maybe with an old school brick wall behind the bike. Like a factory or something." There was an older factory across the street, but it didn't look like what a factory should. It had the wrong color brick, so their minds simply ignored it as an option. I just said "let's wheel the bike across the street and see what happens." They loved the photos. Think about what you want from a photo yes, but don't key in on it too much, look around you and take advantage of the situation.
4. The Rule Of Thirds
            Roughly speaking, you can divide a photograph up into thirds from left to right and top to bottom. Place your subject to the left or right of the photo more often than you do in the center. I don't know why, but it just looks better.
5. Use Your Environment!
Like the story from above, use what's around you. A stock KZ440 placed into an interesting environment creates an interesting photograph. Likewise, a custom bike placed in a drab/boring environment creates a boring photograph. Pay attention to what's occurring around the bike. If the bike doesn't stand out in your eye, it probably won't stand out in the photograph.
6. Change Your Settings
            I will deliberately over or under expose the same photograph three or four times and then look at them to see which photo I liked best. It's a technique called bracketing. Just because your camera says the shot is properly exposed, doesn't mean it is. Even the most basic digital camera has different settings. Use them all to take photos of your bike. Use the sport, lowlight, portrait and macro settings to take photos as well.
7. Stability is Good
            I remember reading an account from a sniper, to zero in a shot and minimize the gun moving before he fired, he exhaled all the way waited a second and then squeezed the trigger. I do this almost every time I take a photo. I also use a tripod. No tripod? Find a stack of books, a seat, a benchtop, anything stable that you can rest your camera on.
8. It's In the Details.
            Every bike from the ugliest dog to the most expensive trailer queen, is made of little things that make it interesting. Take photos of those! Find what makes the bike unique and start taking photographs of that. Focus on the details around the bike as well. Details, details, details.
9. The Ronin Rule.
            In the movie Ronin; De Niro is asked how he knew an ambush was going to happen. He said, "If there's doubt. There's no doubt." If I don't like a photograph for any reason, it gets deleted. It's quality I'm after not quantity. If I have to go back out and take a few more photos, I will.
10. Know the rules. Know when to break them.
            Rules in photography are like the pirates' code; they're more like guidelines. The ten I've written above are designed to help take better photographs, but I'm not afraid to ignore them completely if I need to. Some of the most iconic photographs in the world were made by bucking the rules and going with your instincts.
You'll notice throughout that I've included photos I've taken. Some were taken with my DSLR, some with a point-and-shoot, and some with my cellphone. The camera itself has almost nothing to do with the quality of the photo, it's all in the skill of the holder.
The question of what exactly defines the species of the Streetfighter motorcycle is one that will be debated, disputed, and dashed with "back in my days" and dogmatic parts lists.  The quarrel of the ultimate question is one that will not likely be agreed upon by the community as a whole, but I'm working on that.  The beauty of the argument, regardless of opinion, is that Streetfighters push the envelope.  Streetfighters are the evolution of the chopper doctrine.  Grown from the minimalist idealisms of old G.I.'s stripping their motorcycles down to the bare essentials and building it with performance and aesthetics in mind.
Now, one may ask themselves this question.  Who in their right mind would take a perfectly good, faired sports bike and throw the plastics away?  I don't claim to be an expert in psychology, but I will attempt to define the thought processes behind the fighter ethos.
Having been part of this community for a time has helped me identify the kind of individual that would, in the eyes of the purist, desecrate the engineered genius that is modern super sports.   We tend to be non-conformist social outcasts, thrill seeking, and speed obsessed, compulsive moto-modifying visionaries.  A mix of punk rock and pistons, we deviate from the normal behavior of your average motorcyclist. We are horsepower hungry hooligans, who, if given the resources, would turn a motorcycle from factory to fantastical.
So, say what you want about our style of bikes.  You can claim to have a "definition" of what a Streetfighter is, but regardless of opinion, fighterers are a brotherhood of man, metal and machine. We are bound by speed and the thirst to make our bikes our own.
-Al Musacchia
Back in the early Eighties – and grief, how long ago that seems – I decided that what Britain needed was a biker lifestyle magazine. There was nothing like one available, and having been working in national magazines for … well, to be honest, not very long, I decided that I was the man to create such a thing.
The magazines I had worked for were about custom cars, but custom bikes had been my first love, back in the late Sixties and early Seventies. I decided to call the magazine Back Street Heroes, and without any external finance at all it took me about eighteen months to get it off the ground.
After a very hairy first year (in the late autumn of that year I remember warning my girlfriend that we were about to lose the house …) it suddenly, after a few very bold (or stupid, depends how you look at it) moves it call came right. By late '87 Back Street Heroes was four years old and was really motoring, and, travelling to shows and parties, I was aware that there was something new was happening in the bike scene. Custom bikes weren't just being built for cruising, but were being stripped down for speed – in a way, much as they had been originally. Most of these had big Japanese engines and were damn fast.
I've always been good at coming up with names, if I may say so, and I called them Streetfighters. In the September '87 issue of BSH we ran the first ever feature that carried the Streetfighters tag. Our ace illustrator, Stu Garland, created the stencil typeface and added the knuckleduster, as I suggested, I believe. As it happens, he also wrote and photographed that first article – which was about a damn hot XS1100.
I wrote a few words to introduce the feature, which I intended to be a regular series, and maybe it's worth repeating what I wrote:
'Summer's here and the time is right for fighting in the street … Some ne'er do-well dipshits – and this is the only thing that unites GPz riders and Brough Superior owners – have an idea that a custom bike is a gaudy machine with far too much in the way of front forks, and far too little in the way of power; folk whose ideas about custom bikes stopped somewhere around 1972 when beach buggies and loon pants went out of fashion. Among the trad chops and the sleek street customs and the fatbob Harleys there is a breed of custom bike which not only looks terrific but goes like the soddin' clappers. We've featured more than a few before now, but from here on we're going to bring them together under a regular banner; Streetfighters.'
We ran the feature in BSH for about eighteen months, and I started to think that there was demand for a magazine about streetfighters exclusively. The name had really taken on a life of its own and we were seeing Streetfighter awards at custom shows, and bike builders were describing their own machines as such.
Since the launch of BSH I'd in fact launched half a dozen other bike magazines, and we had one title on sale in France and Germany in translation. For me that was the real thrill; seeing a demand and then coming up with the name and the concept. I'd only had one failure – Road Racer magazine – which in all honestly wasn't really our style, and it was bought from us by its editor. That aside, things were going brilliantly well, and we had moved into new premises – an old Victorian building which had originally been built as stables but had then become a Chinese laundry!
At some point, and no, I really can't remember when, we launched a one-off Streetfighters magazine, but that wasn't quite right. I included fast Harleys and Triumphs, and while it sold rather well, it hadn't hit the target. So, in 1989, we launched Streetfighters as an almost all-Jap title. The bikes were contemporary machines which had been modified to look tougher and go even faster.
I edited Streetfighters for the first few years, as well as running what had now become a sizeable business. That's a situation I was very happy with as I loved was the day to day process of commissioned contributors, working with designers and putting the mag together. I went out and photographed a lot of the feature bikes too, finding that these guys were unlike the BSH readers in quite a few ways.
As with BSH though, we had girls on the cover of the magazine, with the bikes. There were two differences here though; the girls were professional models rather than the amateurs that I insisted on for Back Street Heroes (often recruited from a nearby lap-dancing bar), and the cover shots were done in studio rather than on location, for a 'cleaner' and crisper look. I always insisted on directing cover shoots as I knew exactly what I was looking for – and no, not so that I could spend the day with half-clad babes (I was always only too aware of how much the studio days cost!).
Another important aspect of the front covers were the words – the strap-lines, as we call them. I always hated magazine covers with far too many words, over-selling what was inside; I believed that the contents page should be on page three of the magazine. What was needed were good jokes which summed up what the mag was about; things like 'It's Bikes Like This That'll Ruin Motorcycling For Everyone'. Great.
The magazine seemed to hit the mark very quickly, and the sales were good. As we had found with BSH, the existence of the magazine made the whole movement larger in itself. Lots of guys realised that there were other lunatics out there with the same passions as themselves, plus it was now easier to get the parts and accessories thanks to the existence of the magazine.
To my great delight we also began to get into trouble! Speed cameras were starting to appear in horrible numbers by the early Nineties and we colluded with all sorts of naughty attempts to thwart their effectiveness. Then I worried about readers who had lost their licenses as a result of getting caught too often, so I offered free subscriptions for readers who had been banned. I forget the details, but if you had been banned for something like 100mph we'd send you the magazine for six months, if for more than that then you'd get the magazine free for a year, and if you had been caught at more than 150mph (and it did happen!) then for five years.
The next thing we knew, this was all over the media. There was a bit of a frenzy for about three days, and I was quoted by several national newspapers and was interviewed by several TV and radio stations. They thought we were encouraging speeding, but as I pointed out, who was going to go out and deliberately lose their license just to get a few free magazines? Needless to say, I had as much fun as I could. One national newspaper denounced me as 'Mr Mayhem Myatt', and on a live Scottish radio show the Deputy Chief Constable of Clydeside said that this was the worst thing he had come across in all his thirty years as a policeman. I replied that if he'd been a cop for thirty years in Glasgow and this was the worst he'd seen then he obviously wasn't getting out enough. He went ballistic and our readers loved it … as I did.
I took part in another live radio interview for the national BBC talk station, with a presenter and a guy from a safety organisation in London, and me on my own in a studio in Manchester, 160 miles away. It was 7.30am and at one point the safety dude, who sounded as if he was going purple with outrage, said, 'It's alright for you, Mr Myatt, sitting there in your black leather jacket and biker boots while your readers die in high speed accidents!' I ignored the thrust of his argument and said, 'I must correct you on that one point; I'm actually wearing my Peter Rabbit pyjamas and a pair of fluffy slippers.' The presenter roared with laughter and the interview descended into complete chaos.
Again, I can't remember when it was, but we started publishing the magazine in translation in Germany quite early on. We found a brilliant guy, Marcus Broix, to head up that operation, though he kept quiet about the fact that he actually rode a Vespa. The German speed freaks took to it as quickly as the Brits did. I went over there many times, occasionally to bike events, and those guys were just wild. I'd go over in a chauffeur-driven Rolls-Royce (yeah, we'd made some money) and get out of it looking like the long-haired scruff I was (and still am), and that blew them away. One guy over in Germany said that seeing a Grateful Dead sticker in the back window of a Rolls-Royce was the freakiest thing he had ever seen.
In about 1995 I flew to Bilboa in northern Spain with one of our best writer/photographers – name of Clink – to cover a big Streetfighter-type event over there. It was in a very run-down part of town but, again, it was the most amazing party. Stunt riders were doing 100mph wheelies without any safety barriers down a gap in the crowd less then eight feet wide. The organisers seemed to be incredulous that we had come over, and when we arrived one guy gave each of us a pass and said, in broken English, 'With this everything you want is free. We get you beer, food, drugs and women, yes?' I whispered to Clink, 'I think it would be wrong of us to accept, let alone abuse this offer'. He replied, 'But we're going to, aren't we?' 'Oh yes', I said.
By 1999 I had been launching, running, and buying and re-launching motorcycle magazines for sixteen years, and I was shattered. On one hand, my health was in tatters, but on the other hand I had got married for the first time, aged 41, and had become a father. It was time to take stock, and to admit that I wasn't young enough to keep up the pace. I sold my shareholding and left the business. No regrets, not a one – except that a few months later I suffered a huge heart attack (ironically, once the pressure was off).
I'd had a huge amount of fun though, and I like to think that I left the two-wheeled world a bit of a legacy. Most of the bike magazine I launched are still on the news stands, and perhaps best of all, I'd given the world the notion of the Streetfighter. Well, some poor devil had to.
We talk about gear all the time and it often comes up on the forums when people post pictures.  It's gotten to the point now that when anyone posts a picture of themselves on a motorcycle in motion and they aren't wearing head to toe gear, they immediately add a disclaimer at the bottom explaining why they weren't.  Seriously though, I'd be willing to bet that most of us are hypocrites.  I've been on bikes since I was 4, so 24 years now, and I've had my share of get-offs.  Some occurred while I was wearing gear, some without, and thankfully I'm still here to talk about it.  That said, I'm still guilty of wearing jeans or cargo pants, running shoes (though not often) and hoody's.  The problem with this hypocrisy now though is that there is absolutely ZERO excuse for not wearing gear.
When I started riding on the street at about 19 years old the most important thing to me was that I wanted to look cool, we all do.  In fact, 9 times out of 10 if you tell me that your love of bikes has nothing to do with an image or attitude, I'd call you a liar.  Especially on a streetfighter; we often want to look aggressive to match the attitude we want our bikes to portray.  I remember rushing out to buy the first helmet within my budget that matched my bike and wearing the piece of crap hand-me-down jacket and gloves that the previous owner of the bike gave me.  The gear I had was better than nothing, but I often found myself wearing other things because I thought I looked dorky.  I didn't own proper riding pants for another 2 full seasons and it wasn't until FOUR years after I started riding that I bought proper riding boots.
I'm not going to talk about helmets because while I firmly believe that wearing any less than a full face helmet is completely stupid, that's only my opinion.  What I want to talk about though is the trend of motorcycle clothing manufacturers designing every day styles.  They've realized over the last few years that not everyone wants to look like a Power Ranger and that chaps (while better than nothing) just don't suit most people.
When I started working in the motorsports industry, ICON was fairly new and frankly their stuff was of questionable quality, mostly gaudy designs, and flashy colors.  Soon after that they became the go to brand for those wanting to look "cool".  They've come a long way in the last 5 years and I will tell anyone about the several pieces of ICON clothing I own now and wear a lot.  They also, at least in my opinion, were the catalyst for this trend among apparel manufacturers.
Icon isn't the only one either—browsing through but one of my catalogs shows "cool" and casual looking protective gear from the likes of Alpinestar, Cortech, Fieldsheer, Joe Rocket and many more.
Let's start at the feet shall we?  I personally wear and adore my Alpinestar SMX-R boots and they are on my feet now every single time I ride.  They're actually more comfortable to me than riding in running shoes and I don't have to worry about shoelaces catching on levers either.  That said, almost every single motorcycle footwear catalogue now has shorter (while still covering the ankle) leather boots, no toes sliders, flashy graphics, and so on.  Again with some the brands you can expect these types of boots from; Alpinestar, ICON, Sidi, Puma and more.  Some of these boots are even nice enough to wear in business attire and are comfortable enough to wear all day.
Moving up the leg, there is no excuse for not wearing proper pants now.  When I was training as an EMT, one stat that really struck a chord with me was that something like 75%+ (can't remember the exact number) of motorcycle related injuries were injuries to the lower body.  Now, that's a skewed stat but it is important.  The reason that number is so high is because of traditional thinking.  When you got your first bike, which gear did you buy first?  I know that I and most of my friends bought helmets, gloves, and jackets.  No pants or shoes…I have seen now how far pant technology has come and it's damn cool.  I own two pairs of Draggin Jeans, one pair of ICONs, and one pair of Alpinestar denim style pants.  They aren't perfect, they don't offer the same protection level as leather would in most instances but at least I have something.  To all those who just wear jeans because "they're good enough"—think back to falling off your pedal bike when you were a kid, how'd those jeans hold up?  I can show you pics of the scars on my knees from this if you so desire.
For those who like wearing hoody's, me included, there is a great option for you which is inexpensive when compared to a full on moto jacket, works great around town and provides the protection necessary for most rides.  Look in the motocross section of your local shop's apparel catalogue and find the body armor sets.  ICON does have their field armor which has some chest protection and great spine protection but there are many others as well.  Alpinestar and 661 are really popular but I'm a big guy and couldn't find anything that fit me.  Then came EVS with their offering and I bought the EVS BJ22 Ballistic Jersey.  It is basically a complete jacket, arguably more protective than any of my textile jackets.  It has it all—hard plastic chest, shoulder, elbow, forearm and articulating spine protection.  Personally I think it looks completely dorky to wear without something over it but I wear it dirt biking with a football jersey on, street riding with my BFT or Custom Fighters hoody, or just with a T-shirt on.  I can have the look I want without sacrificing myself to the pavement gods and considering that I believe the only reason I'm walking today is because of having a spine protector between me and a curb at 40mph, it's an essential piece of kit for me and very often overlooked.
The cost does still add up, but not as bad as one thinks.  I went to www.motorcyclegear.com (formerly newenough.com) and did some price shopping.  To outfit myself in Alpinestar boots, gloves, armor, and reinforced jean pants would cost me just a hair over $500.  Change brands and I can get that sane protection without the brand name for under $400.  Both are a small price to pay to save my skin and potentially my life.
The final decision is up to you after all, it's your hide but if you were to ask someone who wasn't wearing gear what their medical costs and/or insurance costs and it may be a worthwhile investment in your biking future.  We want you all to be safe so you can enjoy it for a long time and hopefully pass the passion on to a younger generation.
Motorcycle.com is giving away a Trip for Two to Monterey, California to attend the 2012 U.S. Grand Prix MotoGP race at Laguna Seca. The lucky winner will receive:
– Airfare for Two
– Three nights accommodation
– Tickets to the 3-Day Event
Enter for your chance to WIN by simply "Liking" Motorcycle.com's Facebook Page and Entering the Reader Survey at: http://www.facebook.com/Motorcycleco…56118184509963
Best of Luck!
Recently the good folks at Bell offered up two lids to be given away to the most deserving of all those who entered the contest. After pouring over the streams of incoming stories about why everyone felt they needed to win, we eventually decided on the two lucky winners.  We asked them to provide us some pictures and a small message. Luckily for us, one is a photographer, since the other is deployed with just a "camera" phone lol.  Surprisingly enough both of the winners chose the same helmet! I guess the RSD design is a hit! Congrats to the both of you, and thanks to Bell Helmets! Big props go out to Bell Helmets for helping to keep our streetfighting brothers and sisters safe on their day to day battles.