DW'ed today. Was some what of a spur of the moment thing that lasted most of the day. I had sold the stock rear hub to vwhammer, so my original intention was to go pull the rear wheel so I could send him his parts. Then I realised, well I need to put a wheel back in it's place so I can roll it in and out of the storage unit. So I decided, while I was there I would swap swingarms.
Just to refresh y'alls memories so you don't have to go back and dig through the thread. Here's where I started.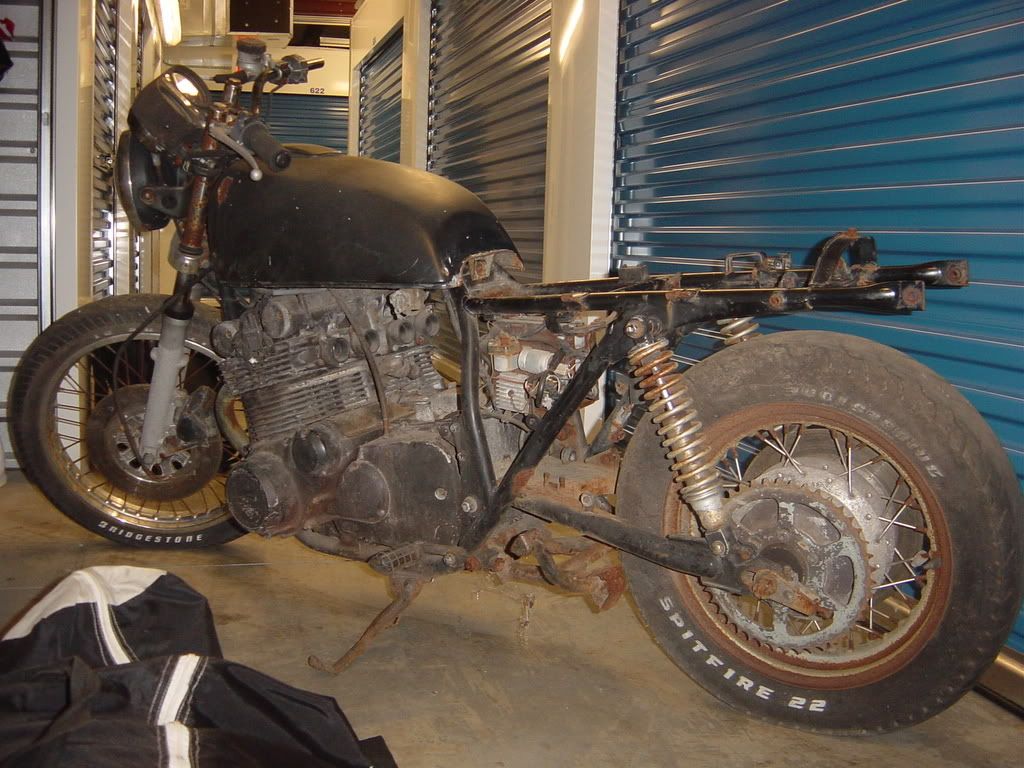 I loosly mocked up the swingarm. It's +9 over 95 GSXR750. Wheel is 18 inch GSXR. I'm going to have to shave a 1/4" or so off the pivot so I can fit dust caps in there. It's tight but it fits. Stock GS axle fit the wheel and arm perfect. Going to need to get some spacers made up to fit the pivot bolt to the new arm and some wheel spacers to line up the wheel.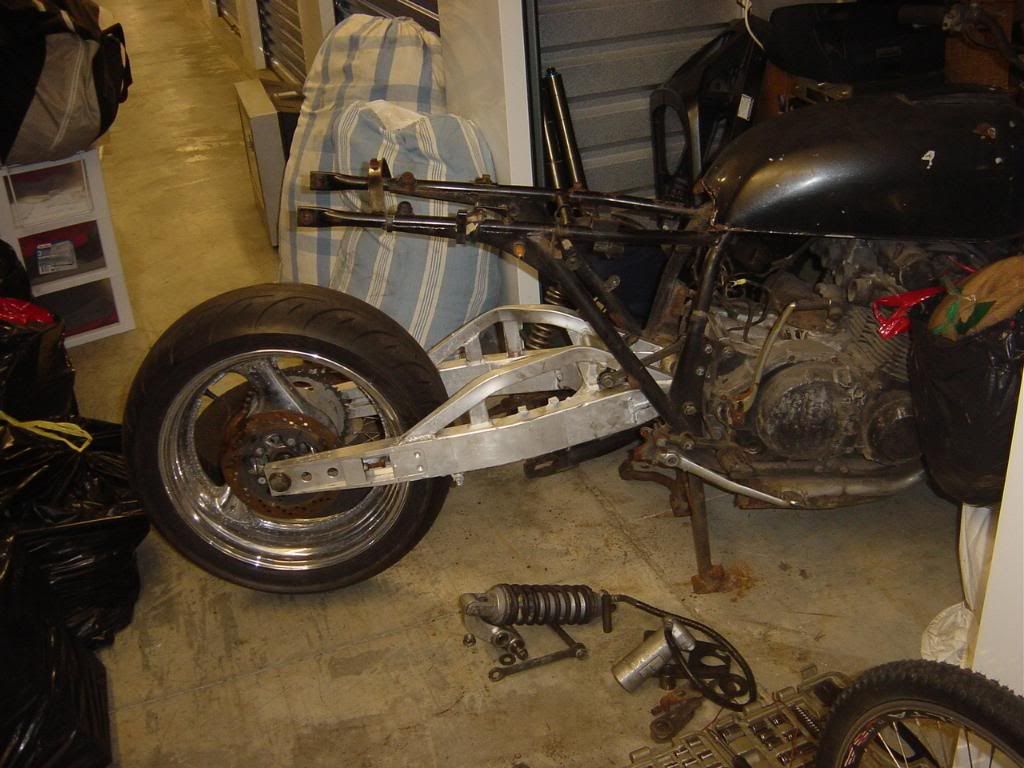 Also played around with the shock placment. It's going to be monoshocked. Tossed a slingshot shock in there and it looks like it'll fit up fairly easy. I also tried out the Kawi air shock. I'll need to make dog bones and some spacers to get it to fit right. Not sure if that linkage will reach the frame right either. I'll need to look at it further to make a decission.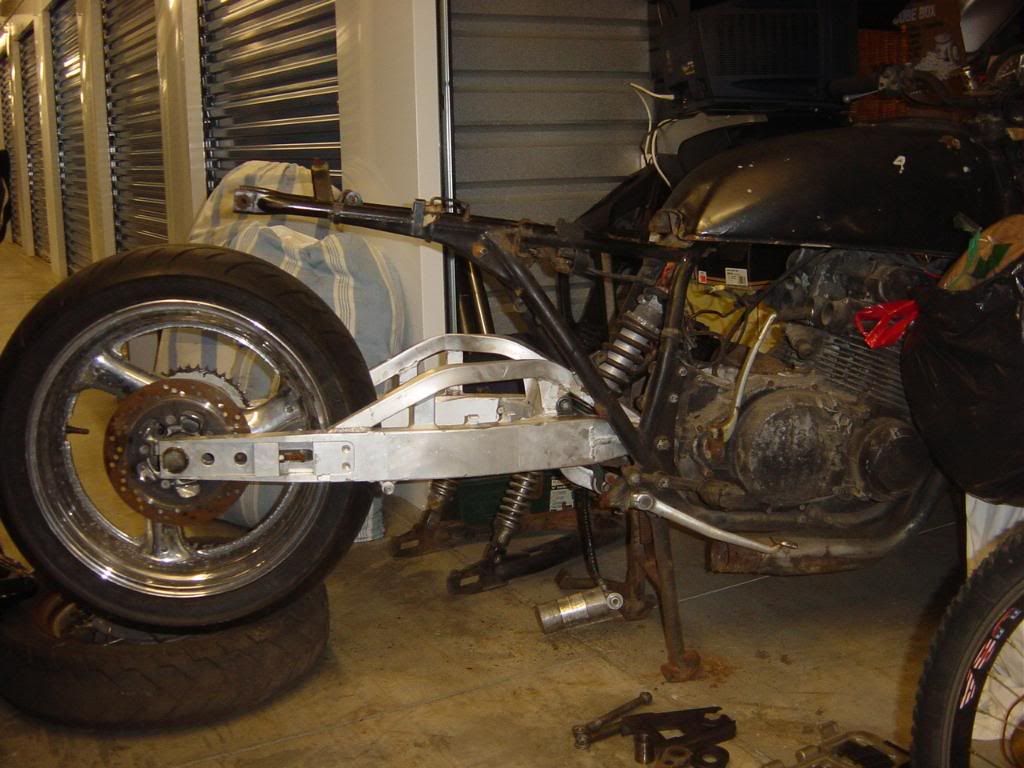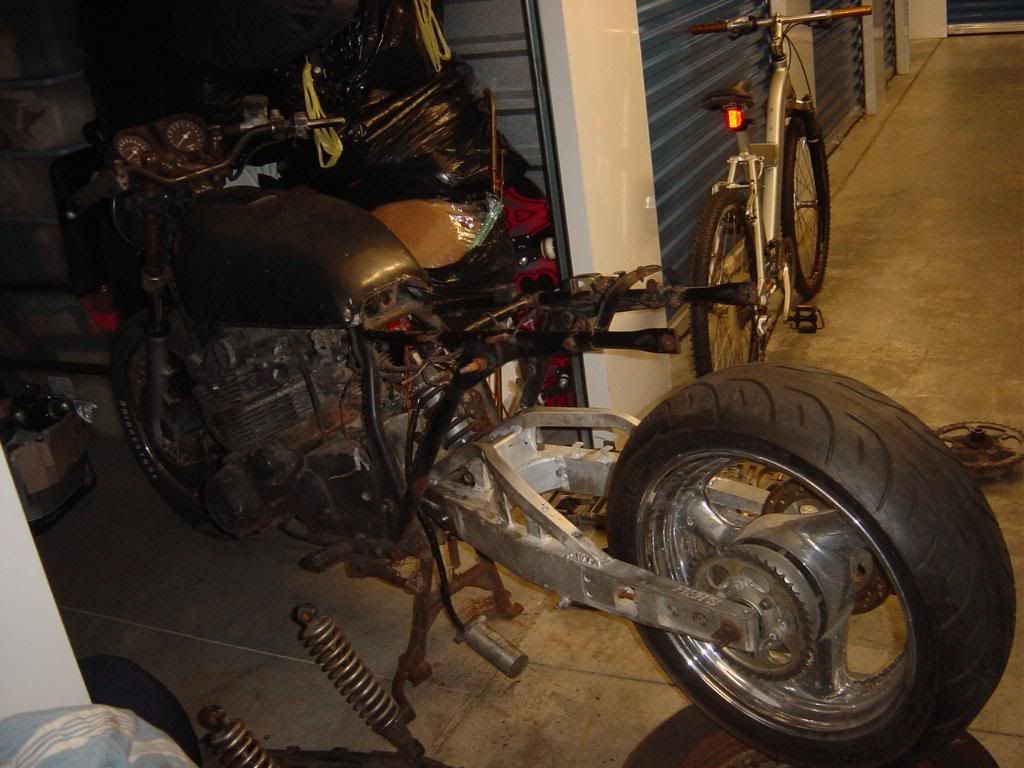 And since I was playing around with the shock I need some room to move so I pulled the stock battery box and electrics. Then I poped a temp strut in there so I could roll it around. I found a nice shouldered bolt in the frame that was just the right length for the dog bone to reach. I took it off the center stand to make sure it would hold weight. It's a little lower then I want, but nothing is tight either. Over all, this is close to how low it's going to be. I'll add a few degrees of positive rake to the swingarm and that should put it where it needs to be.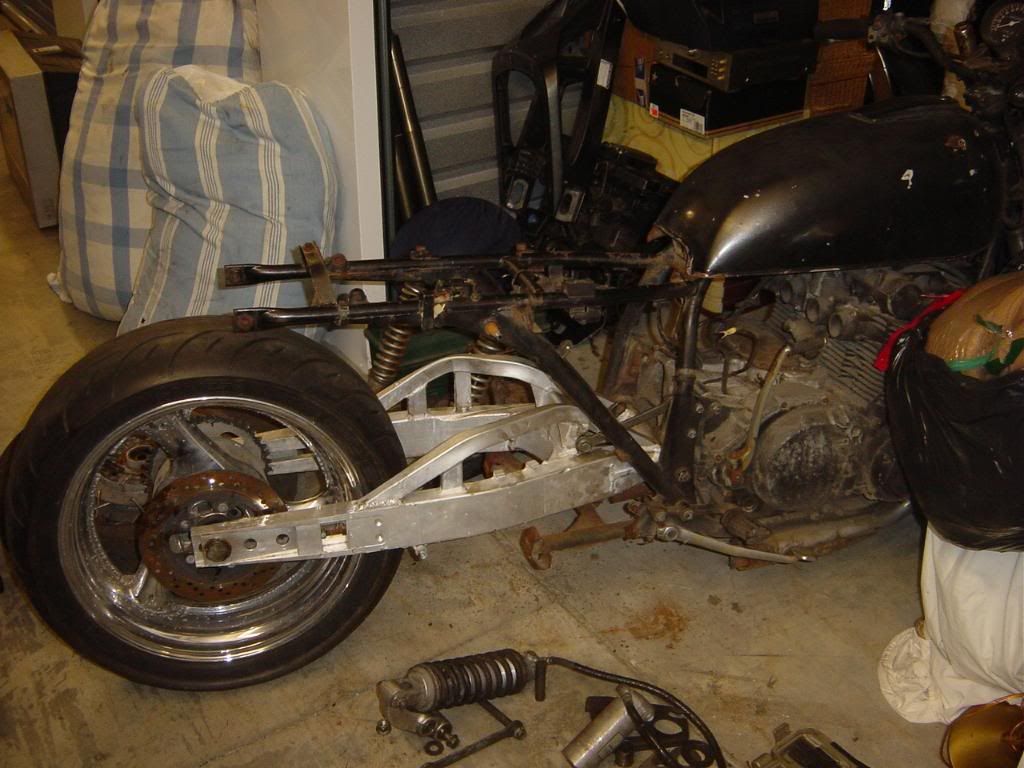 Pretty soon the idea of actually doing work on this thing consumed me and I went for broke. I started stripping everything off the bike. I removed the tank and started pulling wires.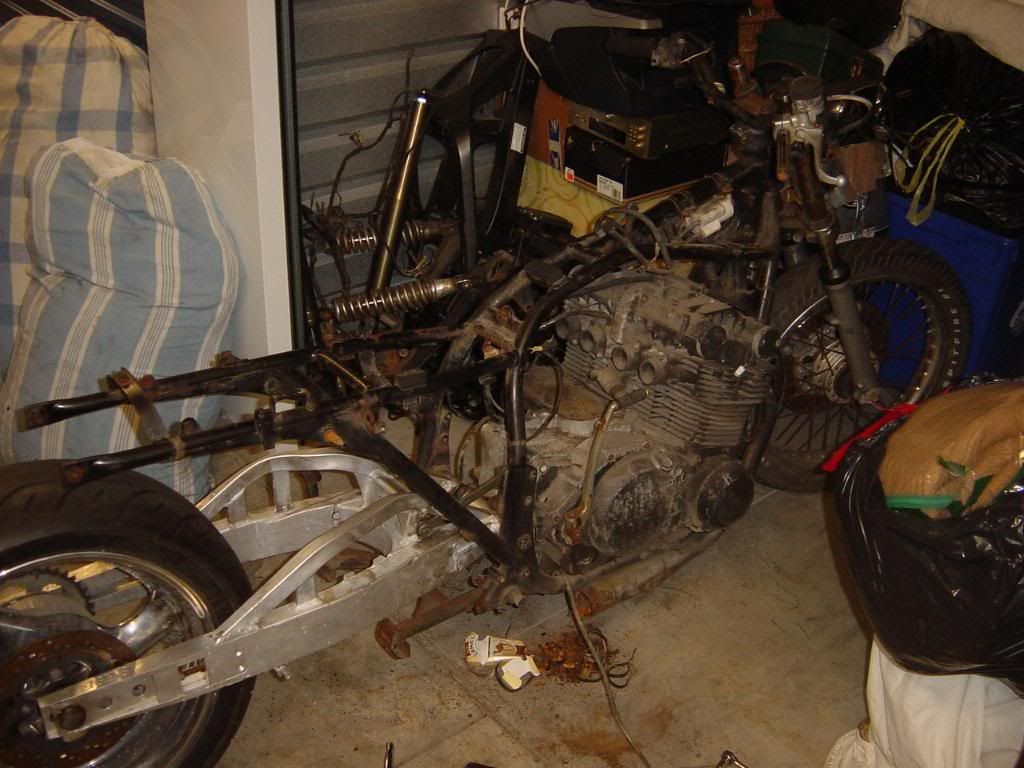 Then I made my way to the front of the bike and pulled the gauges and headlight and all the cables and switches. Many, many, rusted bolts, striped screws, dried out ate up wiring and spider webs.
Looks 10x better already.
I figured I would stop there, but I was wanting to save some space in the storage unit and start getting measurments for spacers and mounts. So I went for broke and started pulling the motor. Luckly, all the engine bolts broke loose fairly easily. I took this whole bike apart with a cheap socket set and a pair of vise grips
I was doing pretty good untill I got to the header. Got 4 of the 8 allen head bolts out no problem. The last 4 were striped all to hell and rusted in the head
. The bitch of this storage unit is there are no electrical outlets anywhere... except one right outside the front door that I just happened to stumble across. So I rolled the bike outside and broke out my dremel. I wound up going through 2 cut off wheels and 2 grind stones trying to cut one bolt out. After a half hour of getting sparks in my eyes and swearing at the fucking rusted bolts I gave in and broke out the sawzall. I was really trying not to go this route as it has a decent 4-1 header that looks salvageable. But there was no other way. I only had to chop 2 pipes, and I left enough room that it can be welded back easily. I have no intention of reusing this motor after all so it's not a huge deal, but I may want to reuse the header. That was the only disapointment of the day thankfuly.
But the following was more then gratifying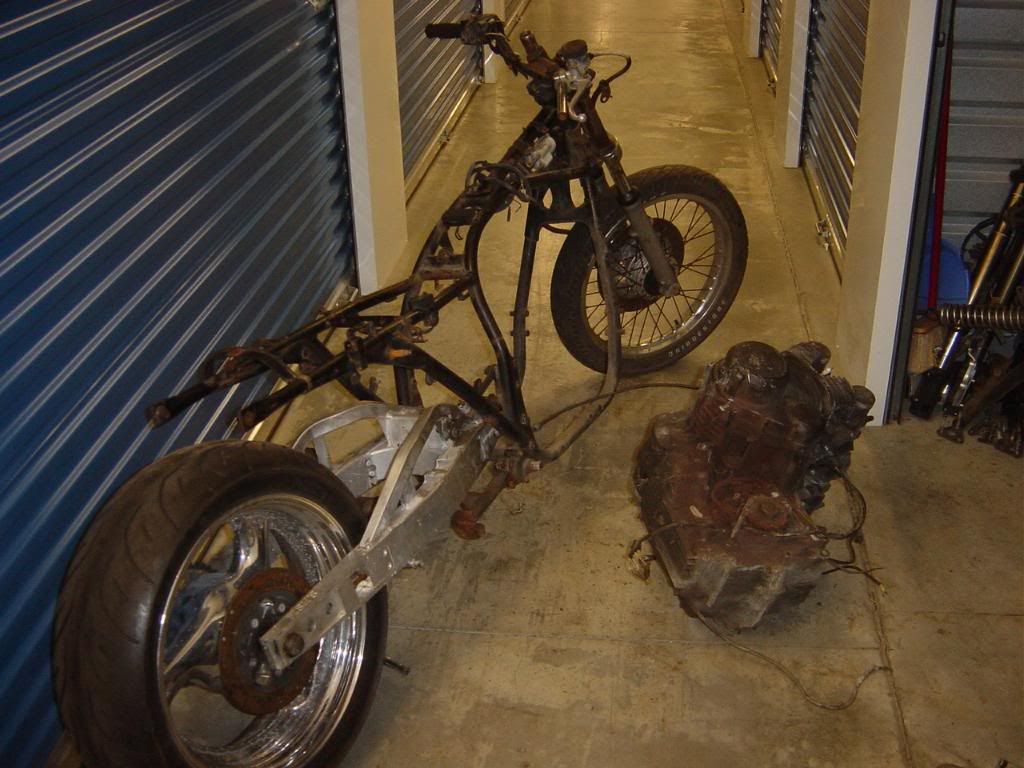 So now it's down to a roller and straped into the back of the VAN. Gona measure up the swingarm for spacers and start looking into what it's going to take to put the GSXR motor in there. See if I can get this moving forward.