This is another question I see quite a lot so I figured why not start a thread for it. It'd be great if this could be stickied.
These are by no means the only way to do it but they are a good start.
There are a few factors involved in wiring up a new headlight. Same bulb configuration? Same wattage/draw?
More often than not your new headlight will have more wires or a different configuration than your stock setup. Chances are, you are going to need to use a relay.
Relays are great for powering headlight circuits, infact many automotive electricians suggest powering your stock headlights thru an aftermarket relay setup. Using a relay gets rid of any voltage drops the stock setup may have and gives full power directly to the bulb.
There are a couple of considerations when wiring up your new relay and these are 1)Wire size and 2)Fuse size.
Your wire rating needs to be greater than the maximum amperage draw of your new setup. Your fuse should also be greater than your maximum amperage draw, but lower than your wire size.
Now some people will say that it is perfectly fine to have the fuse size equal to capability of the wire. I fully disagree with this notion. If the fuse size is equal to or greater than the handling capability of the wire, then there is a chance the wiring could be damaged in the event of a short...it could even cause a fire. Better to have the fuse pop and no damage to the wiring....
Before we can even think about wiring in our new headlights, we need to find out what wattage/amperage our new headlights operate at. Finding out this will help us choose our wire size and in turn our fuse size.
So, who here remembers Ohms Law from school? Remember when we all said to the teachers "We'll NEVER use that!"? Well, you're about to use it!
I = W/V
I = Current (in amps)
W = Power (in watts)
V = Voltage (err, in volts)
For example, we know our Voltage is 12V. Now say our new headlight has a 55w globe, so Power is 55w. So now we take 55 and divide it by 12> 55 / 12 = 4.58
So now we know our globe will draw 4.58amps.
And for those of you that don't remember Ohms Law or how to use it, here's a simple calculator to find the amperage:
http://www.raylucke.com/20010926/tools/amps.phtml
So now that we know our operating current, we can choose our wire/fuse size.
Looking on below chart we can see that 18AWG has a max current rating of 4.6V. This will not suffice however, seeing as you will need to use a min 5amp fuse. So looking to the table again we see that 17AWG has a max load of 5.8amps. This coupled with a 5amp fuse would be acceptable. I however would personally consider using 15AWG with a 7,5amp fuse....or even better, use 14AWG. Reason? 14AWG has a rating of 11.8amps. If I wish at a later stage to upgrade the bulb from a 55w to a 100w, I will not have to change the wiring, instead I'll only have to change the fuse to a 10amp.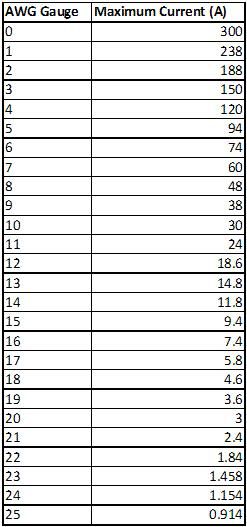 The only other thing to consider in wiring choice, is voltage drop. However it is my experience that in the very short distances of motorcycle wiring, voltage drop is not really an issue.....
Anyway, enough of this geek shit, let's get onto the diagrams shall we?
This first diagram is pretty simple. Using a basic SPST NO relay (Single Pole Single Throw Normally Open) we can power a single filament globe. Ideal for where you may want to add an extra light. Potentially you could run two from this setup, but I would avoid this.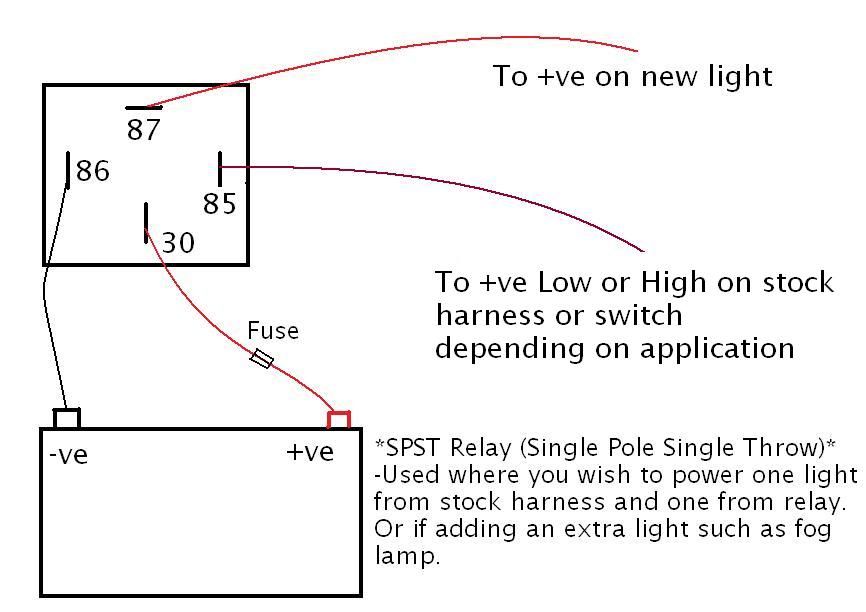 The next diagram would be for running 2 globes, eg a pair of driving lights both ON all the time. It uses a single DPST NO relay (Double Pole Single Throw Normally Open).
Alternatively you could use use two SPST relays to do the same job as such: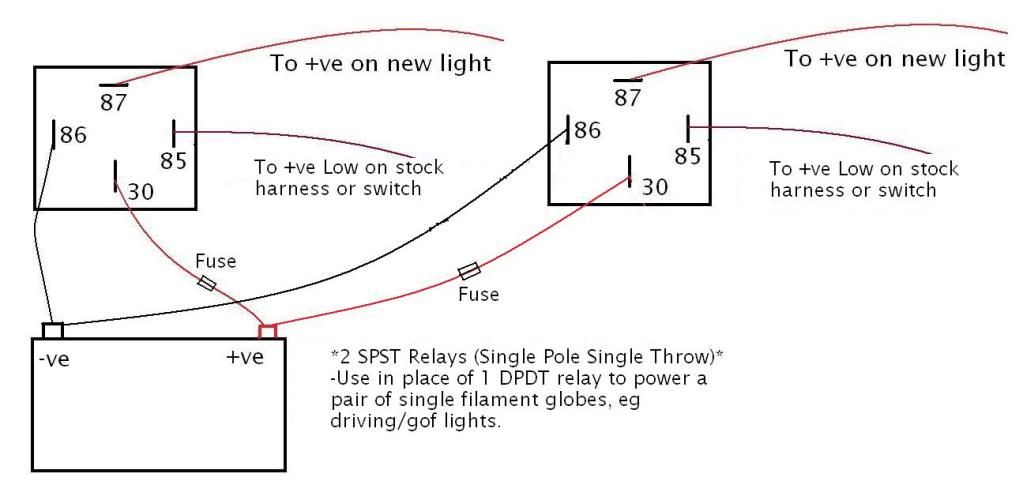 The next diagram uses a spst and a spdt to power a new light using a H4 or other twin filament bulb. The disadvantage of this setup is if the spst relay fails, the headlight will be inoperable...
The next uses two spst relays to power a new light using a H4 or other twin filament bulb. The advantage of this setup over the one above is that if one relay fails, you will always have the other putting out light...
The last diagram uses 2 SPST relays (Single Pole Single Throw) to run 2 single filament bulbs where stock utilised a single twin filament (H4) globe. Wiring your new lights directly to the old wiring would result in one light being shut off when High is selected. This wiring diagram allows one light on Low and both on High.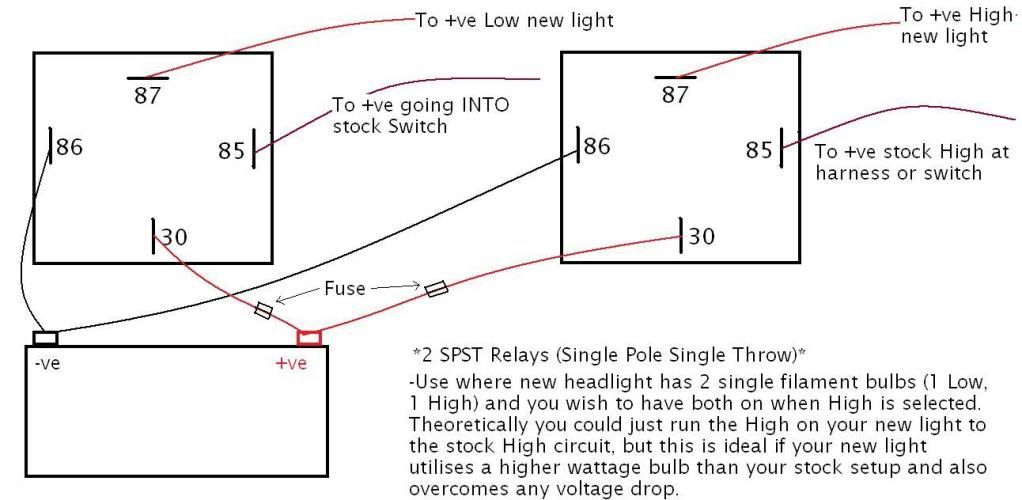 And that is all I can muster for this dreary day fellas/fellalitas.... I shall add more as I think of them, but really I think that about covers all combinations you could need or want.