finally got fed up with using a screwdriver everyday
if this is in the wrong area please move to the right place
me and a friend fixed my stupid starter solenoid and replaced it with something that should never really wear out.. my friend helped alot and i am now sharing this with you.
do this only if you hate 50 dollar solonoids have a diagram and at least have knowledge of BASIC DC electrics
PARTS LIST
1-Solenoid: 85 bronco stater solenoid ( 13.95$ at orileys auto) Master pro PN#2SS4
2-bought a 20ft roll of 14Gauge RED primary wire from orchard 5$
3- A FEW FEET OF OTHER COLORS my bike uses green or green+stripe for all grounds and about a 2 foot of yellow
3- assorted crimp fittings ( ring spade in a couple sizes)
4- 30Amp Fuse holder ( yes you need one unless you want crispy wiring) i used
these
theyre really nice
you will also need heat shrink tube and at least a lighter!!!
Tools
wire clippers
Wire Crimpers/ strippers
screwdrivers
small sockets or tiny crescent wrench
i cant stress this oene enough a Wiring schematifc for youre bike!!!!!!
a couple wrenches i needed 10mm and 12mm for gas tank, battery posts and such i did a bit unrelated wiring while in there
i ended up replacing the battery leads one to the motor for ground and the positive lead to the solenoid with Welding Cable 4 gauge
if you don't have the cable length for relocating it you need to make new cables my friend makes them out of welding cable which is fucking BOMB battery cables as its so flexible!!! also oil, grease and gas resistant i am not going in depth on this part big copper cable Crimp fittings and a cable anvil looking thing i don't know its name... he makes kits and shit mostly for jeeps but will make whatever you need if you got a length spec. and know the ends needed
he used this type of cable
http://order.waytekwire.com/productd...ED%20100%20FT/
85 Sabre ( 4 wire solonoid connector)
we ended up taking
threes 3 power wires that merge for gauges and are always hot leads ( 2 REd/White leads) 1 solid Red lead
take these splice together ( always hot leads )
then wire a fuse holder ( i used Delphi weather proof holders)
to the battery + terminal on the solenoid with a 5/16-3/8 ring terminal the other end goes and is spliced into the hot leads.
next prep your starter power cable( i used my stock one but i had to cut off the end and replace it with a 5/16 ring terminal (6 Gauge) i left the stock cable because without removing the starter and doing an oil change in the process i cannot remove the other end of the cable
next part take you're Wring diagram for your solenoid note which terminals for what function ( there's four on the solenoid i used and a diagram in the box with it ) one for Battery +, one for starter a coil hot lead(unused here) and a trigger lead ( to activate the starter)
now my bike has 2 other wires left we haven't got to yet A solenoid ground ( clutch side stand switch ect.)( green red stripe) now you don't have to absolutely use it but i have to as with the case grounding to frame the gear position sender stopped working and displays neutral all the time on my bike you might not have this problem depending on how factory wired it ( the ford solonoid uses case grounding so beware!!!!!)
i used solid green for this as i do not have striped wire around.
the other wire is the solenoid trigger lead mines yellow red stripe stock but as i cant find red/yellow stripped wire i used yellow for it you extend this and hook it up to your trigger terminal on the solenoid
now all that's left is o hook up to you're battery cable from the positive post to the solenoid input lead and test it out
now i had to move mine about 8 inches from the stock location as its just too damn big to fit there so all wires were extended except the
starter lead i removed my bikes stock toolbox and coolant tank to free the space btw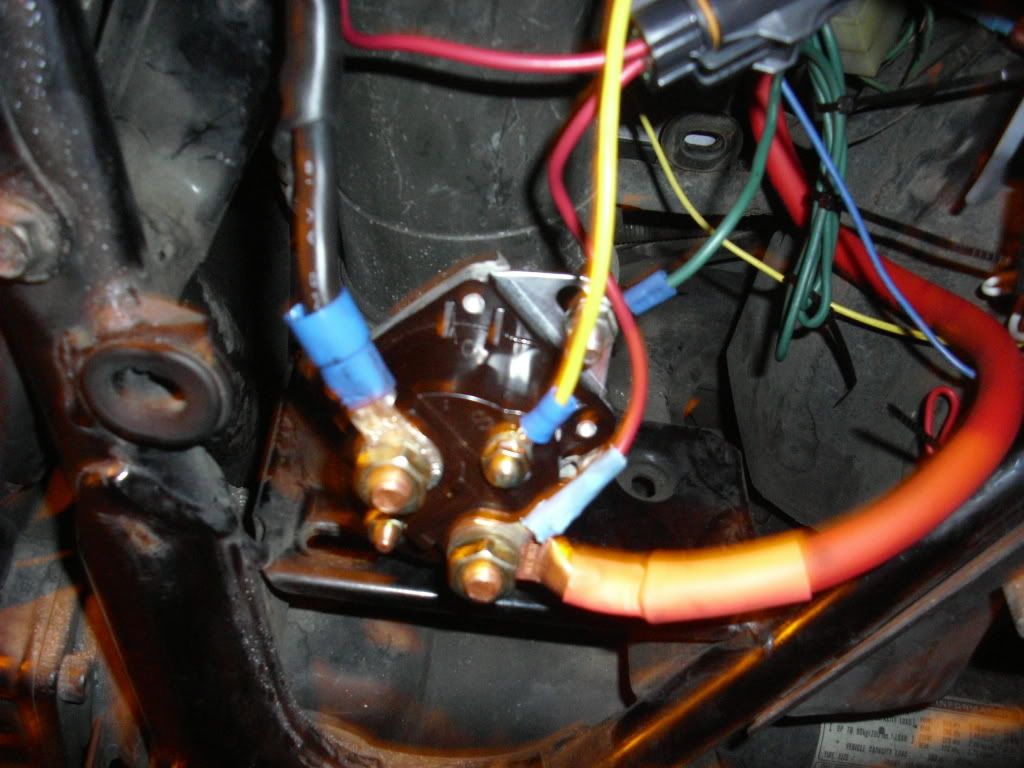 BIG Red lead is from Battery +
Small Red leads go to the always hot leads for ignition and stuff like that
Green Lead Starter solenoid Ground( goes through gear position and clutch switch on mine) Remember to isolate the mounting tabs and casing if its wired similar to mine
Yellow is the Starter Trigger lead extended from the main wiring harness
the Big Black wire is to the Starter its the original Oem Cable with a new end fitting crimped on
and before i get a bunch of shit iam going to work on tidying this up ovet the next week !!!