Odds are that no modern sportbike tank will swap easily to your cb. Most bikes now use aluminum perimeter frames instead of a steel tube backbone. Your tank is made to fit on a backbone frame. Your best bet for a swap will be to find another backbone-framed bike that has a tank you like.
What you've got:
What you want to swap from: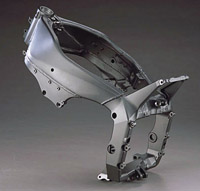 It can be done, but probably not very easy, and certainly not without manual labor.