Evening all!
I finally did it. I've been wanting a Virago for the last several years, but with my GSXR build in full swing (albeit, a slow swing), I couldn't justify a second bike. Well, with any luck the GSXR build will be coming to a close pretty soon (if you want to check that out,
visit that here
) it's about time for another build. Hopefully this one won't take 10 years.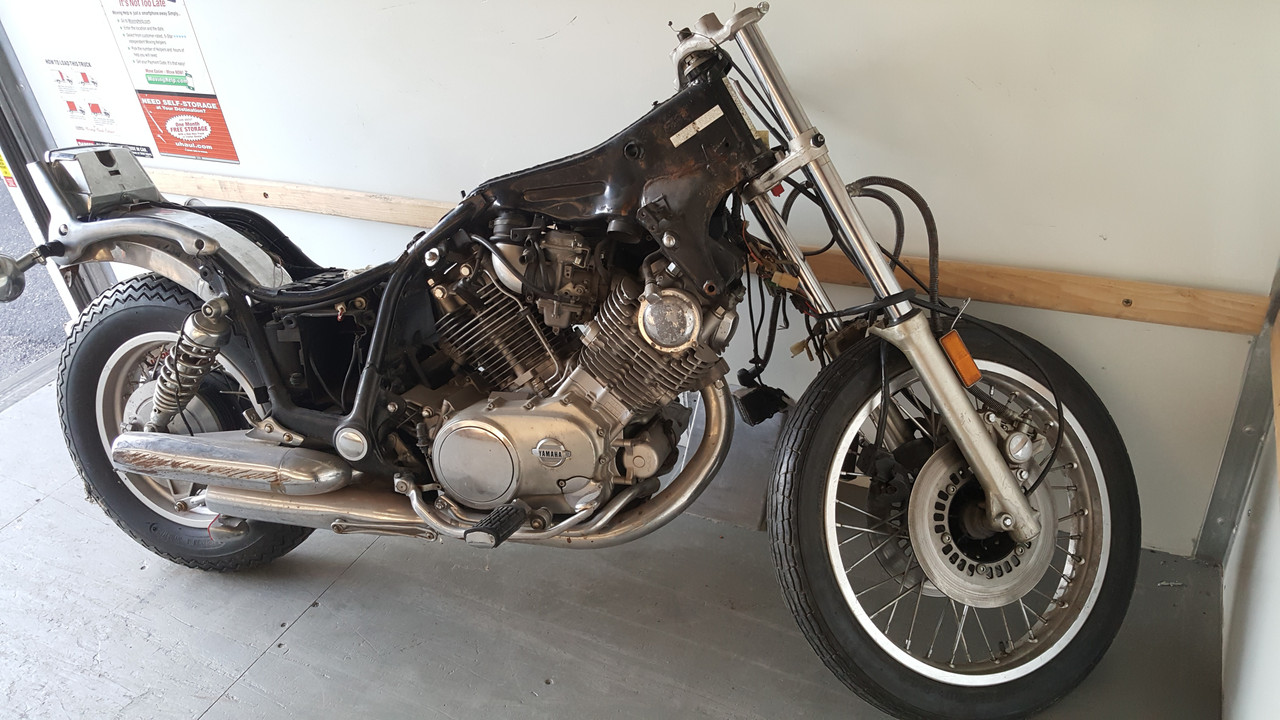 I picked up a wrecked Virago last month, and finally brought it home last weekend. It's a 1984 Yamaha Virago XV700. The bike was last titled back in 1994. The story goes that the rider was touring through Yellowstone National Park from California, and took the turn into the Old Faithful geyser a little too quickly. He laid it down pretty good; enough to destroy all of the fairings and tweak the steering stem slightly. The rangers pulled the bike out of the ditch, and through some set of circumstances the title was turned over to them by the rider. The bike sat for the next 10 years next to the ranger station until finally being auctioned off to a gentleman who planned on restoring it. After having it occupy space in his garage for 4 years with little to no working being done, he decided to sell it. I ran across the Virago on Craigslist, and over the next month watched him drop the price steadily from $990 down to $650. The bike was located in a neighboring city, and I got the chance to go check it out a month ago and talked the guy down to $460.
Despite the wreck the rest of the frame, forks, wheels, shocks, and most importantly engine are all in good shape still. It goes into gear and free wheels in neutral without issue. The goal is to cafe the bike out. I very much like Greg Hageman's XV750: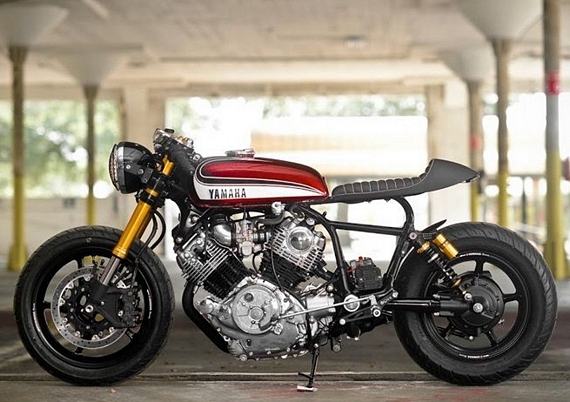 I'm also drawing inspiration from
Capt. Obvious's build
,
Knifemaker's build
, and the
Dogma Motorcycles "Dragger"
.
Tonight I finally got started. Here she was at 8pm: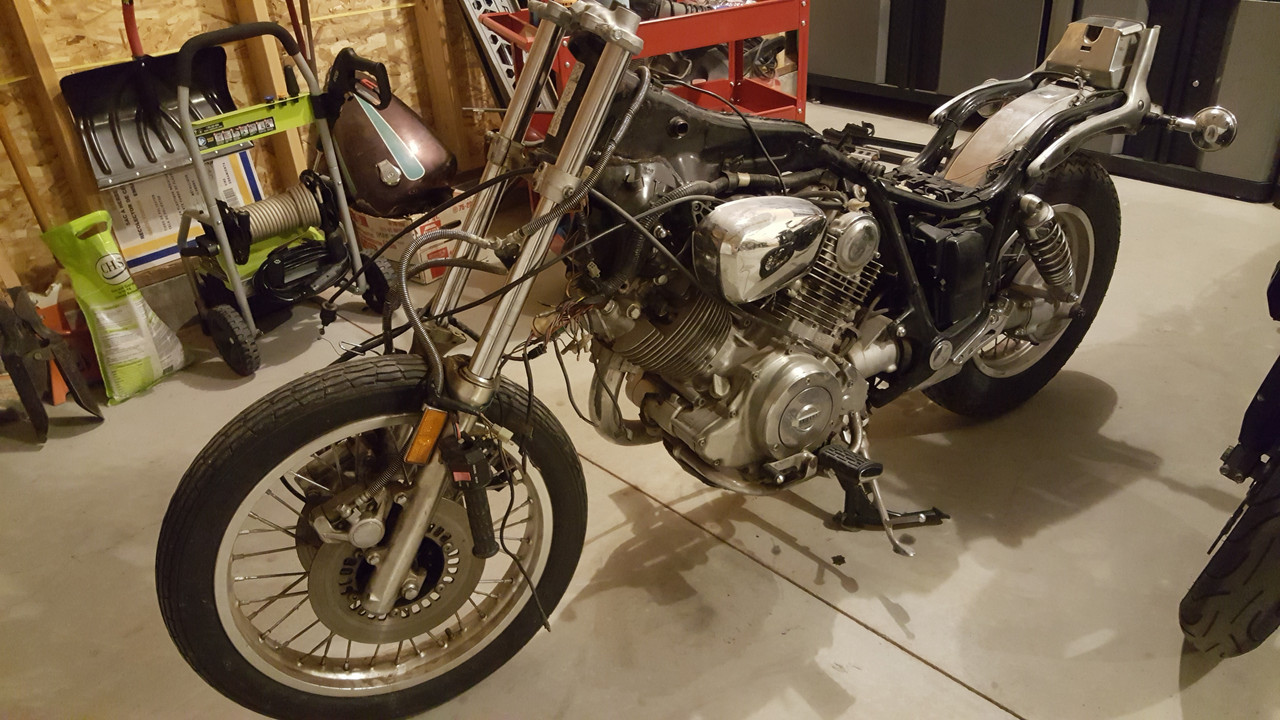 ...and here she is as of 10:30pm: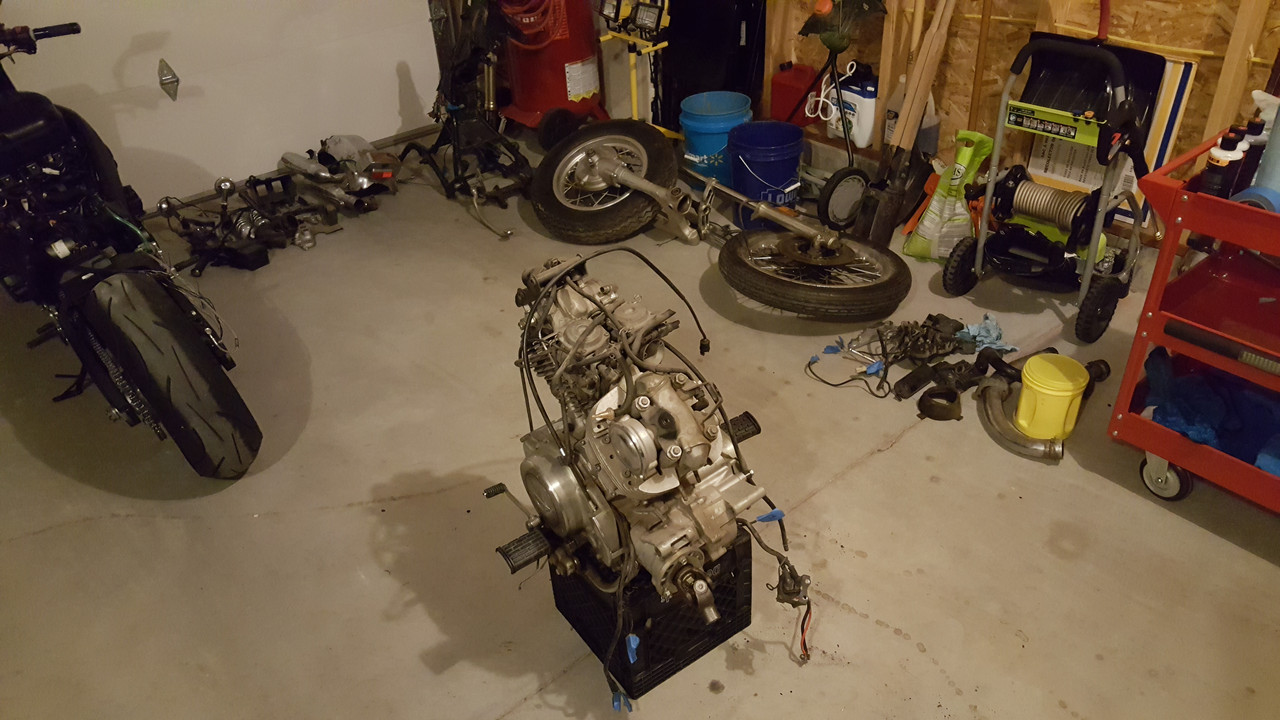 ...and of course new parts have started to roll in, starting with 2001 Yamaha R1 forks:
I have a few items on the list that I'll be picking up mid-month:
R1 Forks - Bought, 2001 $200
Cognito Moto fork conversion stem - Bought $196
Cognito Moto top triple clamp - Bought $159
Single-carb conversion
Clip-ons - Bought with Biltwell grips $60
7" LED headlight and bucket - $45 headlight
Some gauge solution (looking at TrailTech)
Generic cafe fuel tank - $119
R1 front brakes rotors and calipers
R1 hand controls - $44 (won't work, DBW. Doh). Universal aluminum controls - $10
Cafe seat unit - Generic hump seat, $47
Integrated tail lights
Custom rearsets
Rebuilt RFY dual shocks
Exhaust (still unsure)
Tires
Other things:
Press the stem out of the lower triple
Adapt front axle to work with R1 forks
Build sub-frame
Powdercoat all of the things
Total cost so far (including bike): $1350
Doubtless there are items I'm forgetting there, but those are the big ones. Tomorrow's project is to cut the frame, get it ready for for the hoop, and get my neighbor with the welder to help me put everything back together. Here we go!