well here we go again, not quite finised, but close enough me thinks.
My CB893RR, started life as a 600 Honda Hornet, been through a few changes since, had a 637cc h/comp Wiseco
kitted engine at one stage with a lot of mods, then made the decision to stick a blade motor in.
there isnt a lot of Hornet left in it now, but says CB600F on the reg docks, so it must still be a Hornet.
Please use third pic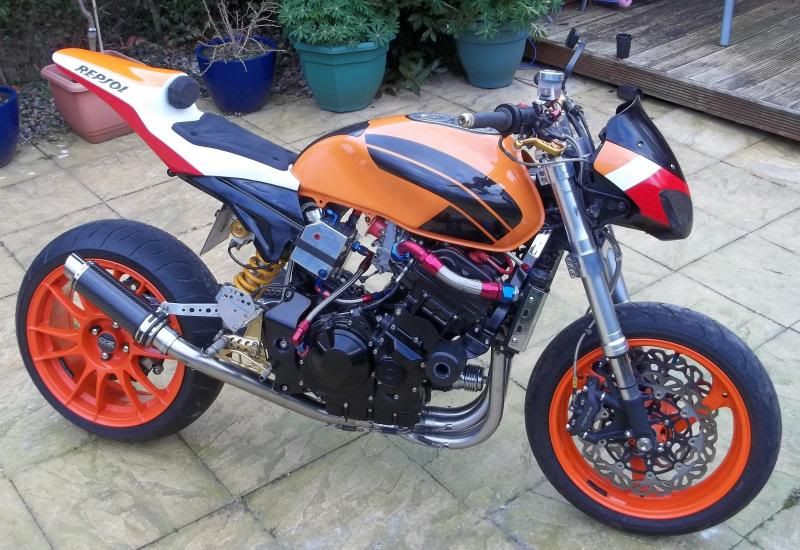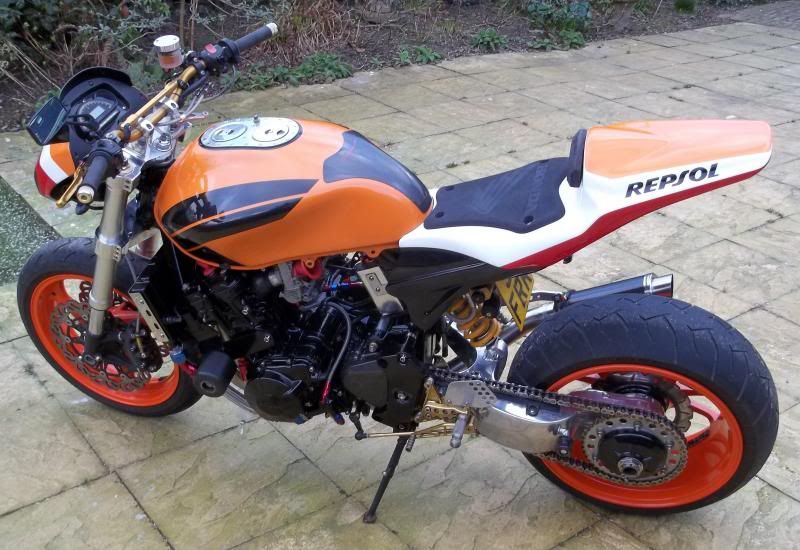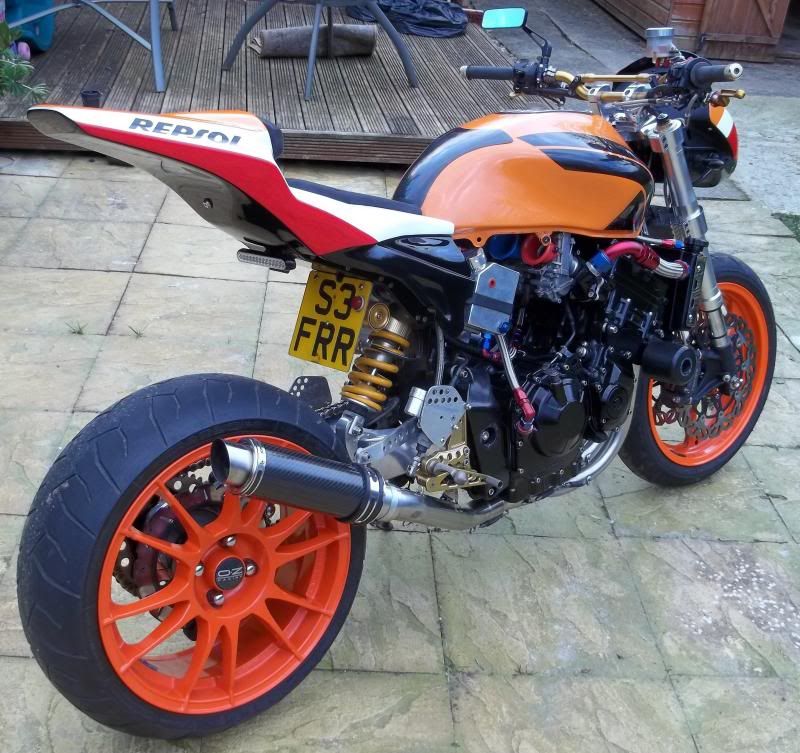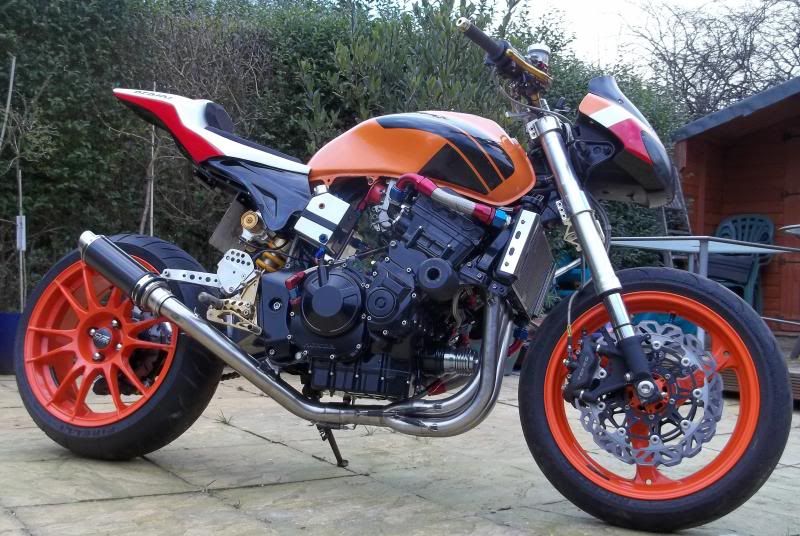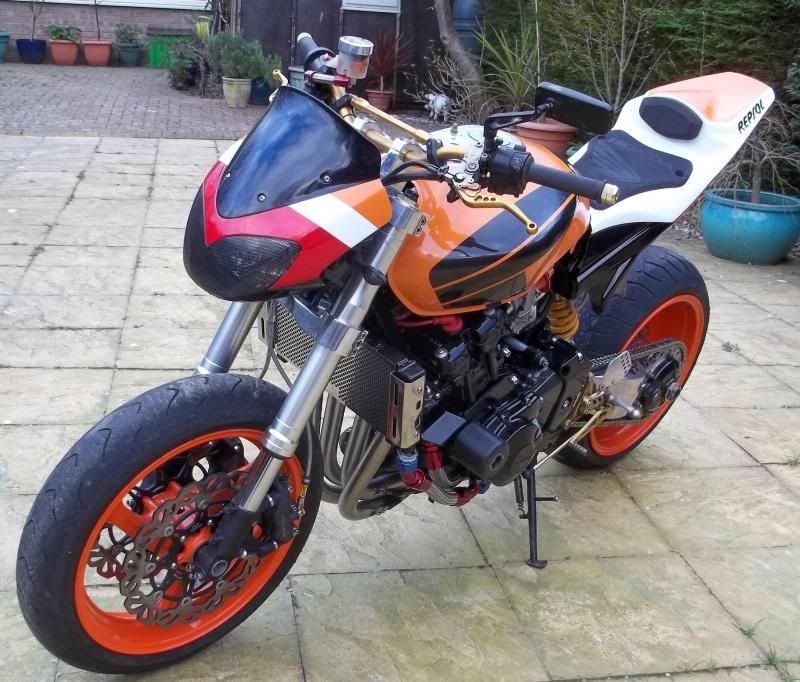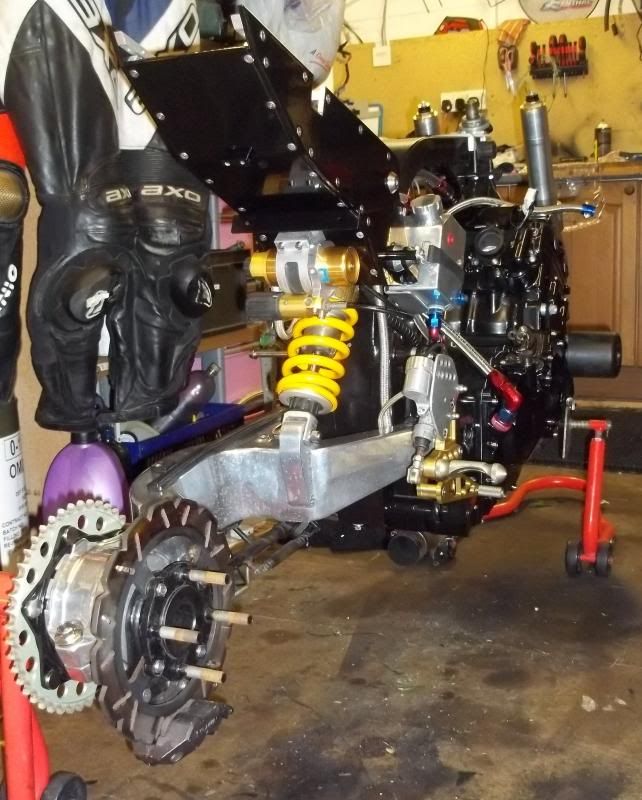 with front fender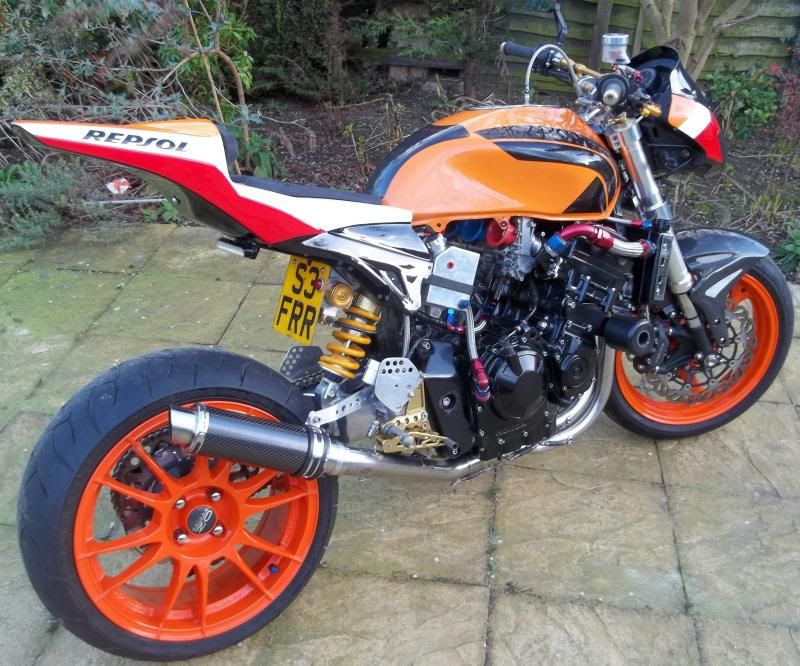 list of mods......
engine-
stock 893cc CBR900RRs motor
35mm Kehine FCR Carbs running open stacks with 600 hornet inlet rubbers,
CB900F coils and h/t leads
R1 Mos fed reg/rec.
Iridium spark plugs,
Nearly all bolts changed for stainless steel,
painted with PJ1 silk engine and case paint, All cases powder coated gloss black,
Arrow S/steel Exhaust headers with SP engineering carbon can,
Hand made alloy exhaust hanger bracket
Crank case breather with custom oil catch tank & K&N filter fitted,
S/steel braided hoses and AN conectors used on full coolant system,
SSR Carbon fibre sprocket cover,
TTS manual cam chain tensioner fitted
PC racing flo billot alloy re usable oil filter
FRONT END.
Wheel, forks, brake calipers, Brake master cylinder, all off CBR1000RR 07,
Carbon fiber front fender,
CBR1000RR Armstrong wave front discs,
Titanium pad holder pins,
S/steel bleed nipples and banjo bolts,
Triple tree custom made by IZAK's (uk)with 25mm step and extra deep bracing,
Nose unit is off a Gillera DNA 125,
CRG gold shortie levers,
CRG supersport Clutch perch,
Goodridge custom braded brake hoses,
Motogadget Motolight Digital dash,
Motogadget Motosign light unit,
blue LED water temp guage,
Motrax mirally mirrors,
Renthal gold Ultra low bars and grips with brace,
Gold anodised bar ends,
Arrow steering damper (custom mount)
Venhill braided S/Steel throttle cable . also used as over braid for rear brake wiring and speed senser wire cover.
Gold anodised fork preload adjusters from germany (e-bay)
Titanium front spindle nut
titanuim disc bolts
EBC HH sintered brake pads
HRC quick action throttle
FRAME.
CB600F frame made to fit round engine, all new plates and brackets hand made by me
VFR800 swingarm (shock mount fabricated and fitted by GIA Engineering, with thanks to Dudeskin) with OZ 7" car race wheel modded and running 200-50-17 tyre,
hub modded to take longer wheel studs for bigger off set wheel,
sprocket carrier machined to align chain,
Titanium custom castellated sprocket carrier Nut,
Titanium custom hub pinch bolt
Rear wheel support spacer made by Monketeer :clap (as well as other spacers)
New tank fitted with "Tank Shop" twin alloy(race) fuel filler caps,
Goodridge braided s/steel tank breather with non return valve,
Hornet rear sub frame removed and replaced with one off hand build alloy box section sub frame with CBR1000RR 08 race seat unit,
Li-po battery
Hornet expansion tank removed and replaced with hand made alloy tank mounted where battery used to sit,
Goodridge hoses and AN fittings on expansion tank,
Head bearings replaced with taper rollers,
Swing arm mounting plates moded and powder coated,
Chrome swing arm pivot caps fitted,
Scott oiler with Braided feed tube and custom feed nozzle,
Gilles gold adjustable rear sets with custom alloy heel plates,
Hand made custom rear brake hanger,
Titanium rear sprocket nuts and holder bolts
Renthal CB1000r 45t rear sprocket,
Renthal CBR900RR 14t front sprocket,
Renthal Gold 530 SRS chain,
Ohlins 46HCRS rear shock,
alloy shock ressy bracket,
Mini LED indicators (front)
Clear LED rear light unit, (intergrated indies)
most electrical connectors changed for water proof items
C&G crash mushrooms,
Scorpion s/steel radiator shield,
G-craft rear brake fluid tank,
Hel s/steel braded brake hose,
Hel In line brake pressure switch,
Goodridge hose clamps,
rear wavey disc,
Nissin 4 piston rear caliper,From an MV F4
titanium pad holder pins
s/steel bleed nipples and banjo bolts
Datatool Alarm/ Immobiliser,
hand made alloy No plate mount, with LED plate light
fuel line quick brake connecter
Repsol Rep Paint job done by C.A.H. Racereps of Brompton-on-swale