Right, via request, here's a quick low down on the cheapies: Bicycle Speeometers!
The lowdown on bicycle speedometers is that they are a great budget way to track your speed.
I'm not going to go out and search the nets for the 1000's of possible options on this. If a bicycle speedo is what you're after, do your homework!
Things to consider if you decide to go with a bicycle speedo:
*Mostly don't come backlit and when they do, it only stays on for a few seconds and you have to press a button for it to come on. Having said that, it's easy to rig up an LED to shine on it. The trick is to angle the LED so as not to produce excessive glare.
*Speed, distance and clock are the only features of any use to you. You don't get a tacho or indicator lights.
*It's reported that wireless will not work due to engine interference. Go for a wired version.
*Cheapies don't have a wide speed range and they may not have a large selection of wheel size choices. You really want one that you can input the wheel size in cm/inches yourself, and not have to choose a generic size: eg, 16", 17", 18"
*Need to make sure that the wire for the speed sensor is long enough to reach your from your mounting position to your sensor position.
Here's a few that may be suitable:
First off we have the Cateye range:
http://www.cateye.com/en/product_listing/51
The Cateye Velo5 was my personal choice:
Functions
Current speed
Maximum speed
Odometer
Trip distance
Clock
Features
Auto start/stop
Auto power-saving mode
Tire setting in inches and CM
Speed display up to 300 kph/185mph
New tool free universal mount ( 22 to 32mm diameter)
Prices would vary a lot. I bought mine from my local bike shop for under $30AU. Check out ebay or use google!
I'm sure other models in the Cateye range would be suitable. Check them out and decide for yourself!
Sigma is another player in the bicycle-come-motorcycle-speedometer scene.
http://www.sigmasport.com/us/produkte/bikecomputer/
The articles I've read have used the Sigma BC800. These are no longer made new, but you may be able to find some new old stock.
Looking on their website, they have a few suitable for motorcycle use.
This one seems suitable: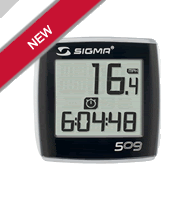 Features speed, distance and clock and available for under $20 from ebay.
Speed goes up to 199mph which is more than enough for the street, and besides if you get pulled over doing more than that, you can honestly tell the officer you don't know what speed you were doing!
Check them out for yourself!
Topeak has some that may be suitable also:
http://www.topeak.com/products/Computers
The Panoram V12 Wired seems fit for duty:
Features speed, distance, clock . Can be had from ebay for under $30. Speed only read so 99mph/kmh but for legal street riding it's okay.
Check out their other styles to decide suitability for your self!
Nanbeiyan MS-601 are another gauge that gets used: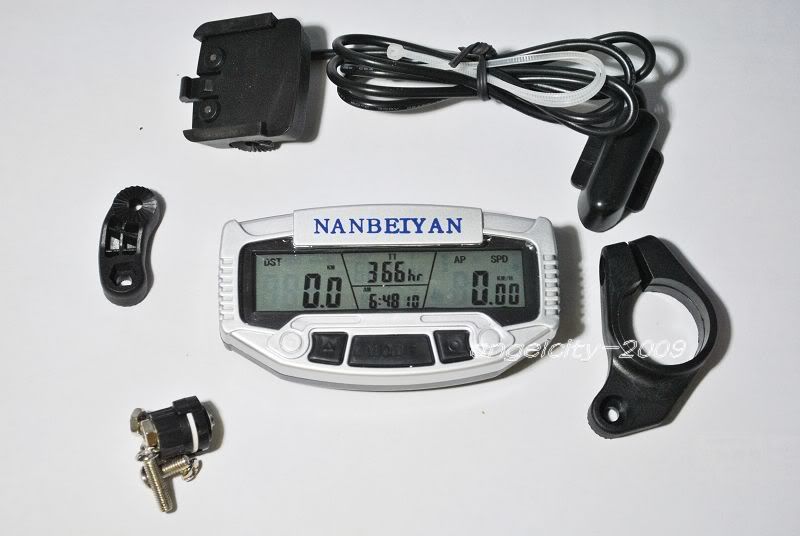 Features speed, distance, clock and ambient temperature. It only displays a top speed of 99mph/kmh, which really, is ample for legal street riding. Also has an amber backlight. Backlight stays on for only a few seconds.
Under $10, check ebay for these!
This one looks similar to the Nanbeiyan. It's a Sunding SD-558A: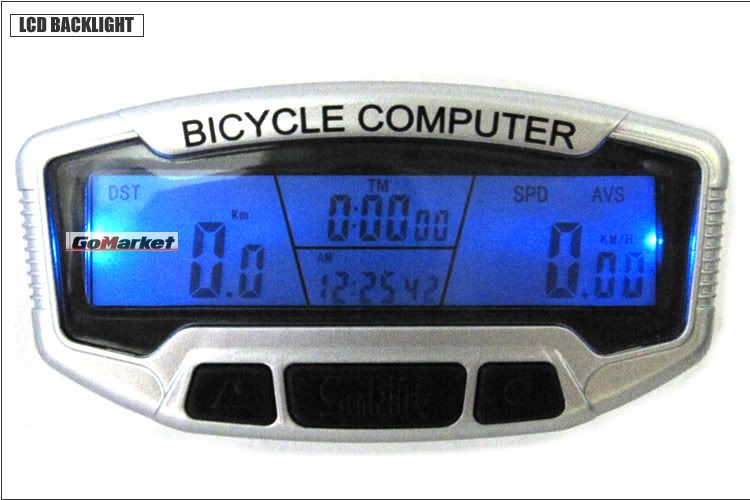 Looking similar to the Trail Tech gauges, it just doesn't have the features...or the price tag! (geeze I sound like a corny salesman)
These look like a revamp of the Nanbeiyans above with a fancy blue backlight.
Again, speed only goes to 99mph/kmh and the backlight doesn't stay on, but hey, for $10, buy two and split one open to see if you can mod it to keep the backlight on with a switch. Ebay is your friend on this one folks.
As I said before, if you're considering a bicycle speedo, do your homework. No holding Kaos responsible if they don't work! For the cheap prices they can be, they are certainly a worthy alternative to the $$$ spent on dedicated motorcycle gauges.