Please move this thread, I posted it in the wrong area.. Thank you!!!!!
Hello to all the fighterzz here! Glad to be on a forum with such vast knowledge and amazing people from all around the world with different ideas of every kind.
I have a 91 CBR1000F and even though I loved how it looked it wasn't screaming what I wanted it to, and that is ME! myself, my style, ego, imagination, ruggedness, rudeness, loud, stylish, out of the box, BIG, extra ordinary.
So I decided to strip it down naked and build it back up with my own style of fairings(made with sheet metal, sprockets, calipers, chain, bolts, nuts!) That's the least of it, other things would include changing my coil system from that old stuff to the new stuff which is stick coils so I can get a little extra hp and a good boost to start the bike when it's cold. Few other things would be cutting the back of the sub-frame off as no matter what I don't want another person sitting behind me(even if it's the sexiest girl in the world), I'm selfish about my motorbike as it's my way of pleasure(we ride it:P).
It's a project of time and ego because not only have I never changed the oil of a motorcycle or used an angle grinder but never ever been creative, and now my juices are flowing so to say and I have done a lot. My Bike when I bought it ($900) was not running and I got it running and pleasantly drove it everyday in 2012 but now I have to clean it up and make it a new bike.
Other things include new headlight, finding a way to get the oil-cooler to look cool and fit into the bike, Changing/repainting wheels, handle bar, forks and sub-frame, That's not including the colors of fairings. Building custom taillight and turn light assembly with custom back end. This also including moving everything from the back of the bike to the middle where there is a little space, building air vents in fairings where I will put my air-pods and have them tunneled back to the carbs. Changing my Delkavic 13"inch exhaust to 9"(hopefully by cutting and re-welding as I don't have money to buy a new or used set).
Now the question is "Aman, you explained so much, but till where have you got on the bike?"
Well Here it is, it isn't much but before I started working on this bike, I had to dismantle a 99 zx 600 that I need to sell as parts and even that was a first.
So Far I have.
1. Removed all the fairings and did some cleaning
2. cut the back end of but I need to cut more as I am not satisfied
3. Exhaust had a LOT! of rust and I got that cleaned up(took 12 hours over a period of 1 week and I still have to run a sander on it to get it shinny)
4. Dismantled the headlight and gauges all the wires and fuse box only to realize that I'll put it back in the same place because the water cooler isn't moving but I'm glad I did it because now I can untangle them and put it how I want it put.
5.Got the back tire removed, just waiting on my sanding papers to arrive for my angle grinder.
6.change the old pods for new ones.
P.S I wanna go single swingarm but no money so It will be a later process once i'm done with this and call it my bike, it will be second level mod. I still am learning welding so fun times ahead!
Here Are pics for everything so far, Forgive my slow process and work space as It is being done inside my apartment.. yes inside my apartment I said.
Bike before I started!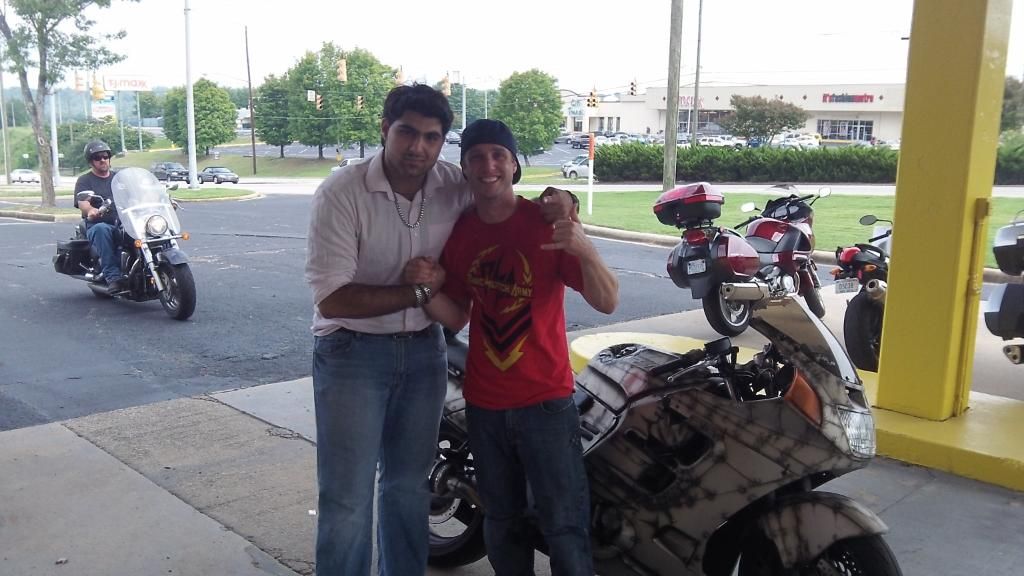 Fairings off!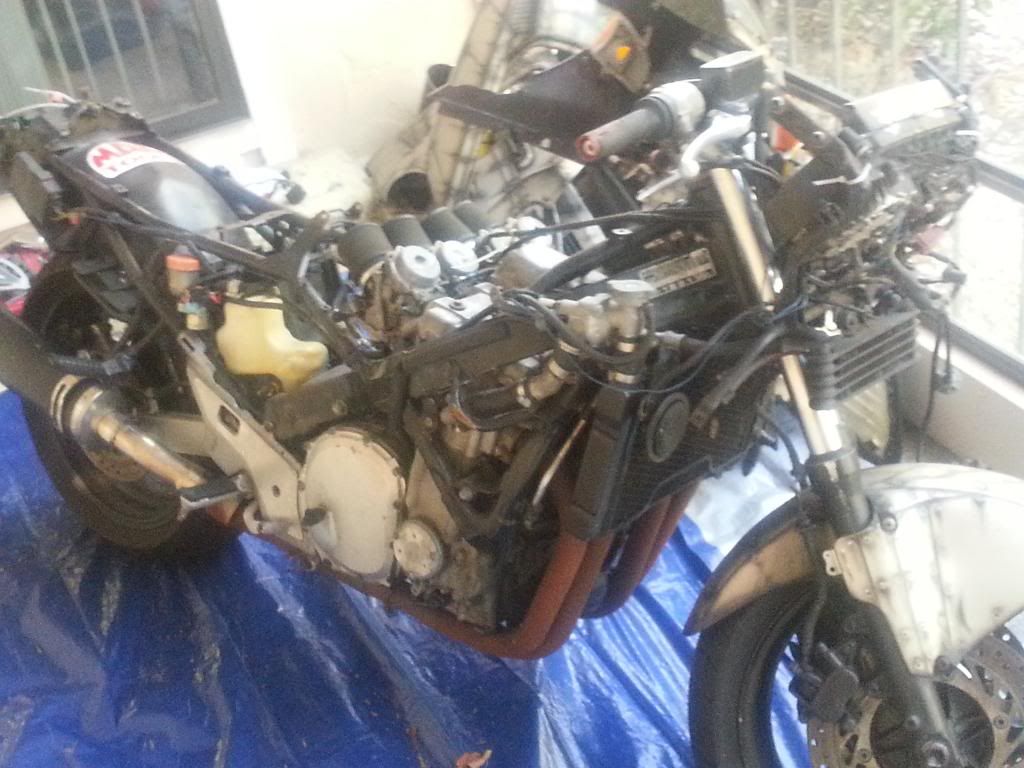 Back end undertail stuff off!
Fuses......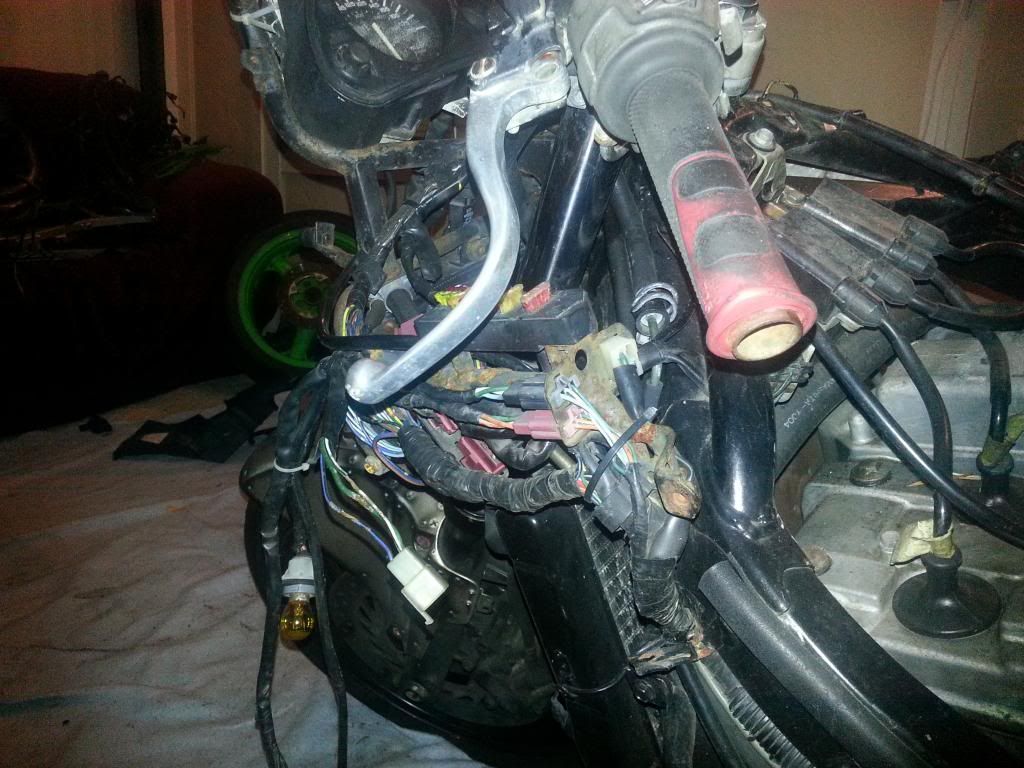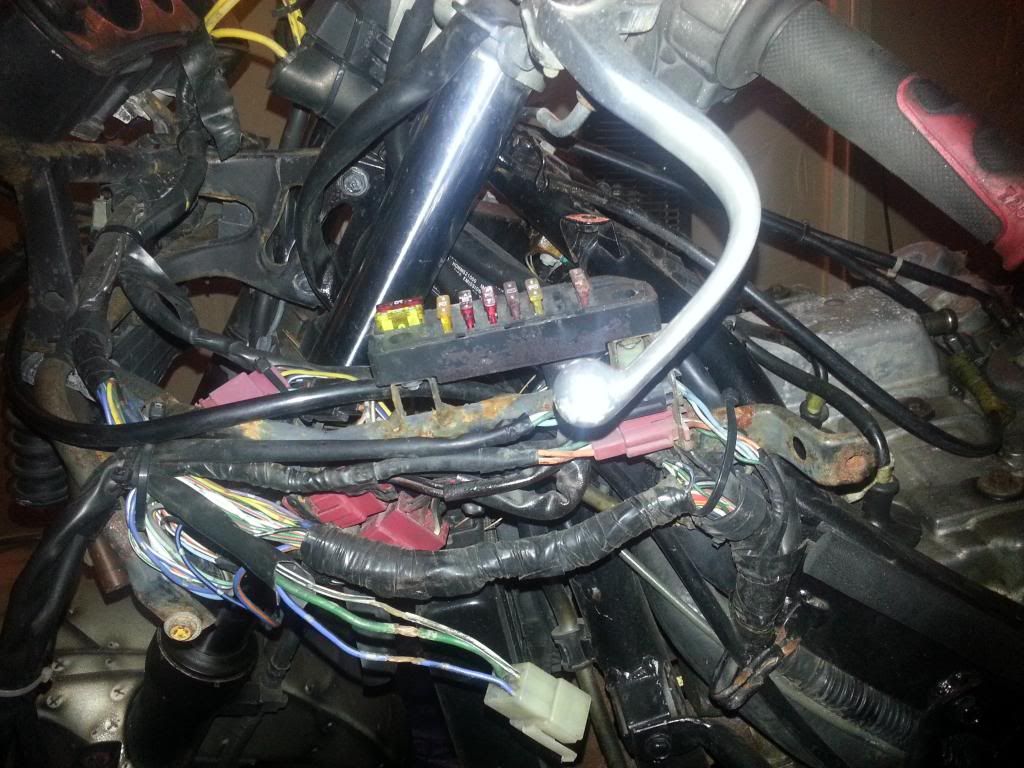 Headlight assembly... this was a bitc*
Rusty Exhaust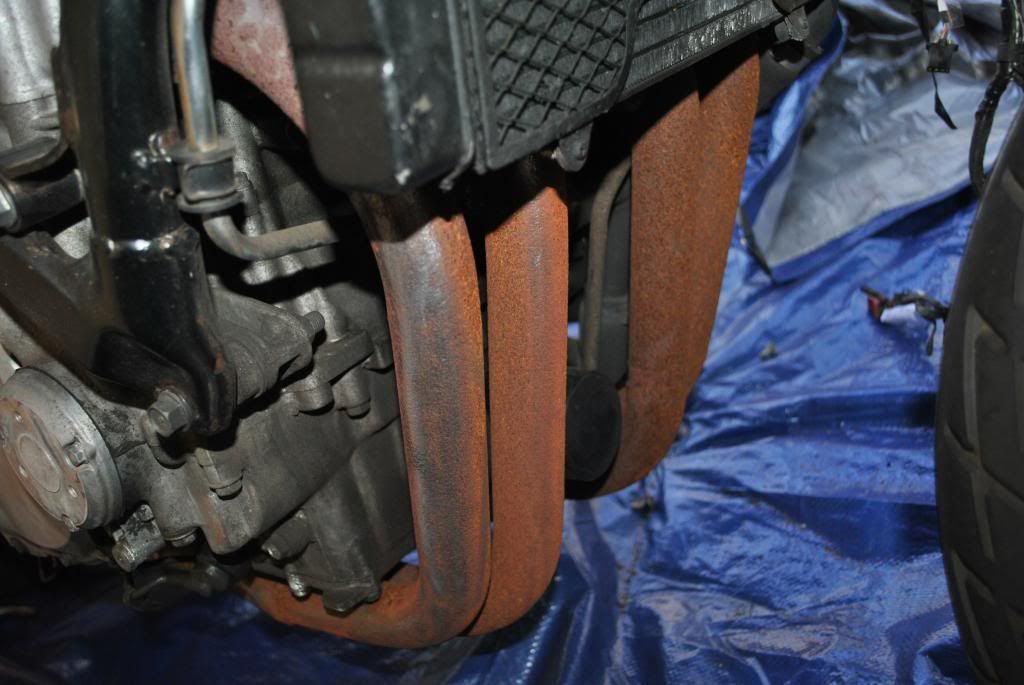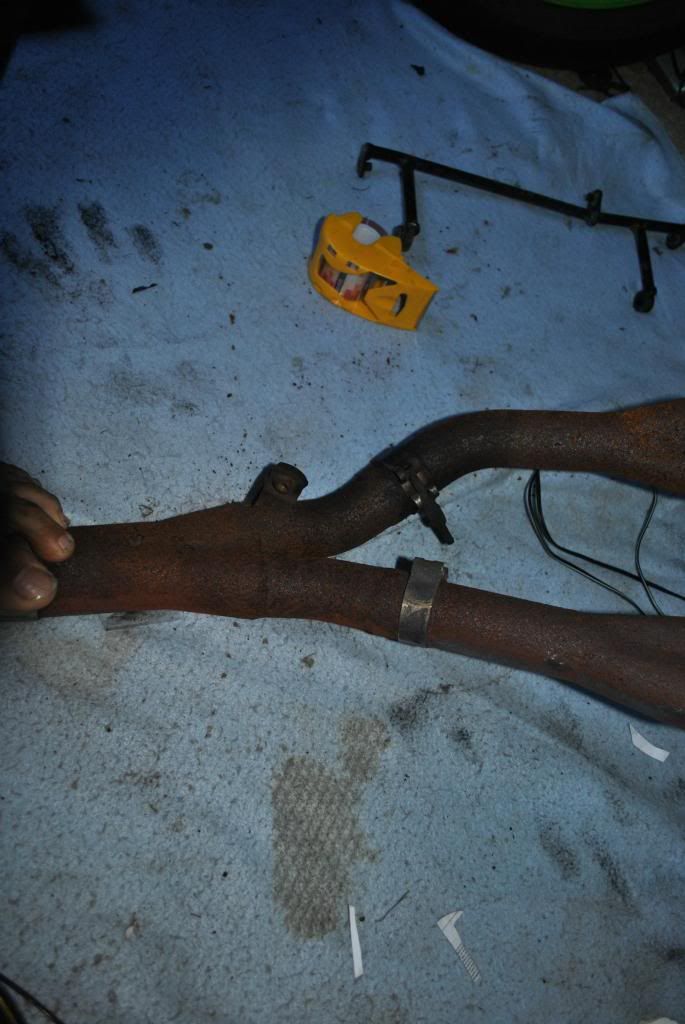 After taking the fuses box and the headlight/guage assembly off
Back end cut off Far image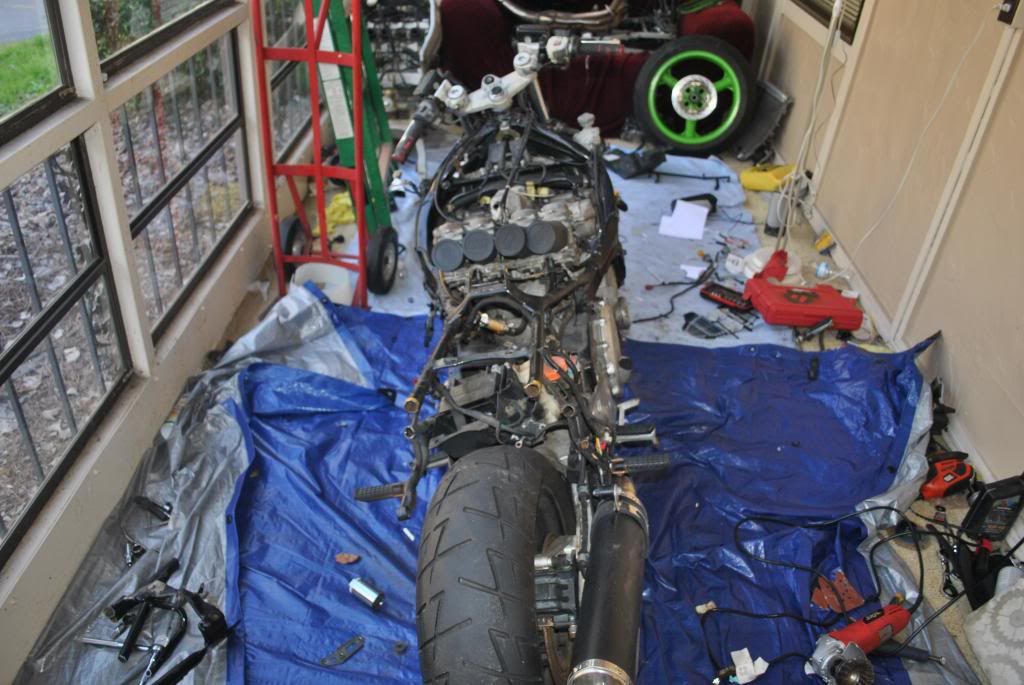 Near Image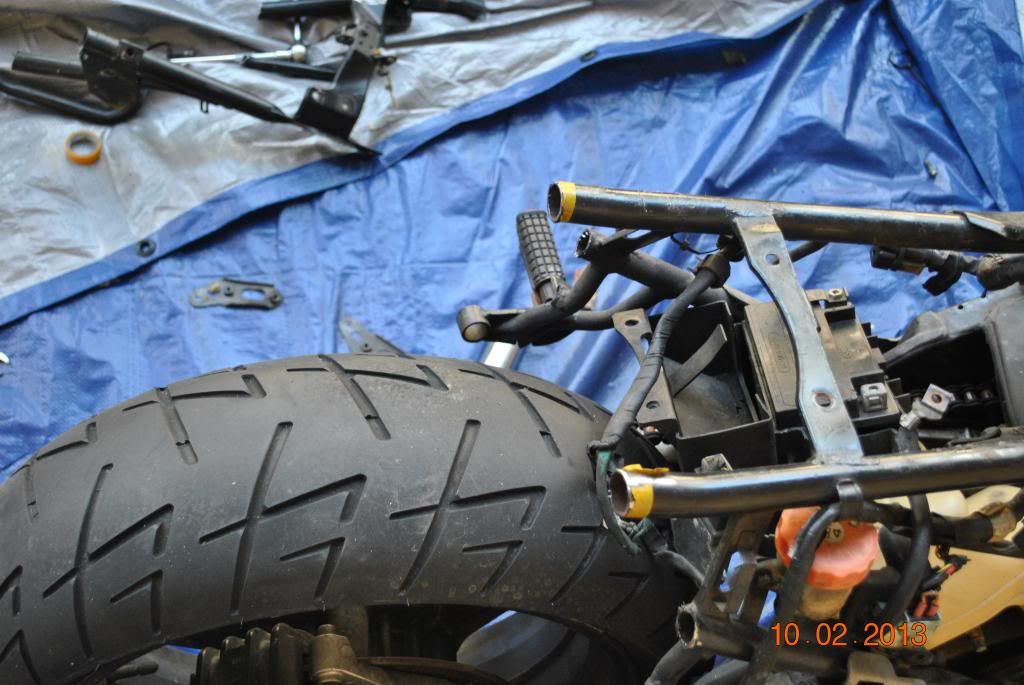 The stick coils and harness jsut came in a day ago.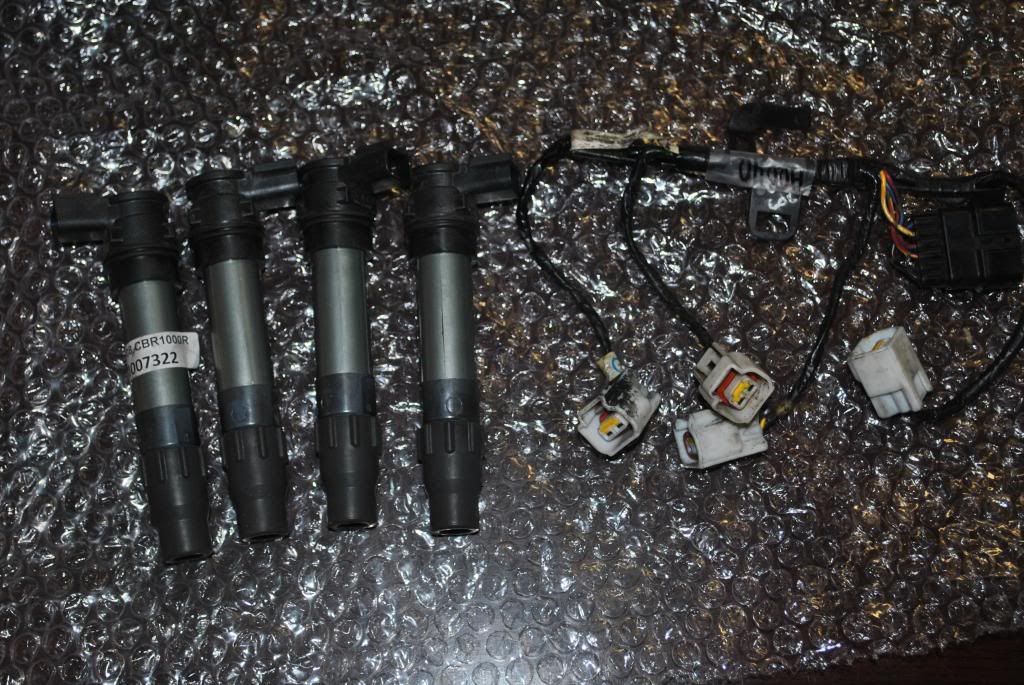 More recent pics to come soon.