OK, finally got the whole picture thing figured out again. So to pick up where I left off, old oil pan is off, new o-rings for the pickup and tubes.
Then the salvaged pan is on, oil cooler lines reattached. New plugs too, someone had stripped out a previous plug and made it into a self tapping oil plug. Glad I was getting a new pan anyways.
Bub bye excess weight.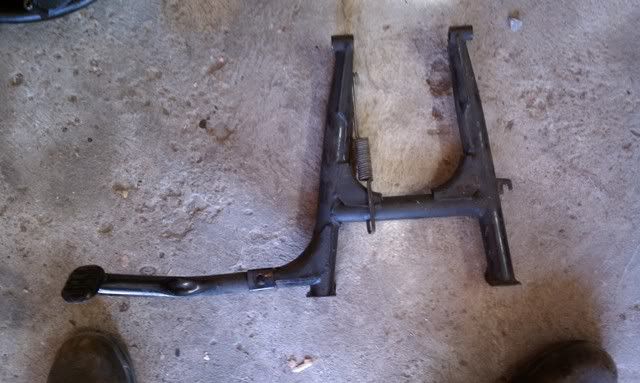 And outside into the sunlight she goes. Pan is on, oil cooler is back on, and suddenly I get this great (half drunk) idea that I need to try and start this pig. So the goal is set, fire'er up before dark. Or I drink too much and lose my ratchet. (still don't know how it got in the bathroom.)
So I spray it all down with degreaser, drag out the hose, and wash it off. Then off comes the damaged brake lever and switch.
And this was the present I found. And since I bought a new throttle cable, guess which part it doesn't have on it. That's right, the one I need.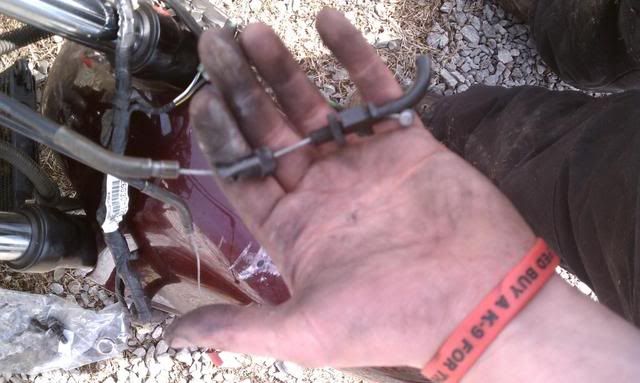 Dammit, throttle adjustment is broken. But I still want to start it, I'll pull on the cable if I have to. So I continue towards my goal. Degrease, clean up, and paint the header.
Then wait for it to flash, and paint another coat.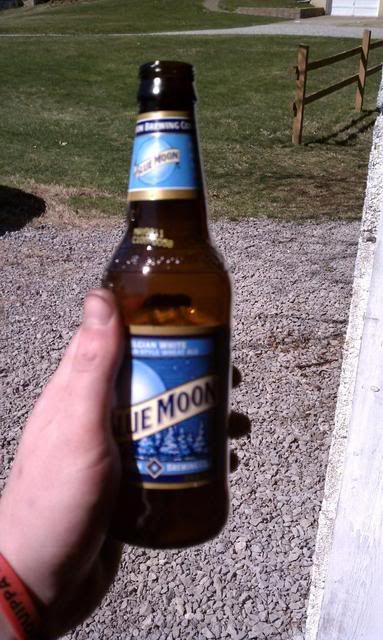 And on goes the header.
New fan to replace the one that was damaged in the crash.
On goes the radiator, filled with coolant.
Next the tank, with some fuel added, and the battery temporarily placed on the swing arm. New brake lever on, switches mounted just to try and start it.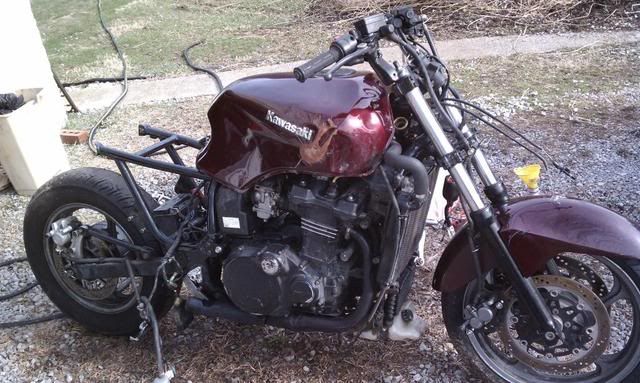 And then, the moment of truth. Rarr Rarr Rarr Rarr Rarr Rarr.
Well, it turns over. That's a good sign. Maybe it just has some air in the fuel line. Rarr Rarr Rarr Rarr Rarr Rarr. Shit. Get out my spark tester, good spark to the plugs. OK, gasoline engine, only needs air, fuel, and spark. Getting air, getting spark, not so sure about fuel. Rarr Rarr Rarr Rarr Rarr Rarr. Come on. Rarr Rarr Rarr Rarr Rarr Rarr. Rarr Rarr Rarr Rarr Rarr Rarr. Rarr Rarr Rarr Rarr Raarrrr...Rarrrr.......Rarrrr...........Rarrrrr... .................Click. Fuck. Batteries dead. Oh well. Pushed her back into the garage, put her on the charger, got cleaned up, and realized my back hurt. Alot. Time for shots and a heating pad. Next up is the subframe swap and modifications. After that I'll start the body work, and then wiring. Doesn't look like I'll make my April 1st riding date. Oh well, I'm plugging away. Got a lot of time off in April, a 10 day stretch, so I'll be wrenching on the bike from sunrise to sunset.