Well I didn't get any negative responses on my idea of chopping off parts of the frame, so I went ahead and did it anyways. I cut off the forward half of the seat mount on both sides of the tank mount, and also on the bottom by the cross brace. I tried using a sawsall with a metal blade, but it snapped in 30 seconds and damn near took off my hand in the process. So onto my trusty cut off wheel.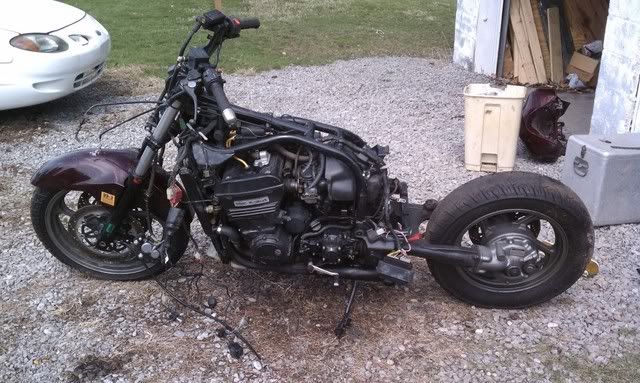 So this is where the previous frame rails attached. I ran out of time to get them ground flush, but they'll be ground smooth and painted over. I've also cut up the pieces I removed and will begin to fabricate the new seat supports where I'll mount the R1 subframe this week. I'll be welding two rails underneath the tank mount that the subframe will rest on, and welding small plates on each side of the mount that it will bolt to. I didn't take a picture of the test fitting the subframe because I needed another hand, but it'll be reality soon. Going to spend an evening or two putting the new tig through the paces before I get down to welding the supports, but it'll be a reality shortly.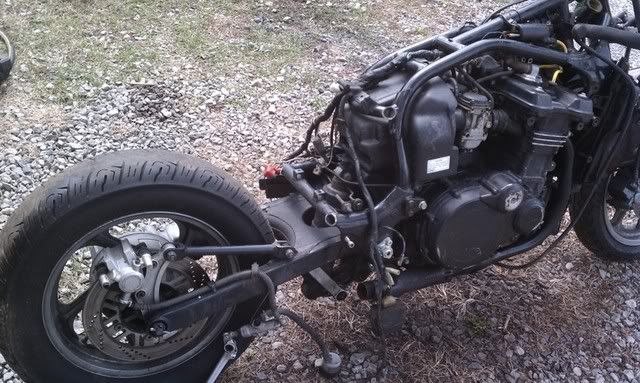 Also, my taillight has come in from hong kong, so that'll be another task to complete. New throttle cable are on their way, just need to figure out some rear sets, get some passenger pegs, mirrors, and button up the body work. Time to start thinking about paint as well. What do you think of flat black, with a flat orange and white stripe?