Sooooo.....I continue to "fine tune" my swingarm ideas. The CBR swingarm was going to be iffy when it came time to get it narrowed. The machining would have probably ended up in the stock welds of the pivot tube. While I was trying decide if it would work or not I tripped on a picture of a '05-08 ZZR swingarm which were also on the '03-04 ZX-6R. I did some quick digging on measurements and it had potential and a little better look to it. Found one for $8 and got to play with it today. Also found some '94 CB1000 piggyback shocks as well. I was drooling over the fully adjustable ZRX 1100/1200 items that are all the rage these days but the current going rate is about $325-400 on eBay. At that price I will step up to something aftermarket (Ohlins) down the road. At a fifth of the price I can use the CB1000 shocks that are almost identical in length to get the bike built. So armed with some new parts I jumped on some rare tinker time today. It turned out to be one of those rare lucky days in the shop as far as fitment goes. The pivot width almost fits perfect and I will fine tune it as necessary when I adjust the frame to accept the larger ZX-6R pivot bolt. So after being much happier with that situation I moved onto mocking it all together and got lucky again when the ZX-6R axle turned out be the
EXACT
diameter needed for the Ducati wheel.....I am still in denial about that one. Then I decided to push the luck a little further and grabbed my ZX-10R rear caliper to see how it would compare to the ZX-6R caliper mount that came with the swingarm. Well it wasn't as much of a stretch since they are both off of Kawasaki bikes but I was still surprised to see the holes match up perfectly! Next I am going to go buy some lottery tickets. Here are some pictures for proof.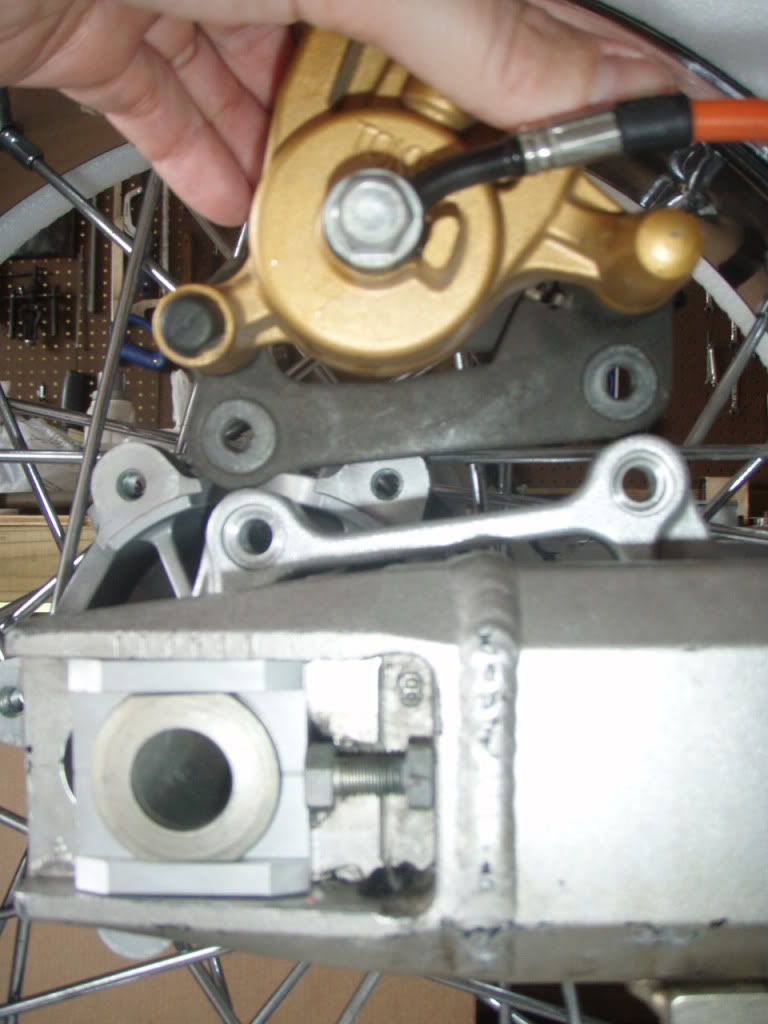 Other than the measurement advantages I am much happier with slimmer look to show off the spoked wheels and it is about 1 inch longer too. I did identify some issues though. The shocks will need to be brought forward a bit to clear the rear caliper but I'll tackle that after I get the swingarm and wheel centered up. Shock location will be taken care of with the new subframe. Using a laser I took a quick look at chain alignment and I don't think it is too bad. An offset sprocket should do the trick but I'll have to pay attention to chain clearance with the left side shock.
Lastly, I finally drew up the stock tank. To start getting ideas for the tail I just duplicated the tank, shrunk it, and slapped on the back of the bike. The design will get some tweaking obviously, but I like it.