Got a little downtime at work, so I'm thinking about the custom triples.
If you look at the photo of the sample custom triples, notice how the bolts squeeze the upper triple together to clamp the fork tubes and steering stem. It's going to be interesting to design the risers, which will have to be removed to unclamp the triple. I haven't seen these type of triples used with handlebars, only clip-ons.
I sat on the (complete) RZ500 and took an Ohlins steering damper and eyeballed it on the side of the bike. There's really not much room for it on the side - feels too close to my knee.
Instead of a side mount, I think I'm going to try a top mount (Ducati style). The plan is for a custom fuel tank/monocoque anyway, so why not make the tank fit around the steering damper?
Will try to design the damper so it can be removed, then the triples could be used with a standard RZ500 fuel tank if necessary.
This is the type of design I'm going for: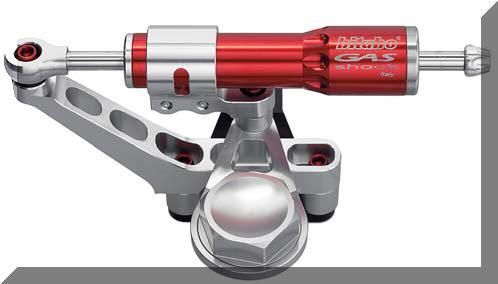 Just hope the dude that cuts the custom triples is down with my modifications.
Still need to think about headlight and gauge mounting. (Of course I have no idea what headlight or gauges to use, yet.)
I have a set of very nice R6 forks, and have decided to black them out. The outer tubes will be stripped and re-anodized black, and the inner tubes will get black DLC coating. The axle clamps are already black. Not sure what other mods I want for the forks, except some trick preload adjusters. Maybe upgraded internals.