If I asked Jeff to make custom pipes for my bike, without my input, this is what I would get.
These pipes are highlighted on his website, listed as "Complex stainless GP style pipes with 54 cones total!" Just happens to be on an RZ350 like mine. 99% of RZ350 pipes are this shape. Probably the best for making HP.

Only other bike on CF with 2-stroke pipes made from scratch (except my supermoto). Builder went to Gibson (equal quality to Lomas), who bailed out, then went to master pipemaker Mark Dent.
Notice the shape of the pipes. Different engine, same pipe shape.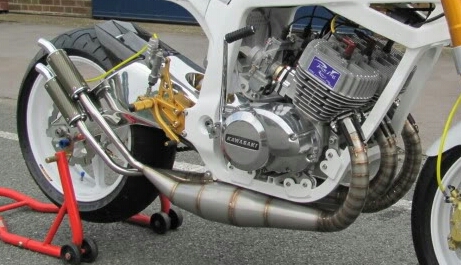 Very happy with my straight headers, twists and curves, CNC spring hooks, etc. No problem sacrificing some ground clearance to ride something unique.
Tooting my horn.