8
Bought this 2001 R6 seat on ebay almost 2 weeks ago. No seat yet, and no return emails from the vendor.
The seat wasn't expensive, so I bought it to use for mock-up. Hope it arrives soon.
The OEM RZ seat pan is the right size and shape to use as a platform for the new seat. It also has the proper attachment points built in, so I figured I would give it a try before fabricating something else. After stripping the seat cover and foam rubber from the pan, I applied some tape to check the contour.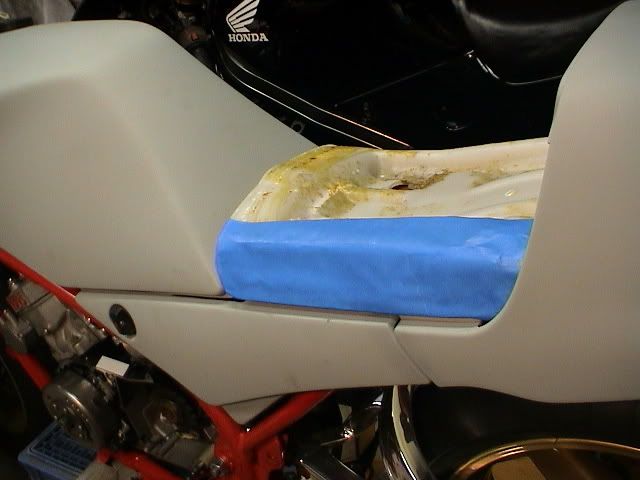 Filling up the seat pan with liquid would create this shape. When I used to work in film production, the scenic artists would sometimes use a liquid foam to glue together polystyrene pieces, and for other stuff. If I can find this type of foam material, it might work to build up the seat pan. The liquid and the catalyst create a type of foam that dries light and hard, and can be shaped using woodworking tools.
If the seat pan could be filled up and shaped with the liquid foam, then a resin can be applied which seals and creates a non-porous surface that can be sanded smooth. To make it strong, it could be wrapped with carbon fiber material. Then it could be painted to match the other body pieces.
Still have to figure out attachment points for the new seat and seatpan, but that shouldn't be too difficult. The passenger portion of the OEM seat pan would need to be chopped, and I might want the rear part of the seat base to curve up toward the buttpad.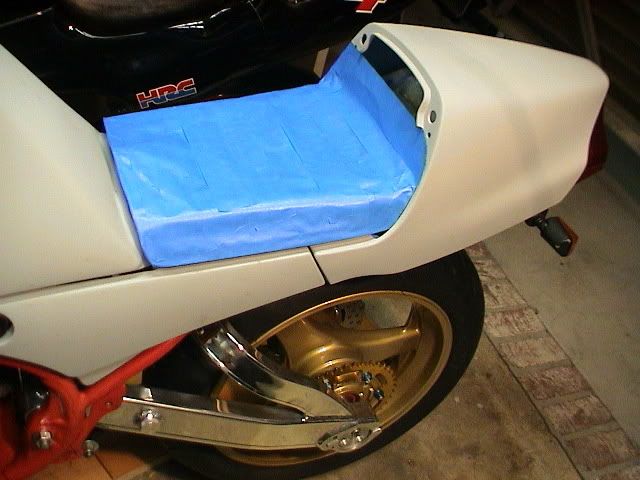 This is just a mockup. That's not even a seat, just a black towel. The seat base is just tape, and sprayed with primer to (sort of) match the body pieces. I didn't mock up the buttpad.
The purpose is to see how the bike would look with a custom seat base that would match the bodywork. The new seat and seat pan would go on top of the seat base.