The engine has previously been ported, head milled, and squish band improved. The bike also had Toomey pipes and 2 into 1 intake with K&N Filter, electronic CDI, and a high-output coil. Can't think of other engine mods at the moment. The bike was extremely quick with the OEM carbs and the mods.
I'll be upgrading the performance and looks of the engine a lot during this build - starting with the carbs.
Shit-canning the OEM Mikuni 26mm carbs to make room for the new Keihin PWK 33mm carbs.
The engine used to have mechanical oil injection into the carbs - but I trashed the oil pump long ago in favor of pre-mixing. So, the first issue is that the fuel tank has a vacuum line that runs off the right OEM carb.
I removed the OEM vacuum port nipple and transplanted it into one of the new PWK carbs: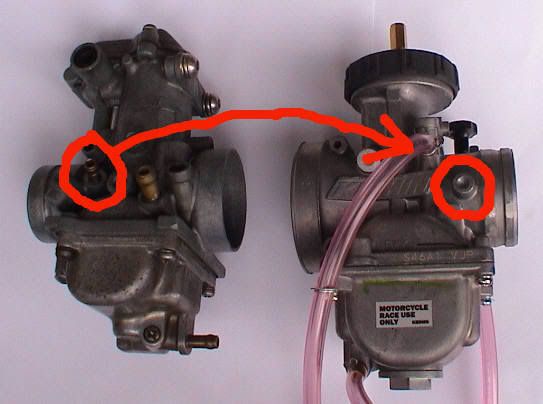 An 11/64 drill bit fit perfectly through the OEM carb vacuum port: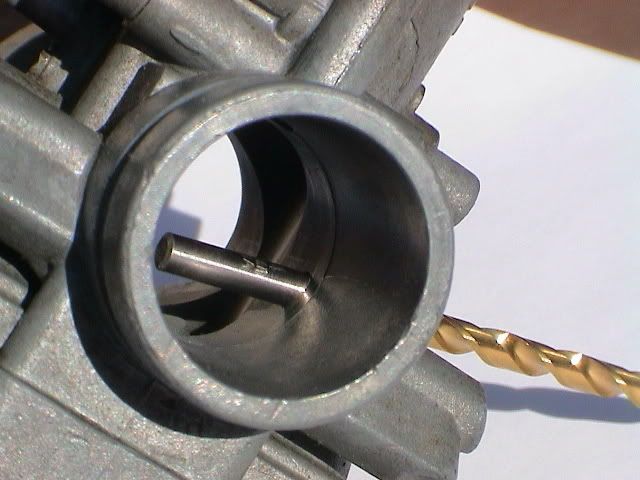 Used the same drill bit to drill the vacuum port in the PWK:
I protected the brass tube with a small wood shim, and gave a couple of sharp taps with the hammer. On a difficulty scale of 1-10, this was about a 2.