Ok picking up were i left off the other day, I took two lengths of this slotted stuff, uni-strut I call it. I believe its called dexian too- but don't quote me on that.
I cut more slots in it and ground back some edges for welding
One length is bolted then welded to the left angle plate, and also I decided to move the pulley along a bit, so i had to grind the weld off hammer it along the shaft then weld it back in place.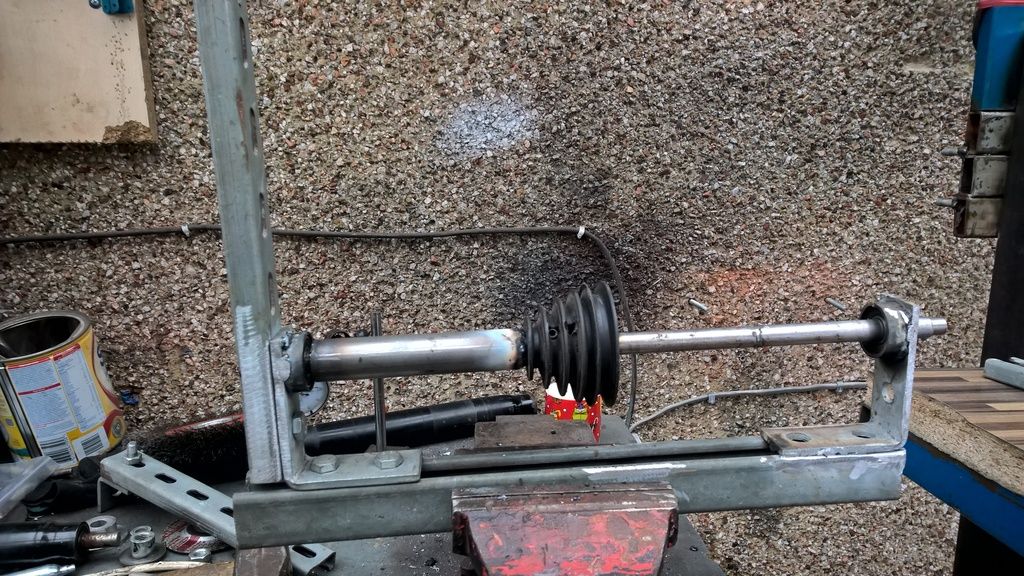 a rose joint with an M14 thread was added to the end of the shaft, checked for run-out with a dial indicator before welded it fully, also welded a washer on there
The other length of uni strut was welded just next to the pulley
which creates a frame like so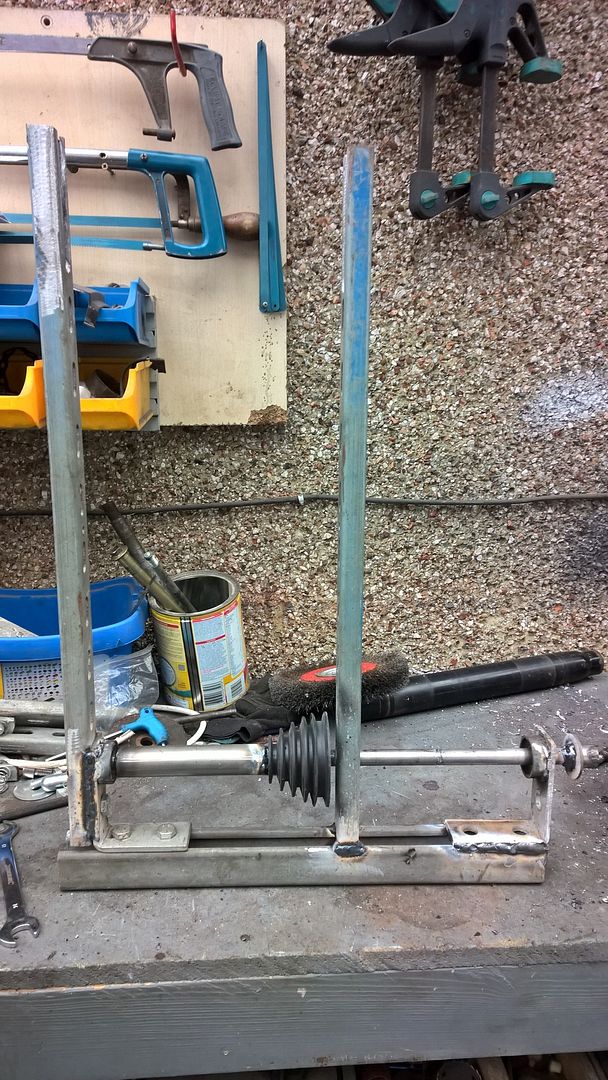 Next i cut up one of the old treadmill rollers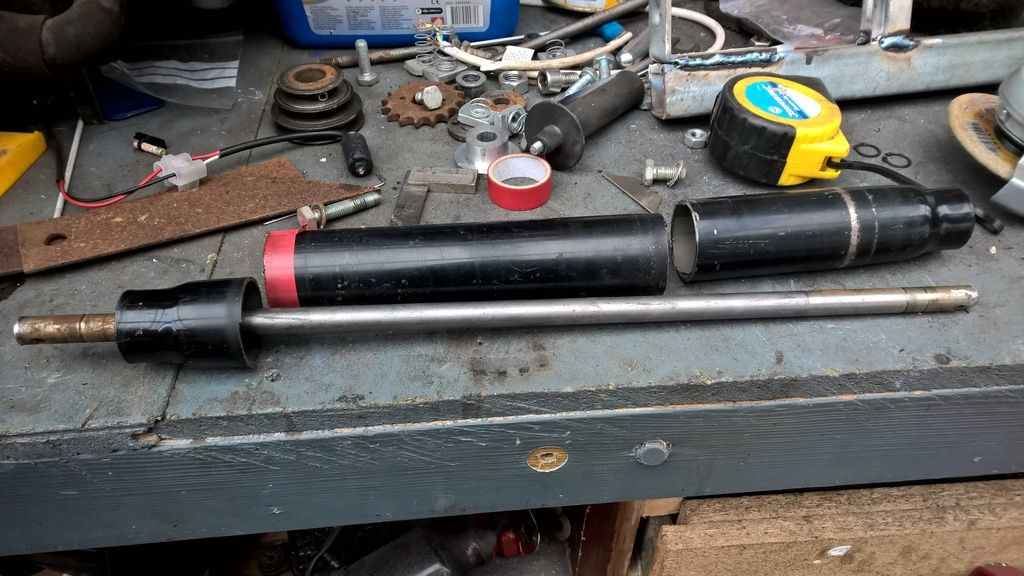 threw the middle bit away and welded it back together, then cut the spindle down and put it back through the bearings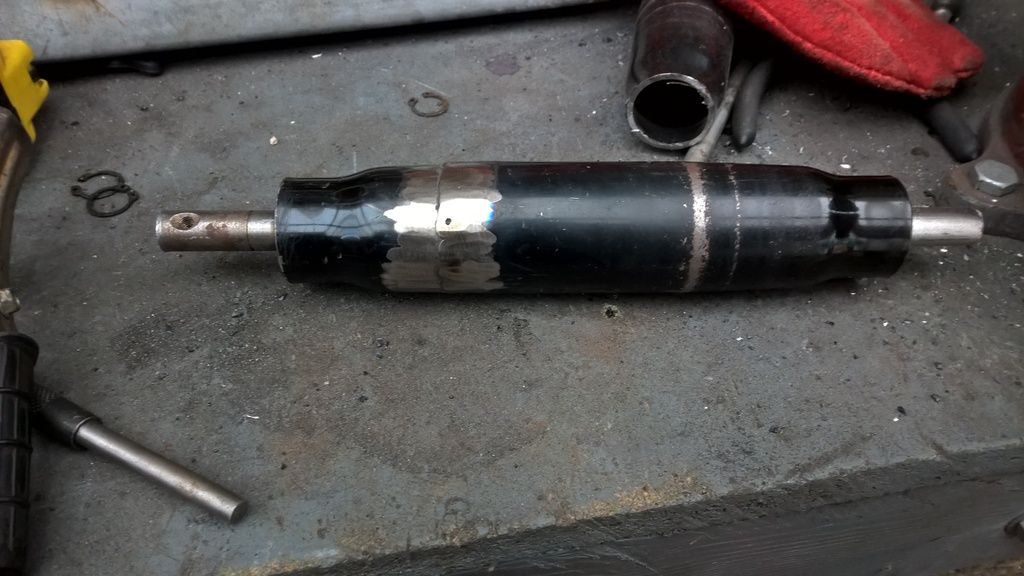 The uni strut bolts, have these rectangular nuts, that are shaped to fit down inside the uni-strut and have a little spring on them to hold them in place.
I cut the springs off four of them, ground the edges and faces to remove the galvanized coating and welded some 10mm rod to two of them. I also drilled the holes out, 2 to 15mm and 2 to 10mm.
With the other two nuts welded to the top of the struts, they will make tensioners / adjusters for the top roller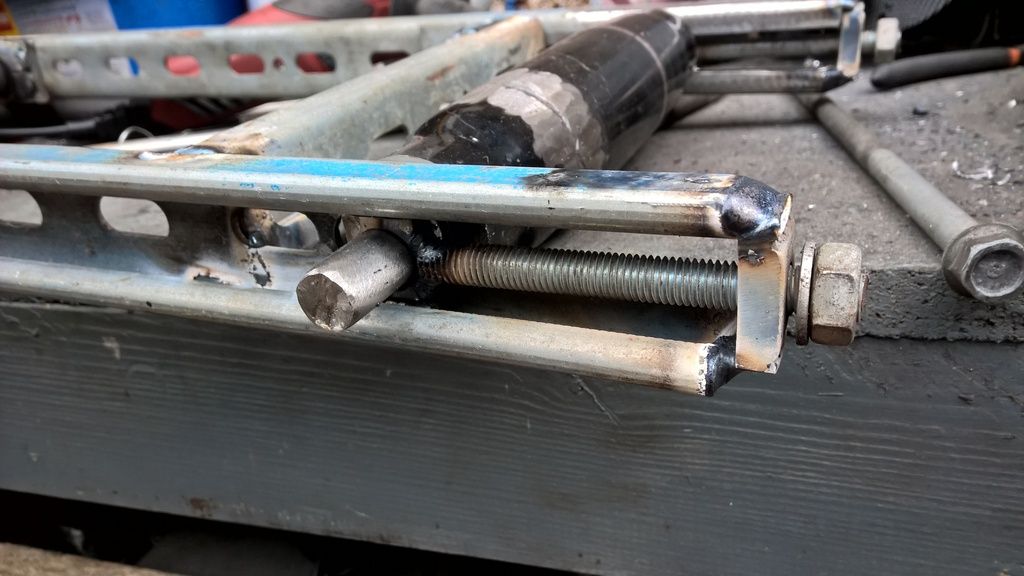 Starting to think about driving it now so i need to chuck a belt on it.
To change belts, either the sanding belt or the drive belt, the left side rail can be removed with three bolts.
For motors I had a choice of the following.....
240v AC 350w 11,000rpm washing machine motor......... a bit fast....
240v AC 350w 2,600rpm (ish) induction motor from an old pillar drill.......bit underpowered.
180v DC 1.8HP 3,000rpm Brushless motor....... Very cool, but the dc converters are very expensive and I don't have one....
240 3 PHASE AC, 3/4 HP 0-2800 RPM Induction motor.... Programmable single > three phase converter, with digital speed control, anti stall, soft or hard start, spin down or braked stopping and god knows what other modes.... Yes lets have that one, Leave the others in a box for a rainy day!
I shoved a belt round the pulleys, ( which happens to be an A (13mm wide) belt but the pulleys are a Z (10mm wide) but never mind. Pulled it tight and took a quick measurement.
Cut two lengths of 25x50x3mm box and welded them onto the back of the unistrut.
Put motor back on and pulled it tight, this time to mark the mounts for the motor.
I drilled them all 5MM, expecting to tap them out to 6mm. 6MM tap is missing. So is my 5mm tap so I cant shuffle it over and re-drill.
I ended up standing 5mm allen cap bolts over the holes and welding them down to make four little captive studs.
Then I bolted the motor on.
Hopefully get chance to do more tomorrow .....