Motogadget is our next supplier. Their gauges are pricey, but their quality is supposedly oustanding.
http://www.motogadget.com/
The Motoscope Mini is a very compact gauge. No fancy coloured displays, this is all red and ready for bed!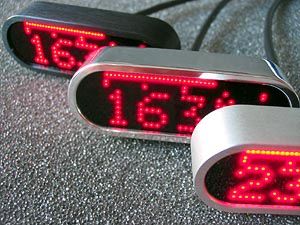 Features speed, tachometer, odometer and shift light and priced at 225 Euros including VAT (whatever the fuck that is) + p/h
It doesn't include indicators for turn signals etc which is where this handy little addition comes in. Presenting the Motosign Mini:
5 LEDS which i presume can be used in whatever fashion the purchaser deems fit.
Priced at 81Euros inc VAT + p/h, if you can afford the Motoscope, this is a bargain!
The next gauge in the Motogadget range is the Multi-View. Now this is a very smart gadget indeed. It's built right into a mirror!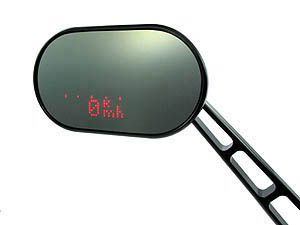 It has all the same features of the Motoscope Mini but is priced from 369Euros inc VAT + p/h for the gauge side and from 109Euros inc Vat + p/h for the indicator side.
Now here's some schmick looking old style gauges with some modern ware. Looking like a Smiths speedo whored it up with an Acewell and bornded these bastards, these gauges look very smart indeed.
Introducing the Motoscope Tiny, Motoscope Speedster and Motoscope Vintage: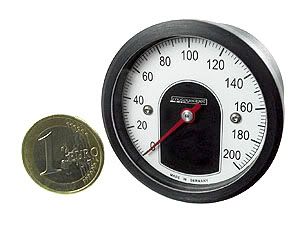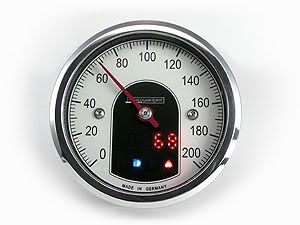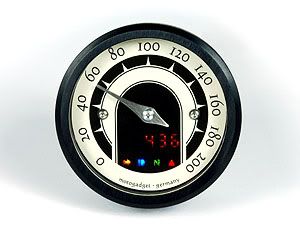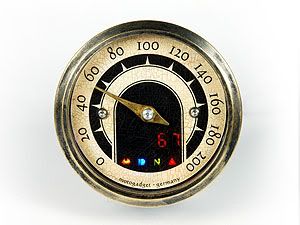 They feature both analogue and digital speedometer, odometer and clock along with indicators for turn, highbeam, neutral and warning.
Priced from 235Euros inc VAT + p/h, I wish I could afford them!
Next inline is the Motoscope Classic. This is also a nice looking gauge.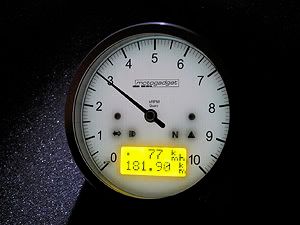 Features include speedometer, tachometer, odometer, temperature, voltage indicator functions and much more that I'm too fat and lazy to list. Check Motogadget for full specs.
She's priced at 439Euros inc VAT + p/h. Expensive, but very nice!
Also available with the same specs but in a black faced finish similar to the old Smiths, the Chrono-Classic is priced at 479Euros inc VAT + p/h:
So now I introduce the Motoscope Light: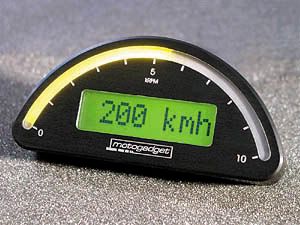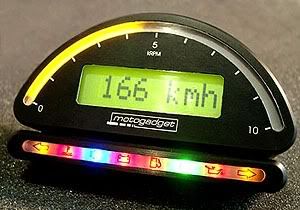 Featuring the usual speed, tach, odo along with a few extras (check motogadget for full specs) from 339Euros inc VAT + p/h. An indicator assembly is also available (shown above with the Light) from 112Euros inc VAT + p/h.