I've got some nice parts for the roller, but they're boxed up - waiting for the frame to be ready. The hold up at the moment is the rear suspension linkage.
Night before last, I heard about a group buy on a good shock for this bike - which I need for the roller. Problem is it has to be ordered by tomorrow or the next day to save the 15%. So, I'm scrambling to figure out what I need.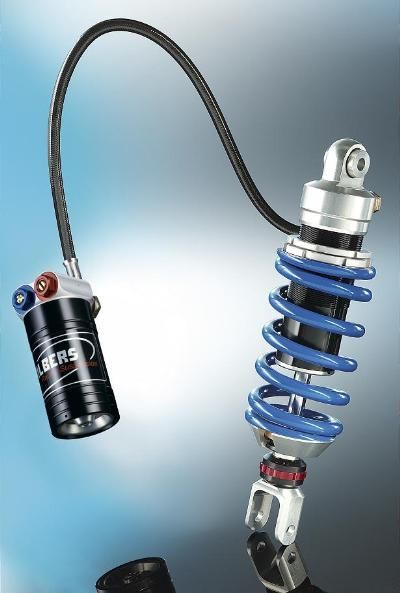 The shock is a Wilbers, made in Germany, built to my specs. That's the problem. I'm going to do an '06 R6 swingarm swap and from what I've read - the ride height needs to be increased. Going from a 16 inch front and 18 inch rear wheels to 17s is probably the reason.
So, I'm going to order the shock at the OEM length with the height adjuster at the minimum. Then it can be adjusted up 10mm. That way, if I have to sell it - the buyer can use it with a stock bike.
Mounting the shock reservoir sucks on this bike! Tried for hours to figure out a better place to mount it, but it has to hang on the front of the engine. Wilbers also has a remote hydraulic preload adjuster for the shock - but there is NO PLACE to mount it.
I saw this Wilbers that's all blacked out with a custom color spring. I'll find out if I can get that from the factory. The in-line compression adjuster is cool, too.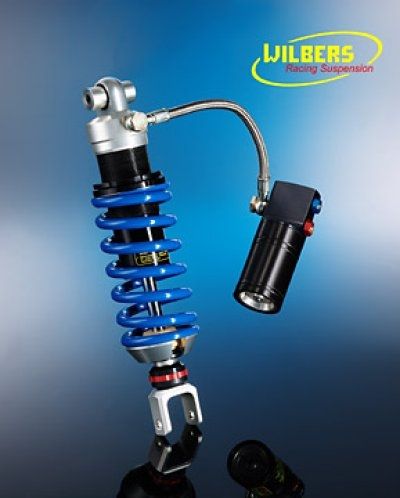 Hope it works out!