Day 3
More Dis assembly
So, thanks for all the info. Between the forums and actually DW, I'm actually beginning to learn alot. Even though my brain seems like it's running in a million directions. I have a general build vision in my head but we'll see how that translates to real steel.
While I was working today I got that feeling that something still isn't right up front. Thanks Candyman for that info on the front wheel. That may be what's causing it, but it seems like the bars aren't straight. Like remember when you were a kid and your handle bar bracket would loosen and your bars would get crooked? Kinda feels a little like that, it just doesn't feel right.
Anywho, time for pics!!!
Ripped out the monstrous factory air box, Pain In The Ass to do, gonna throw on a K&N 0990 Filter. Do I need to put any "outerwear" on it?
Next dropped the coolant reservoir tank and headers. Gonna go with a custom reservoir can and either a GP style exhaust or a CF shorty can.
Also pulled the whole rear brake assembly. Plan on painting the Calipers anyway.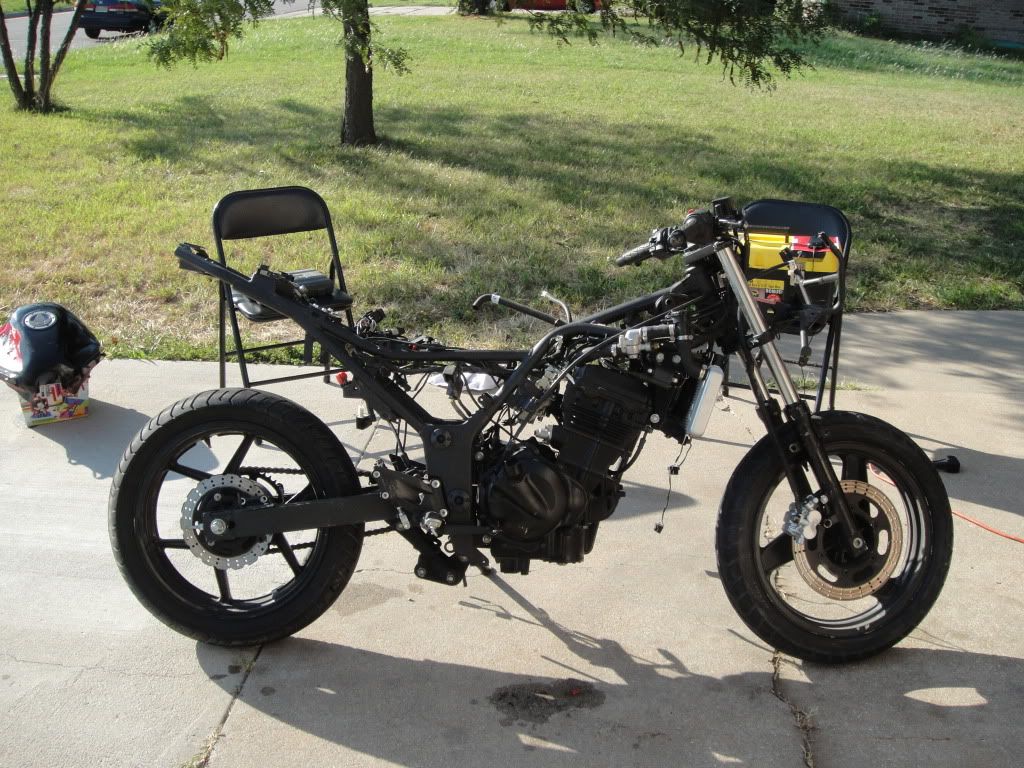 Here is my PoS fuel tank. The seller tried to putty the dent and then paint over it!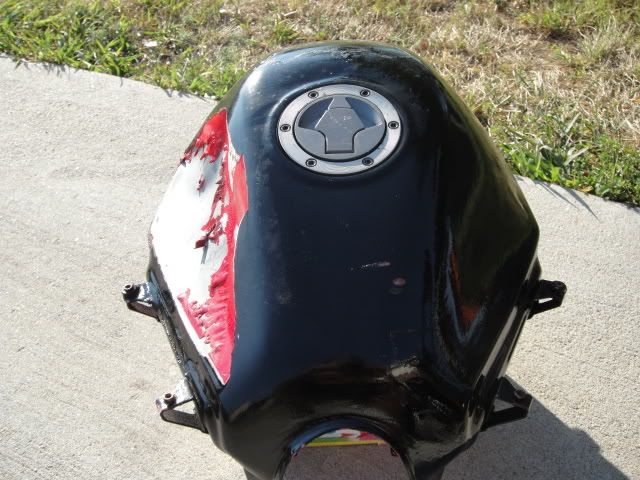 So this is how she stands now.
I kind of want to drop the engine out so I can paint it, clean up the frame, then either paint or powder coat the frame. I have really big plans of what I want to do with the bike... But really just wanna get her back out on the road ASAP.
As of now I definitely need the following:
Tank
Front seat
Exhaust
Air Filter
Kleen air mod
Jet kit & Sync
Coolant bottle
Gauges
Some kind of headlights
Front fender
New tires
Thinking about a black and gold accent paint scheme, but it almost seems like everyone is doing it
Future plans would be:
Dirty bars w/ a circular mirror attached to the right side
New levers and grips
Glassed one piece tail similar to stock body lines
All SS lines for breaks and coolant bottle
All extra tabs shaved off frame
Homemade battery so box would have room for trimmed down wire harness
Painted engine and radiator
Painted and cleaned triples
ZX6R rear shock
Frame and Swingarm sliders
Integrated taillight
I think I may just try to get her as road ready as possible, then pretty much rip her apart and rebuild her like I reallly want her to be done over the winter. Hopefully by then i'll actually have some of the right tools and garage room to really DW!