So, it's been a couple days and I haven't been able to DW. I'm learning that waiting on parts sux. Taking this time to do a little research and figure out whats next. Just got a rear shock from a 07 ZX6R off eBay for $35 shipped, should almost be a direct bolt on from what i've seen. Only main thing is modding the undertail to make room for it. Someone had suggested taking a heat gun to the plastic and creating an impression of the top of the shock. Any ideas/methods/advice on doing that? Ordered some front and rear stands plus swing arm spools off the net, should be getting those in mid-next week at that point i'll be able to yank off the wheels, swap out the front wheel for the one I have with the correct disc? Waiting for some last second bidding on eBay tomorrow to finally get a new tank, rear wheel, rear brake assembly, and front seat. My plan is to try and get this thing up and running next weekend if I can get all the parts in time. Budget is getting kinda slim so i'm just going to trim the stock gauges for now and figure out some way to mount them along with some cheap headlights from wal-mart or autozone. Won't be doing much night riding anyone. Last major purchases will be an exhaust and jet kit. Also, do you think i'll need some kind of radiator cover?
Here's a couple of pics that I'm using for ideas.
Jardine GP 1 exhaust (with black header wrap to beed up the pipes
) - I like the way these kind of exhaust look, not sure about the sound tho... Oh well, I figure the louder I am the more chance drivers will notice me..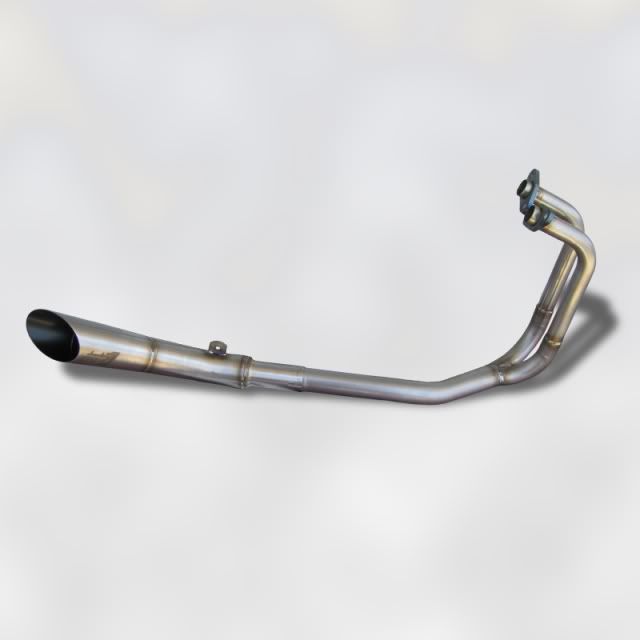 Great diagram I found on here for making a coolant tank out of a CO2 can
Thinking about going the two headlight route, since it's the original setup on my bike and maybe adding a small windshield to house my gauges... Something a little like this.