Update time. As I suspected, there were a couple of problems with the subframe, as built, and the attempt to form foam around it to shape a tail.
Problem 1: I wanted the RC 51 tail shape without a) the RC 51 tail width (at its fattest part) and b) the RC 51 tail length (which was too long). I simply could not see a way to make a fiberglass mold of the stock tail and not run into the SAME problems as I did with the GSXR tail.
Problem 2: I suck at sculpting.
Problem 3: I fucking hate big messes.
So the first attempt ended up with this:
There was a bit of a gap in the foam (I ran out right at the end and it didn't expand the the degree I expected. My materials were little dated, so that might have had something to do with it (does 2-part foam HAVE a shelf life?)
I tried to fill in with Great Foam. HUGE mistake. COMPLETELY different characteristics in density and porosity.
The other issue was it looked like a cafe tail. I have nothing against cafe tails... on cafe builds. Which this wasn't. So my fault, shitty design.
Which led me to do a second pour all over again, this time allowing for a deeper tail below the seat. I boxed in the cavity with cardboard and went to town. And ended up with this: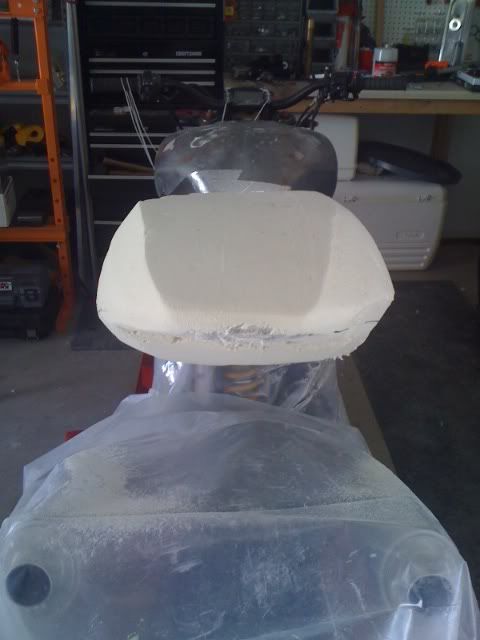 Now, I got good coverage on this one. After two hours of sanding, looking at it, sanding, looking at it... I was covered in foam particles. Every surface of every object in the garage was covered in foam particles. When...
....I fucking flipped. Can't really describe it. I was standing there sweating my fucking balls off, slamming another Lagunitas and knowing I had another two to three hours ahead of me...when I fucking lost it. It was one of those moments when patience and expectancy crash through zero and the monkey at the back of the brain takes over...
... I tore that one apart too. And disassembled the subframe and 'made it go away'.
So.
Not sure where to go at this point, but the tail is a major issue. I have finally shit-canned the idea of the RC-inspired rear end. I have already ordered another tail (race glass) that I very much like. It has the correct width and length that I want, and it removes the use of any but a fabricated seat unit - which frees me up from having to figure that into the design.
I didn't get it to start with, because I figured I'd 'save some money' and do it myself (PLus this is a learning activity for me).
Lesson learned: when the voices are telling you to 'DO THAT' listen to them the first time. Now I have to listen to a smug chorus of 'I told you so'...
I suspect it will look something like this...
Cheers,
J