Eff Tee Pee
Vote here for the 2011 Fighter of the Year on CF! CF 2011 FOTY!
---
You've narrowed it down to one bike each month for the past 12 months, from some basic homebrew's to creations from some of our favorite masterminds. Now lets see which is the favorite of 2011.
Props to everyone, and may the best MACHINE win!
Click on the bikes pic for more pics and info!
--------------------------------------------------------------------
January 2011: Renegades - GSXR 7/12
Quote:
Gsxr 750M Frame.
Gsxr 1000K4 Forks.
Modified 750M Petrol Tank.
Vfr 750 SSSA
Ohlins Gsxr 1000k4 Shock
Chromed Car wheel
210 rear tyre
Custom work: Rear subframe, Rearsets, Shock Mounts and Linkages, Yokes (triple clamps) Front and rear Sprockets, all made by Dave the Engineer
Custom one of exhaust system.
1998 Bandit 12 engine.
ISR 6 pot rear caliper.
ISR Front master cylinders.
Aftermarket Gsxr 1000K1 Front wheel and discs.

By
wesifume
--------------------------------------------------------------------
February 2011: Ace6061 GSXR 750
Quote:
•Custom headlight mounting
•Custom riser setup
•Custom mounted Arrow can
•Custom mounted rearsets
•Custom mounted gauges
•Bar end signals
•HID's
•Hidden rad overflow
•Custom paint
•A bunch of powder coating
•Whatever I'm forgetting
--------------------------------------------------------------------
March 2011: Seth420 CBR 929RR
Quote:
new one off FOH tail section
z750 intergrated taillight
custom subframe
hidden battery and wire harness
custom metal work on tank to hide the airbox oppening
custom underbody m4 exhaust
dirtbike footpegs
new custom risers and new flanders bars
reworked triples by FOH
koso gauges
revised headlight mask
fork tube covers with blinkers inlaid
duc front fender
vfr800 sssa
msw car 17x7 rim
crg shorty levers
conrtol wires hidden in triple
driven skully grips
motocyco knuckle heel guards
moved key location
NASTY NEW FOH PAINT
and probaaably some other trick shit
--------------------------------------------------------------------
April 2011: Rohr Zx6R
Quote:
Fabricated / modified / relocated:
• Aluminum headlight brackets made from aluminum stock and factory clip-ons
• Ignition lock cylinder mount removed, upper triple shaved smooth
• Guage bracket
• Unused mount points on lower triple removed
• Forks lowered internally 1.5", externally 1"
• Extra mount lugs removed from fork tubes
• Aluminum bracket to relocate ignition lock cylinder
• Aluminum brackets for coolant reservior
• Coolant reservior made out of a camping stove fuel bottle - cap modified for overflow, inlet mounted in bottom
• Seat pan shaved and seat shaped from combining factory front and rear seat foam, then shaved to shape. Latching pin mounted in seat pan
• Custom leather seat cover
• Subframe cut, lowered, welded, crossbar for seat latch added
• Battery box custom made
• Rear brake reservior mount
• Front brake reservior mount
• Lower radiator mount bar
• Under-seat storage compartment
• Seat latch / lock cylinder
• Battery / relays / fusebox / CDI / fuel pump / fuel filter relocated
• Wiring harness - shortened, all connectors relocated
• Frame / subframe / swingarm - ram air tubes gound flat, mount lug for factory headlight removed, misc brackets & mount lugs removed on swingarm, holes drilled for mounting new brackets / clips / equipment - scratches, scrapes and dings filled
• Side stand shortened
• Clamps / guides for clutch cable
• Mount brackets for tail
• Fiberglass tail (not yet finished)
• Fuel lines re routed
• Radiator fins straightened
• Factory muffler mount flange removed from exhaust etc etc etc
--------------------------------------------------------------------
May 2011: CTluba CB 750F
Quote:
1981 CB750F Super Sport
Wiesco 823 big bore kit
CB900F cams
89 GSXR sling shot carbs (mikuni 36mm)
04 Kawasaki 636 from end
4 inch over / braced swinger
CBR600F2 rear wheel
Custom solo seat / tail
Daytona steering damper
Yoshirma 4 to 1 pipe
velocity stacks
Pro Taper risers and fatty bars
Ohlins shocks
Plenty-O-stickers = 25 more horse power.
Not a super high dollar bike, but BAD ASS none the less.
--------------------------------------------------------------------
June 2011: R3voltn1 CBR 929RR
Quote:
Highjacked parts:
Honda VFR 800 single side swingarm
Honda Civic aftermarket rear rim 7.5 x 18 (chromed lip) with 240mm tire
Honda RC51 front rim (polished lip)
Harley Davidson V-rod headlight
Aprilia RSV1000R tailight
Kawi ZX12 front brake master cylinder and res
VW aftermarket exhaust baffles

Modified metalwork and plastics:
Tank shaped to frame tight fit without tank seam and molded in gap.
Lower chin spoiler chopped down original fairings.
Modified bracketry for 2" lower stance on the chin spoiler.
Bolt heads polished

Custom fabricated from scratch body parts:
Tail section
Radiator covers
Front fender
Handlebars
Frontal fork covers/fairing

Custom painted:
Frame
Swingarm
Rims
Body parts stated above
Motor
Stator cover
Clutch cover
All small parts etc etc etc...
--------------------------------------------------------------------
July 2011: Cabbie GSXR 400/H2
Quote:
built from different makes of parts, hardest bit was fitting the R6 swing arm in the gsxr400 frame and the engine mounts where a bit complex too. etc etc etc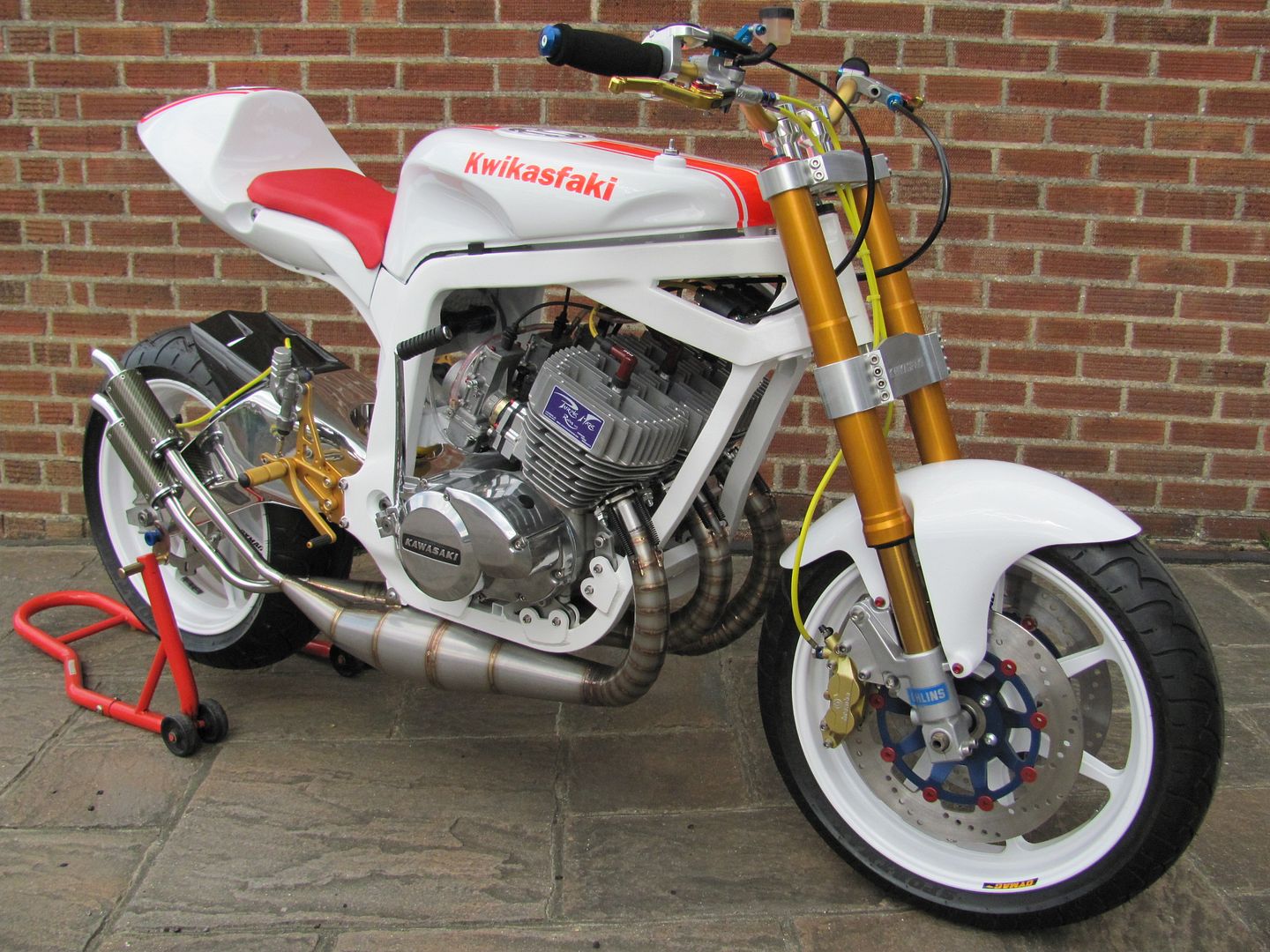 --------------------------------------------------------------------
August 2011: Kaenmuro Speed Triple
Quote:
Engine:
Dyno whit Tuneboy
Sai Removed
Zard Slipon

Frame:
front Orginal
Subframe shelfmade from 8mm aluniumsheet, undertail included in subframe cuts filled whit green plastic.

Suspension:
Front End from 2004 Suzuki gsx-r 600 whit brakes
Rear Orginal

Bodywork:
Headlight fairing heavily modified Ktm Smt front fairing whit Smt headlight.
Tank Orginal, keyless fuel cap
Seat made by me and lether was made in next door shop
Tail fairing from ducati fibreglas was too wide so cutted it to fit and mae som flow in to it
Tail light Ktm 690 duke r
Foot rest shelfmade
Chainguard shelfmade

Refitted electronics and shelfmade A123 battery 8 cell.
Isr brake master cylinder, PP tuning clutch Lever Renthal Fatbar china grips.
Paint By Nestori Creations.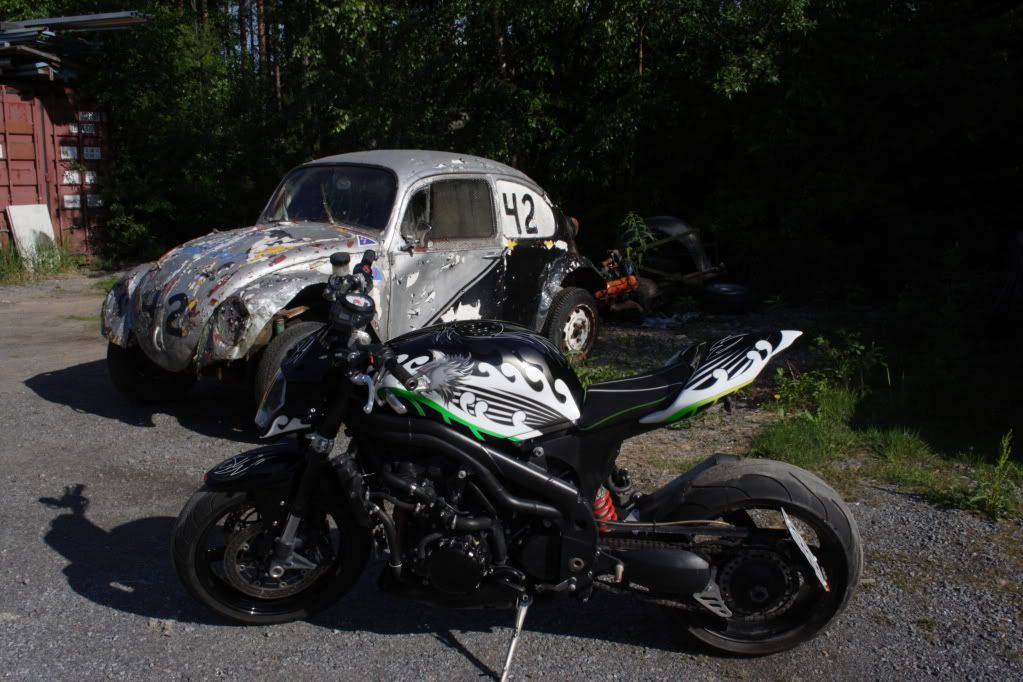 --------------------------------------------------------------------
September 2011: Hardcore Speed Triple
Quote:
powder coated rims, forks, tree, and drag bars
custom headlight and gauge mount
VROD headlight
gel grips
pazzo levers
new brake rez's
custom metal tail
custom leather seat
seat lock, ignition, kill switch, headlight switch all undertail
custom bullet brake lights
no turn signals, mirrors, or horn
straight pipe exhaust
--------------------------------------------------------------------
October 2011: 1wheelfelons R1
Quote:
Custom Cut Fuel Tank- 70 mph tank spreaders 3rd gear
Air Box Modifications with Speedo Imbedded In Cover
Custom Built Rear Tail (SM Universal from streetfightersinc.com) lots of modifications!
Custom Built under Tail with Tail Lights/Skull metal cut out and fabrication
Custom Radiator Grill Cover With Skull Cut Out.
Turn signals, head light switch inside handle bar grips
Alligator seat cover
Shortened Rear Sub Frame 8"
GP Shorty Exhaust cut another 2" shorter than stubby so it wouldn't stick out so far
1 Crazy Ass street fighter Head (Hand Painted) and Installed
GPR Stabilizer Damper
Hide Wires In Frame, Move Fuse Box And Horn
Custom Built Front Light Bracket with 42 to 50 mil adjustable fork clamps
New Head Light Unit, blue running light
520 Chain Conversion 16/49 RK GB520 gxw-140 Chain (-1+4)
Brass Knuckles Heal Guards Hand Made With New Rear Set
45 Caliber Bullet Bolts Covers Hand Made
RSC Perch Easy Pull Clutch Leaver Red
ABM Brake Fluid Reservoirs Black
New wider than stock 130 x 17 front tire
2001 R1 Rear Master Cylinder, Rebuild with adaptor to receive rear hand brake
Brembo Front and Rear Hand Brake 16x18 and 19x20
Steel Braided Hose Cover with red clamps
Rear Stunt Sub Cage Modifications to Fit R1 with Flush mount Custom Blinkers
Flush Mounted Front Blinkers in Head Unit
Sick innovation Adjustable Clip-on's
CRG Arrow Variable Folding Bar Ends Mirrors
Custom Built Tail Saver Stainless Steel
Alligator seat cover
Steel Braided Brake Lines and Lengthened
Engine, Oil Pump, Clutch Covers by Woodcraft
Pre Load Adjusters Red
Carbon Fiber Frame Covers, Air Box, Speedometer cover, Exhaust Guard, Frame Sliders
Stunt Throttle by Cycle Pirates
New Clutches
Gorilla Alarm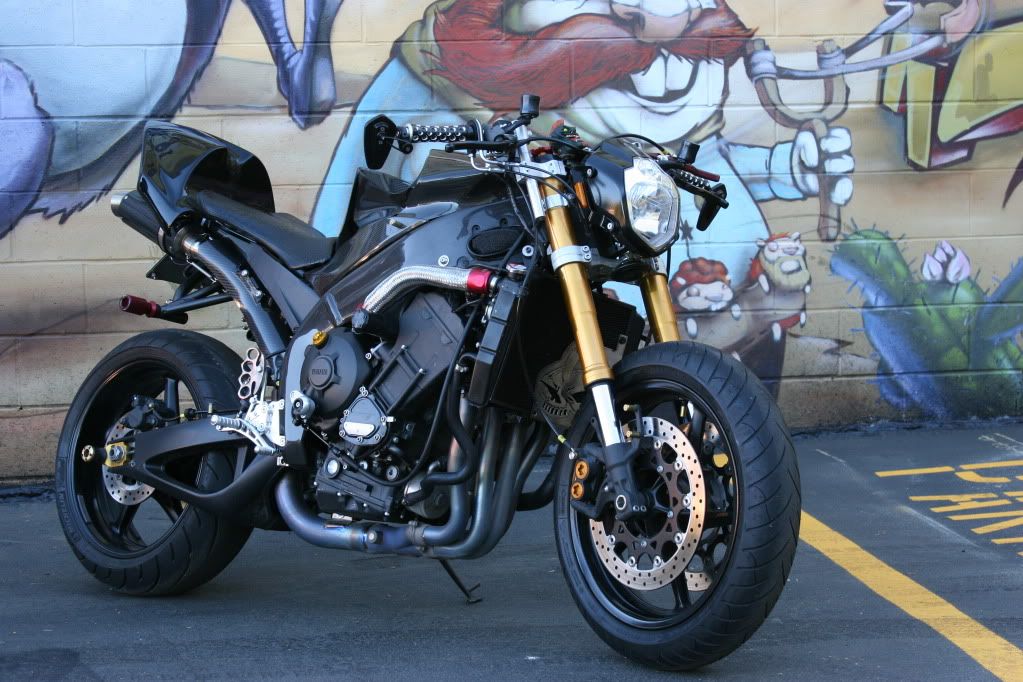 --------------------------------------------------------------------
November 2011: Yantosh GSXR 7/12 Twin-Turbo
Quote:
what we have is a 1985 gsxr 750, with a 1216 twin turbo bandit motor
widened frame , 240 rear tyre , zx636 seat unit and front end , loads of one off stuff
205+ HP
125+ ft/lbs
zx636 front wheel
zx636 front brakes
zx10r brake discs
zx636 forks
zx10r carbon front muddie
fork shrouds by me
yokes by me
single billet headlight
motogadget mini speedo
fold up levers by me
ohlins steering damper
modified slabby tank
slabby 750 frame ....kinda
bandit bottom end
bored out 1127 barrels
busa pistons
lock up by me
engine cases by me
bst34 carbs
FBM headers
twin vf27 turbo's
FBM plenum
exhausts by me
zx636 modified subframe
zx636 rear plastics
led tail light
scorpion end can
outrigger by me
braced vfr arm
antera rear wheel
paint by ED
snakeskin seat
modified r6 shock
k1 gixer thou rearsets on bft adaptors
billet cam chain tensioner by me
one off loom (cheers ed)
and 101 other jobs i can't bring to mind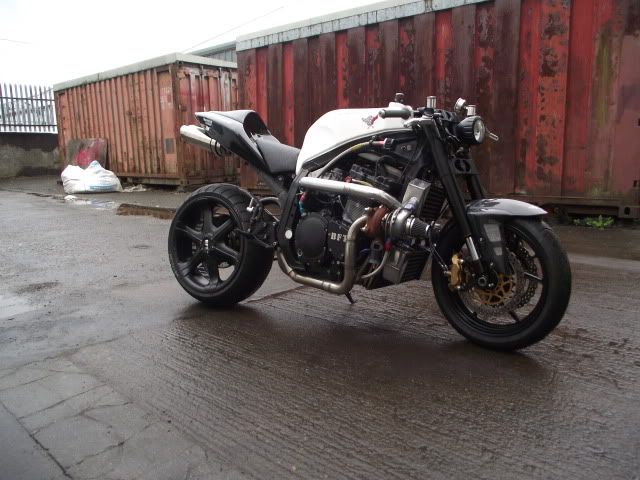 --------------------------------------------------------------------
December 2011: Motohorho GSXR 1100 Twincharged
Quote:
Engine and boostsystem:

81mm pistons making 1216 with 9.0 comp
Carrillo rods
Web Cam camshafts
Ported head
MTC lock up
Homemade covers. Starter and ignition cover has support bearings for charger and fuelpump axles.. Clutch to have room for lock up
Robbinson axles on gearbox, Undercut gears
Megasquirt injection, ignition and datalogging
Bosch EV14 injectors (size 1000cc)
Nology coils
Aeromotive A1000 fuel pressure regulator
Procomp belt driven fuelpump (using E85) AN-10 fuel hoses
Water injection (50/50 water/methanol)
Tial dumpvalve (modified)
Rotrex C30-84 Supercharger http://www.rotrex.com/Renderers/Show...4-a797910bd389
TD05-20big turbocharger (now HX35)
2 oil coolers.. One for engine other for supercharger
12 cell A123 battery (selfmade)
Boost pressure now 1.7bar


Frame and suspension..

Modified mainframe
Homemade subbie
K7 750 frontend and brakes
K10 1000 swinger, shock and brakes
Braking B-one wheels
Swingarm extensions +4 to +8inch (wheelbase 1650mm)
Ohlins rotary steering damper

Other stuff
Tank started as 1250 bandit K9
Headlight mask homemade
Side shouds and tail own desing
Light Husaberg 2011
Seat K6 giizer
Rearseat by me
RC8 taillight
ISR controls (don't like.. Will replace)
Lucas rearset
1098 Duc rear footrest
Koso speedo
Innovate MTX wideband lambda
Oneoff electrics using Ktm swiches
---
Gavin Wayne Butts - Greencheezeeta - 10/5/83 - 9/8/09 RIP My Brother
Quote:
Originally Posted by mpls|cafe|racer
"Knowledge is knowing that you know nothing." That's a motto to live by. There's always someone out there better, more knowledgable, faster, etc. and you can always learn and improve...
AFF.COM