not been my week so far!!!
started friday when i had a nail go through my rear tyre on the hornet, so had to get a lift back home to get my stand and tools to remove the rear wheel (had tried puncture gooo, but didnt work)
was going to get the tyre changed after picking up my new plate, so wasnt a big deal, up till then.
took my wheel and new tyre round to the local tyre fitter to get it changed,
this happened at 70 psi before the bead seated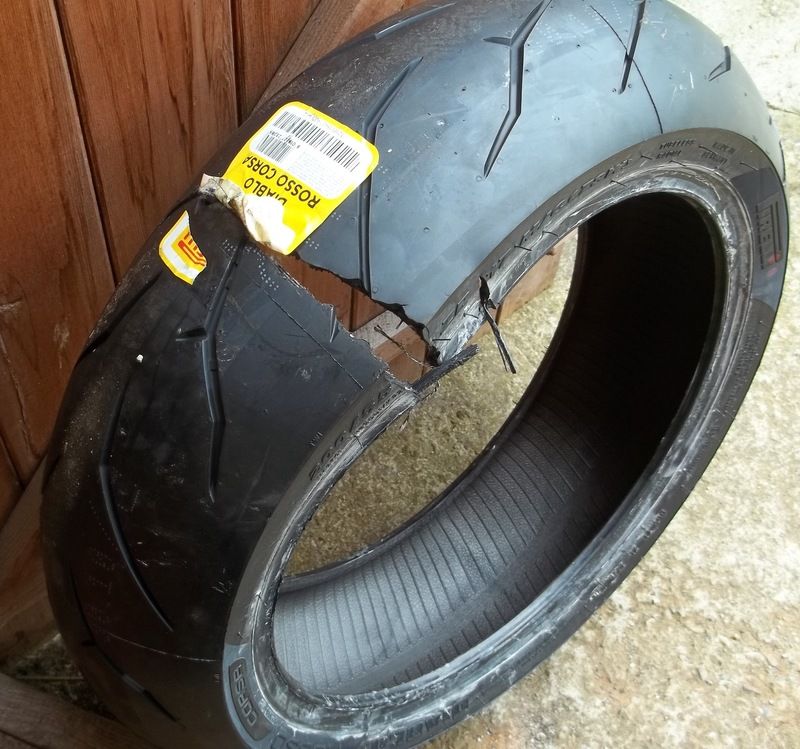 so i had to take my spare wheel to get my bike rideable, so i could get it home
yesterday i got the carbs back together, checked everything was correct, got everything fitted, put some fuel into the fuel line from a remote tank, no leaks from hoses, tap working correctly (vacuum tap correct function too) filled carbs, no obvious leaks, fired bike up, but only ran on two carbs and fuel coming out of overflow's again
have taken carbs back off, cant see anything wrong except for a slight ring around 3 of the float needles, so much for these carbs only being used for 400 miles, as was claimed in the advert, cant believe that one needle gets pitted and three fuel needles get damaged in that short a time FFS, so tried to phone Allans Performance to order some new needles and seats, they were fuckin closed!! going to have to wait till tomorrow to order some.
on the plus side i did pick up my new plate and got it fitted