so bought some tires since the rear literally had harley davidson on it and was pretty hard/square and the front was just as horrible. got some battle ax tires, loved them on my bandit so thought why not give them another shot
so got some reflective rim tape, (custom taylor 33) which came with a lil bike logo and some stars so wife thought they would make good helmet decoration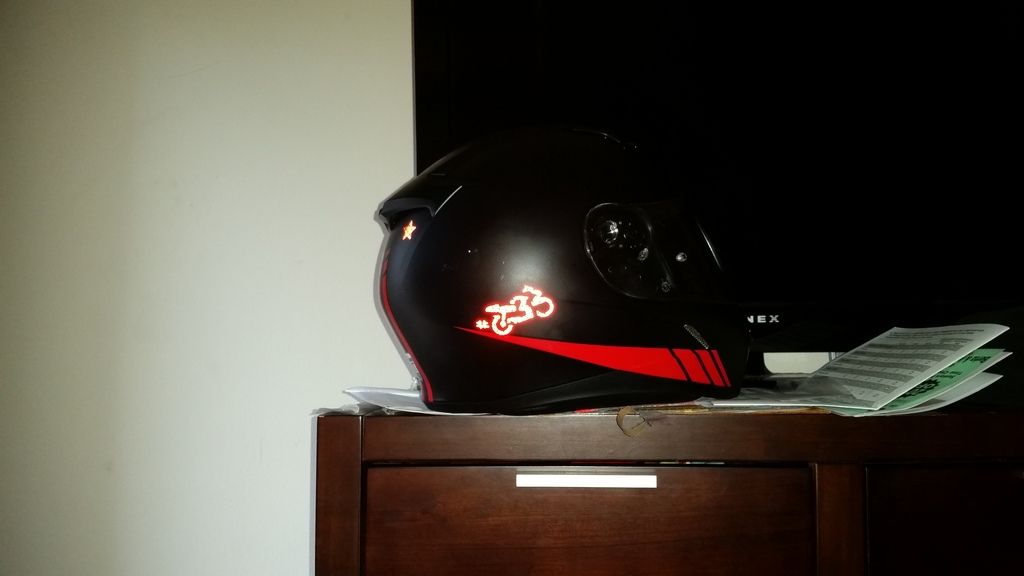 pics are with flash on to show the ?reflectiveness?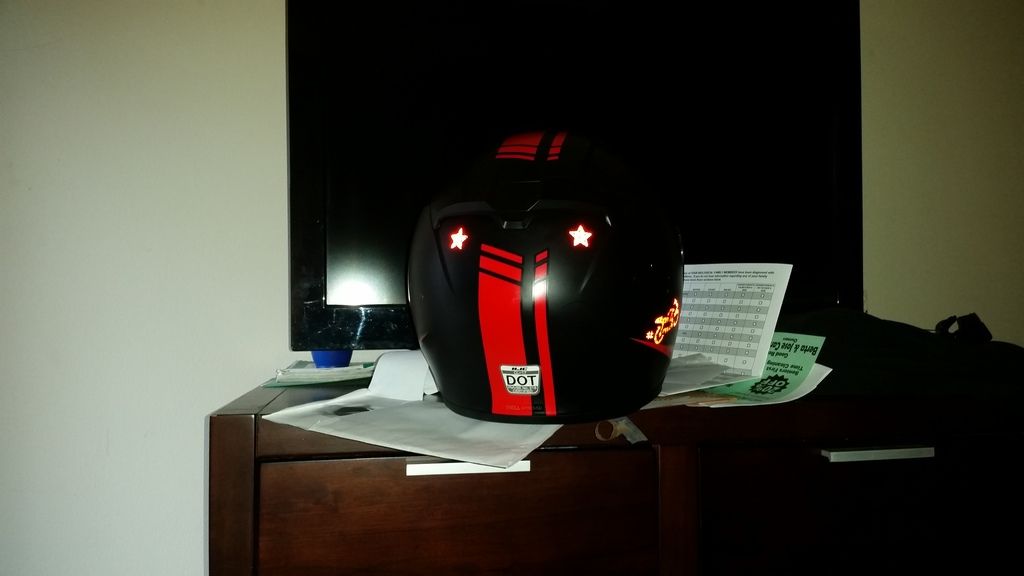 so after a horrible idea to ride to phoenix and back ( left from oceanside and was going for sister in laws bridal shower and her husband was having a ride that day so thought why not) anyways after we got back i decided to just start chopping and make myself fix it
so thought maybe use the rear seat since it fit nicely with the brake light but really hated that gap so i would have to mess with it (used the search function a lot to find useful DIY)
or use original front seat, i liked the lip on the back and its comfy, it fit the tank well but not the rear end and it seemed big to me.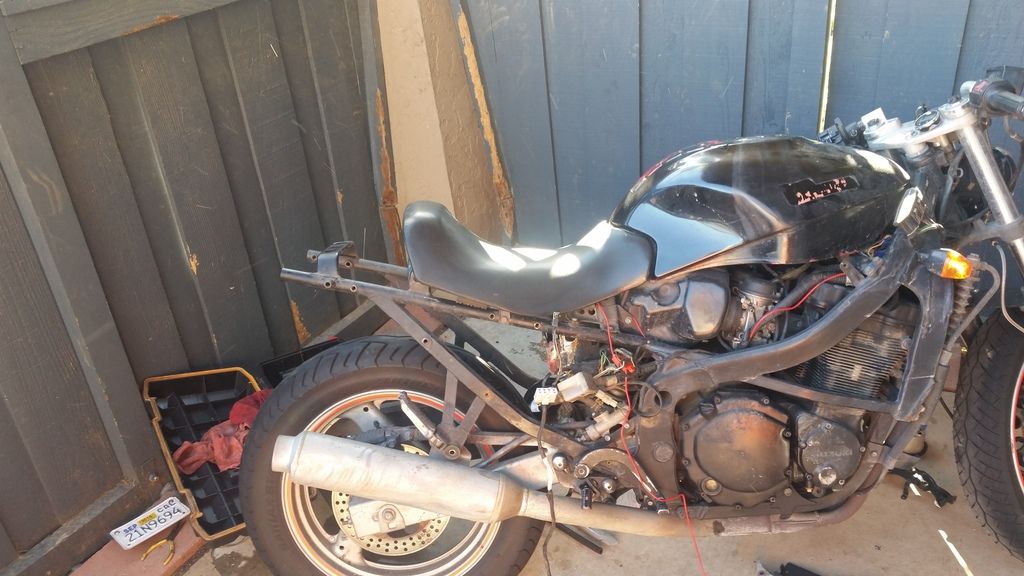 also on the ride back from phoenix i saw oil was seeping from the bike somewhere so i bought the gaskets for this side and turns out a previous owner kinda forgot the gasket here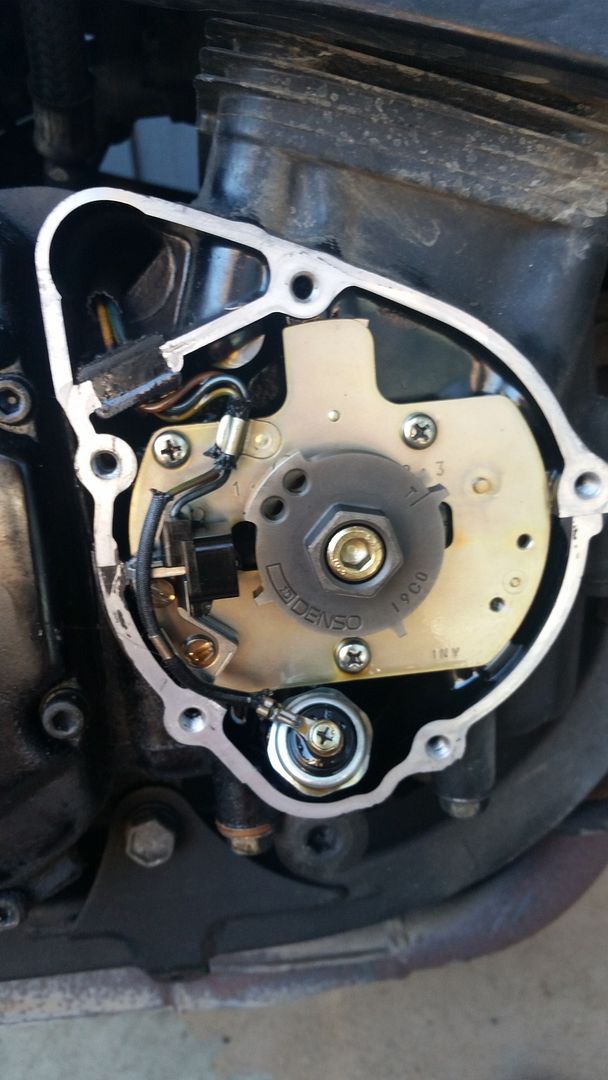 now where to cut the tail. i needed to keep some for the rear sets and enough to keep it stable for my seat since i cant weld up anything at this moment.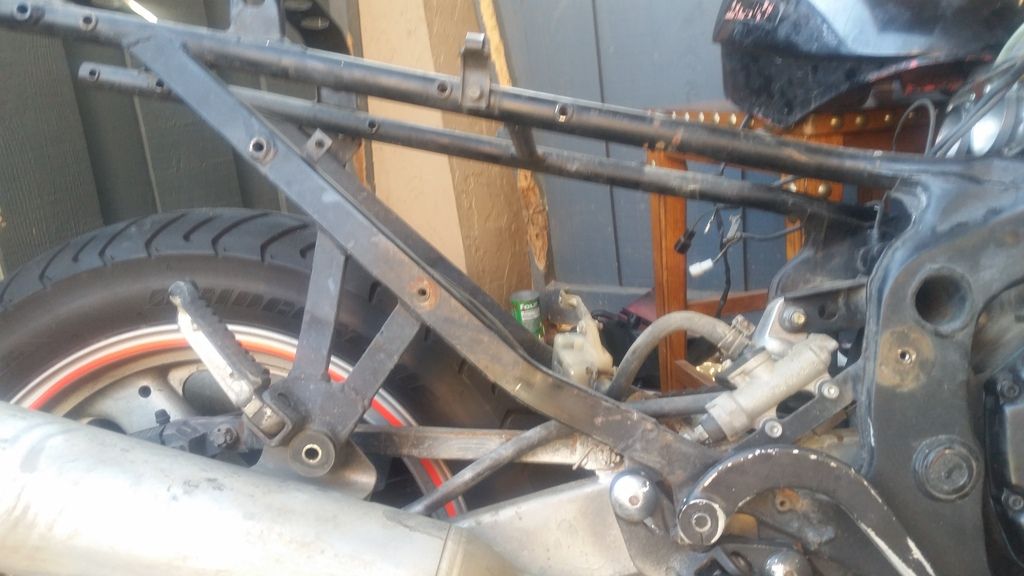 but with work, and chores around the house and everything else she had to sit for awhile in between free time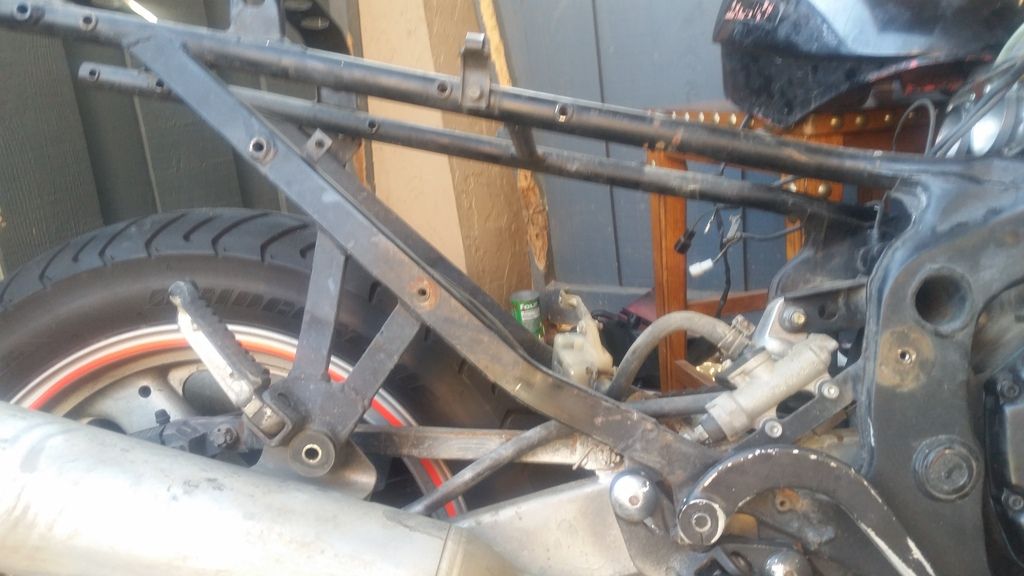 during this tho i looked at quite a few builds for inspiration. dont remember the names on here but i remember it involved ugly betty or uglier betty and a topic called bob kats since i really wanted to just chop the tail and have the least amount back there.
finally got around to taking the jig saw (loud, cheap, on hand, got the job done so yep) and took some spray paint, not really much care for paint jobs at the moment either, just kinda messing around with ideas but i think it turned out decent. painted the battery box since it got rusted and corrosion from an exploded battery and then the tank.
going for a light matte, flat, semi gloss green. first thought was kinda like kawasaki green but they didnt have that in spray can form so oh well..
so with the change in color i had to buy some green rim tapes, luckily wifes bike is red so she gets the helmet and the red tape. but here it is with out flash, just in the shade
flash on, same time of day
got the tank clear coated with semi gloss clear coat, liking the look even if its spray can, finished the front wheels and now another night down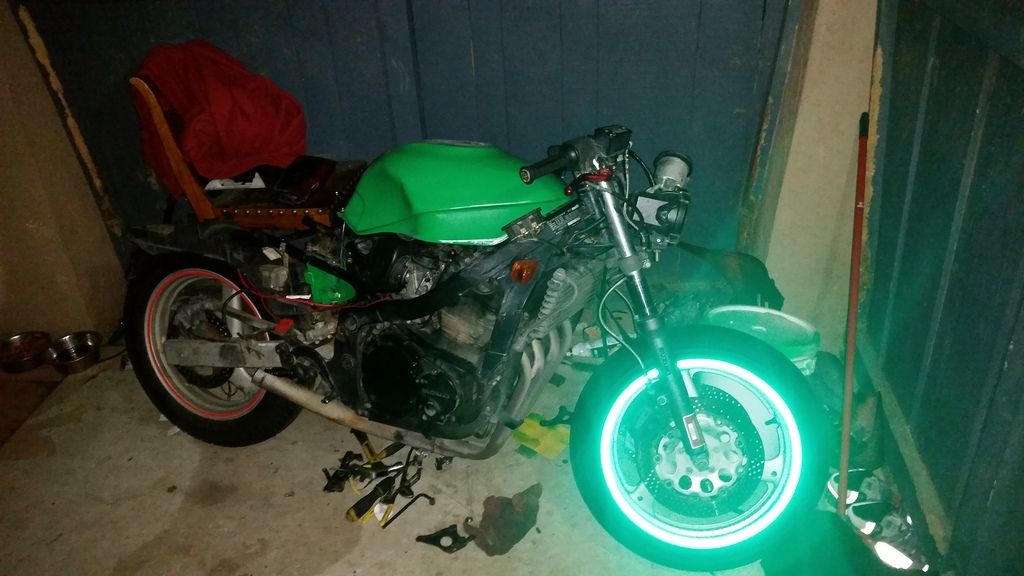 so thanks to lowes for my "custom seat subframe thing" used some thicker steel brackets and grade 8 5/16 bolts to keep me from falling down
look from the back, baby laysie and mom came out to help
laysie helping tighten down the tank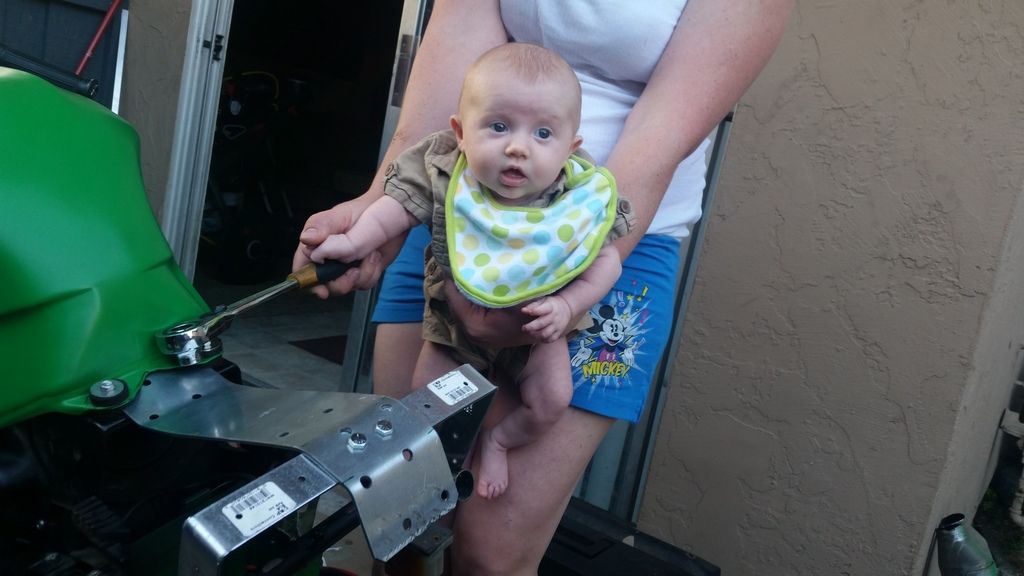 picked up a seat from an SV possibly, thanks Rev Moto for that one and also the tail light from some honda thing
a quick mock up before final bolts and such
in the end we bent the metal a bit more, mounted the tail light upside down to get a better angle
next is a trip to warners muffler for some baffles and packing because dear lord this bike is loud with it cut. surprisingly seems to run better, think it was rich before, but want some baffle to keep the exhaust valves from burning up and what not. anyways wanted pods, researched, now keeping stock box, i liked the exaust the ugliest betty had i believe it was venturemorerite or something like that, sorry if i butchered your name. but i gotta leave it at this. hopefully more in 2 weeks with the next pay day.