So mine is basically where I want it for now, but since I'm joining late...I'll post some pics of the progression. Compliments and criticism are both welcome, I like to hear other's opinions.
Back story, the bike belonged to a buddy of mine...but he had a kid on the way and needed it gone. I worked a deal with him since I was selling my car.
Current mods are:
- Two Brothers full system w/ shortened muffler
- DynoJet Stage II jet kit
- BNC Race Filter
- GP shift
- Shorty levers
- Vortex swing arm spools
- Pro Tek frame sliders
- Hotbodies undertail w/ fender eliminator
- Custom headlight
- Removed grab handles
- 07 ZX-10R front and rear bronze rims
- PU steel rear sprocket, +2
- Sunstar front sprocket, -1
- BikeMaster folding bar end mirrors
Here it is the night I got it.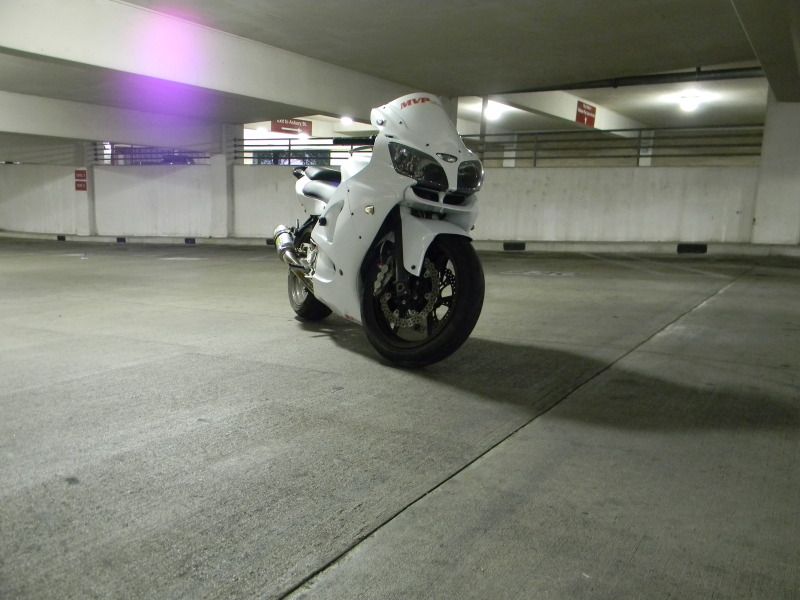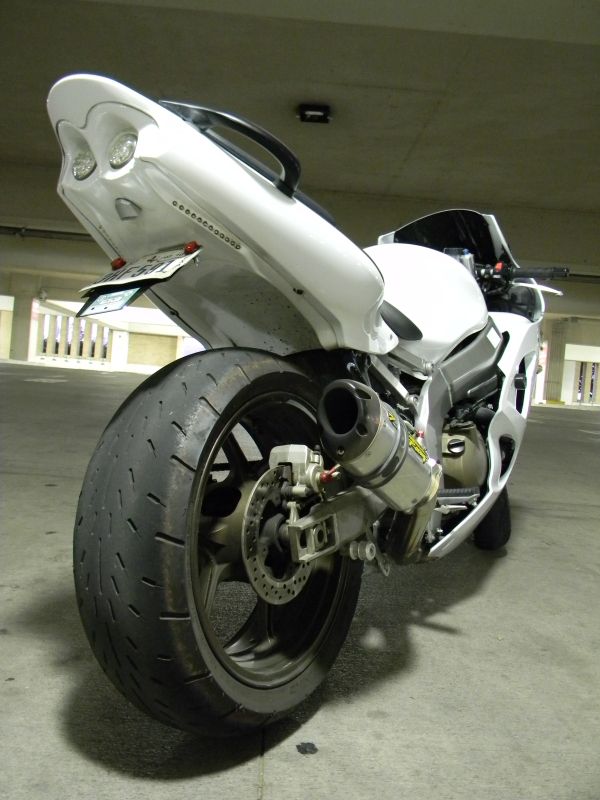 Right off the bat, I knew it needed to be raised back to stock height (I love the twisties, kinda hard with it that low!) the windscreen and tail lights needed some change...that and I needed mirrors. Keep in mind, as much as I liked naked bikes...I thought this thing would look goofy with no plastics...so I rolled with it.
Here it is after some updates. Shorty levers, painted the tail lights using red stain glass spray paint, painted the lower portion and undertail black, smoked DB windscreen and OE mirrors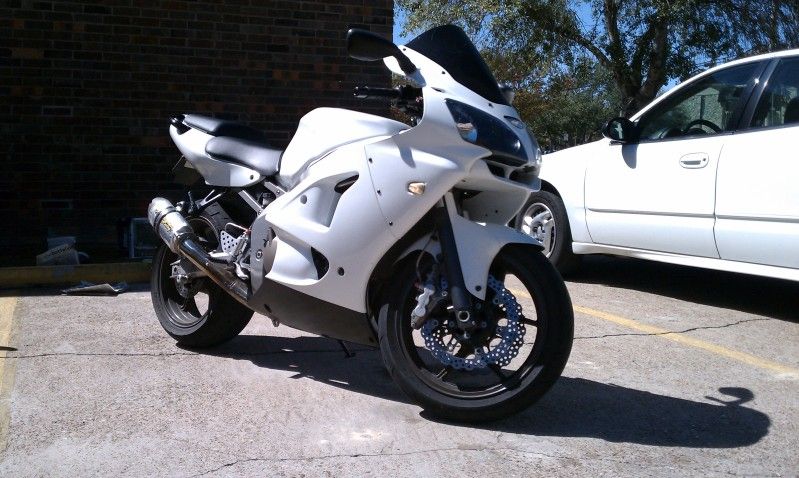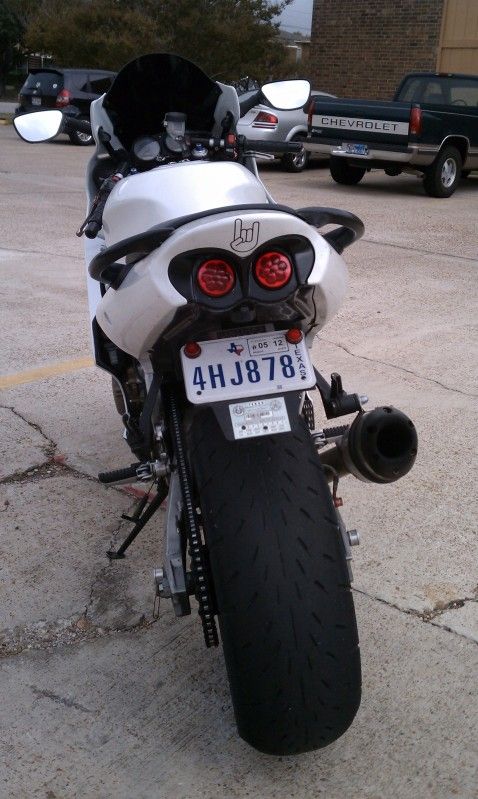 As much as I loved the pearl white, I needed to change it b/c 1) White was getting over played and 2) the paint needed some TLC...the pearl made it hard to touch. So, I started removing the plastics to paint it a gunmetal metallic. While looking at it, I decided I liked it naked! So the conversion began.
My buddy fabbed a bracket using the majority of the front fairing stay and using some fog lights as headlights.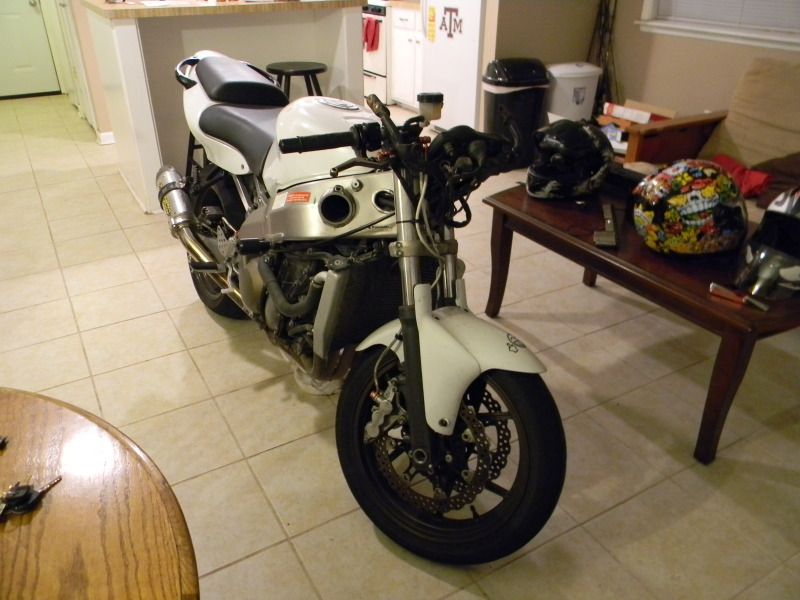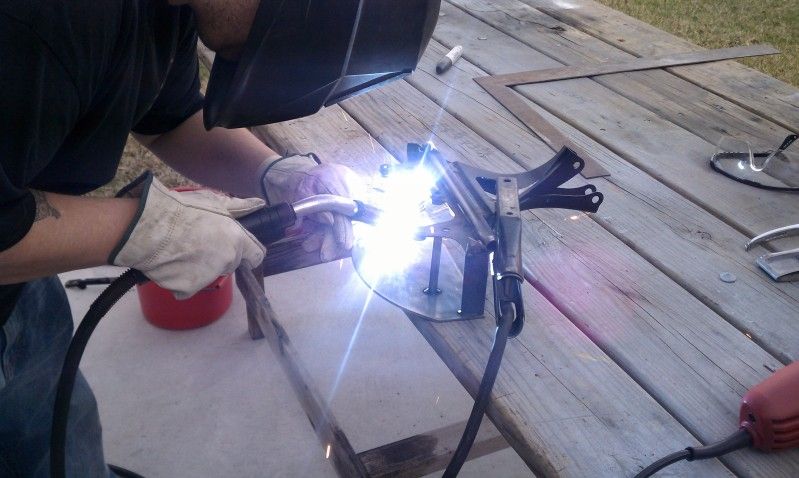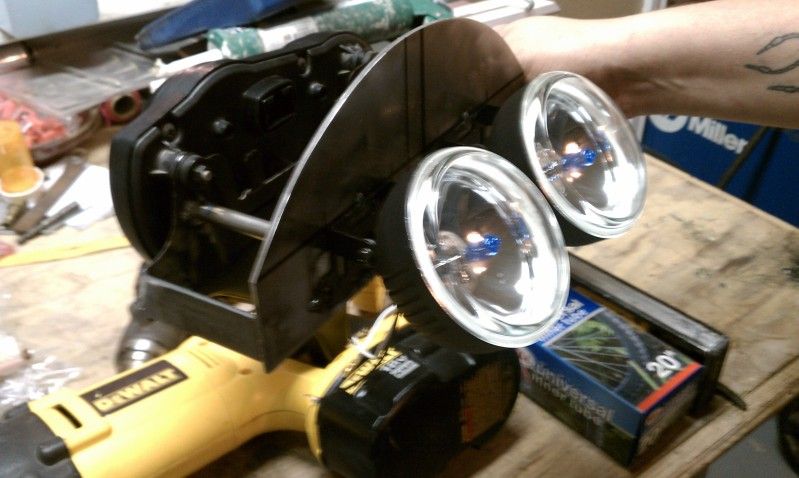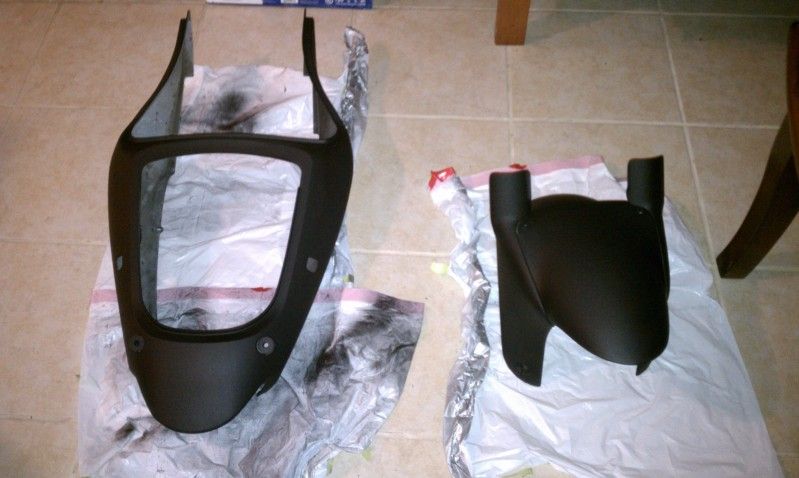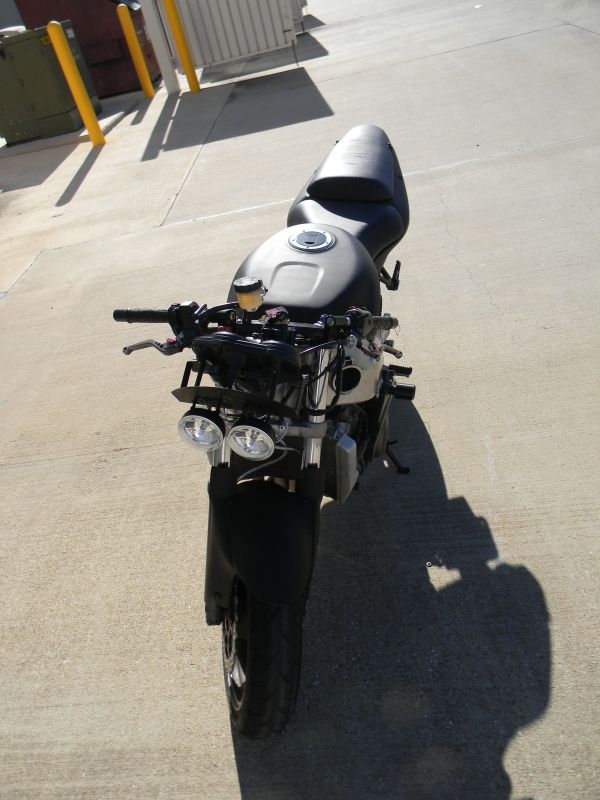 The front kinda stuck out too far and those foglights SUCKED for night time riding. So the next update came. Got the headlight off ebay and painted it to match. Also added bar end mirrors, Kawi green rim stripes and Kawi green tank decals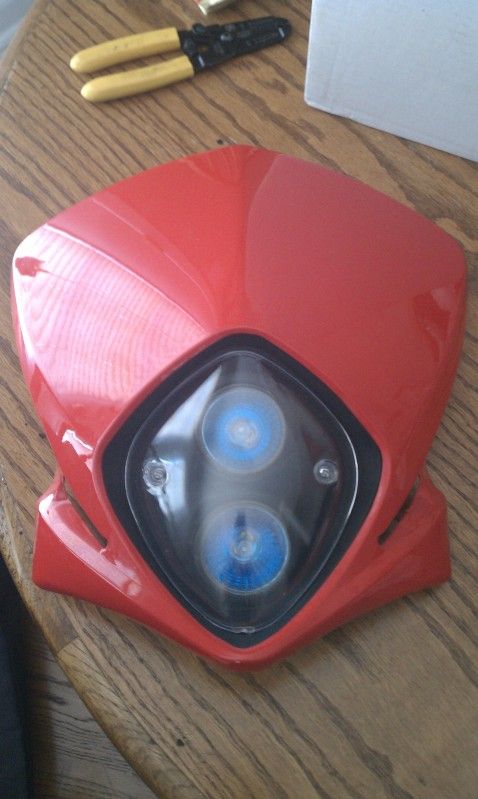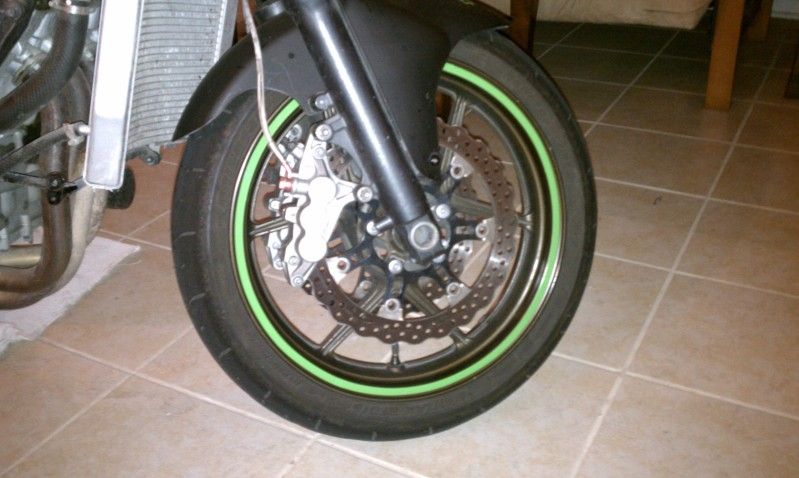 As much as I liked the flat black, it kept scuffing since it wasn't cleared. That and I found a pic of a green SV that I REALLY liked with a stripe down the center. I wanted a blue though with the same stripe. I wanted to get close to Monterey Blue from the 370Z.
Also found some plugs to cover the holes where those hideous grab handles were. I also touched up the taillights since they had faded into pink. This time I cleared over them.
Here it is now!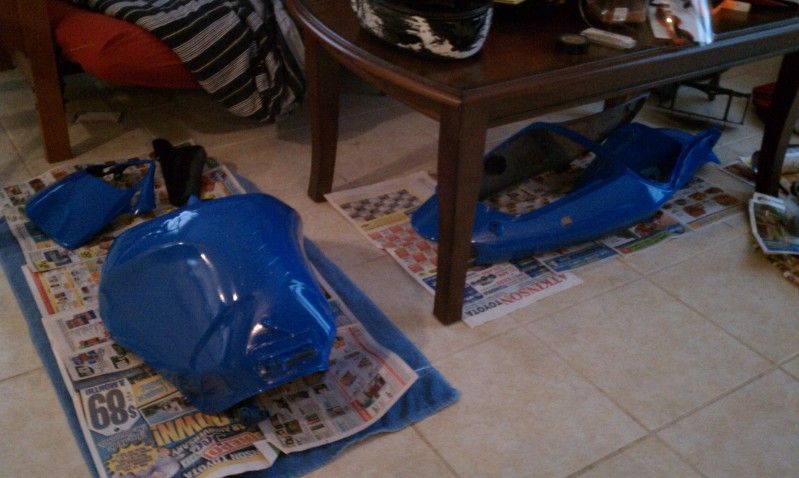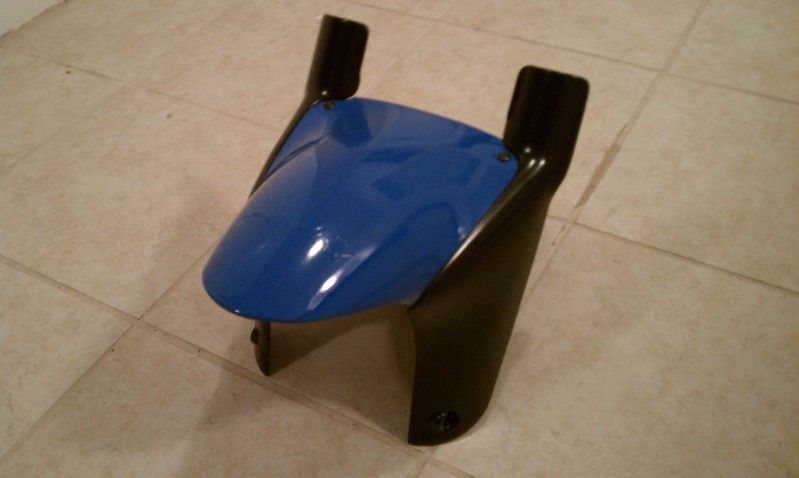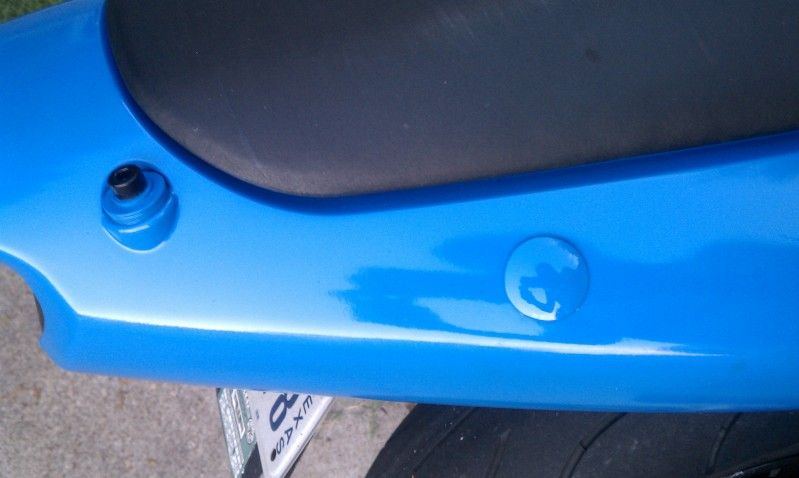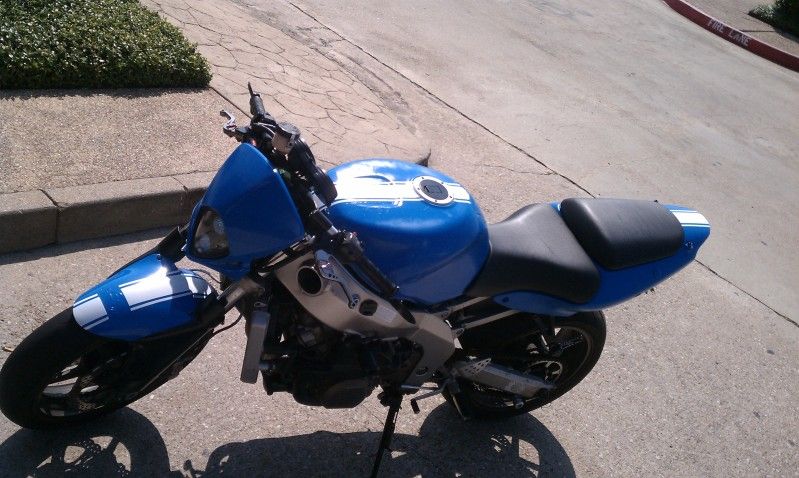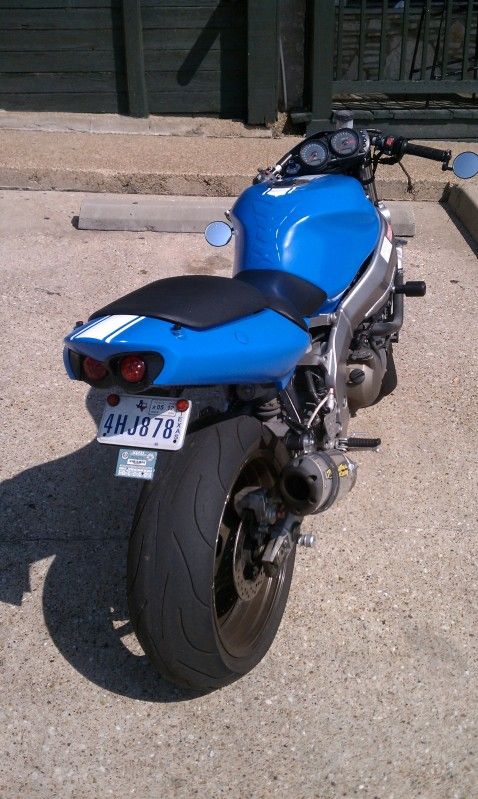 Thanks for checking it out!