So I think it's finally time to start a build thread for my 92 GSXR. Initially I was just going to get it running and ride it, maybe strip the plastics and add a mt-03 headlight...
Well, then I thought why not do a swingarm swap? I've been on the hunt for a SSSA, but after I bought a 748 (because I was looking FOR a swingarm on craigslist and ended up finding a killer deal). That curbed my 'bike with a sssa' apetite.
I've been seeing a couple bikes on here with newer 07 R1 swingarms on slingshot frames (namely motohorho and burtonf166) and I love the under-hung bracing so, the decision was bade and I started getting the parts I need on flebay and CL. Surprisingly, the swingarm, linkages, shock, wheel, brakes axle ect cost me not much more than a couple hundred, so I decided why not go with a fork upgrade too! Picked up a K6 GSXR1000 front fork for a reasonable price and then thought; why not do a 7/11 swap. Just picked up a wrecked 98 bandit for $150 this evening. On with the pics!
I bought the bike a couple years ago but it's been in storage until about a month ago. Here it is after I picked it up to bring it home.
Bike collection:
Starting the chop: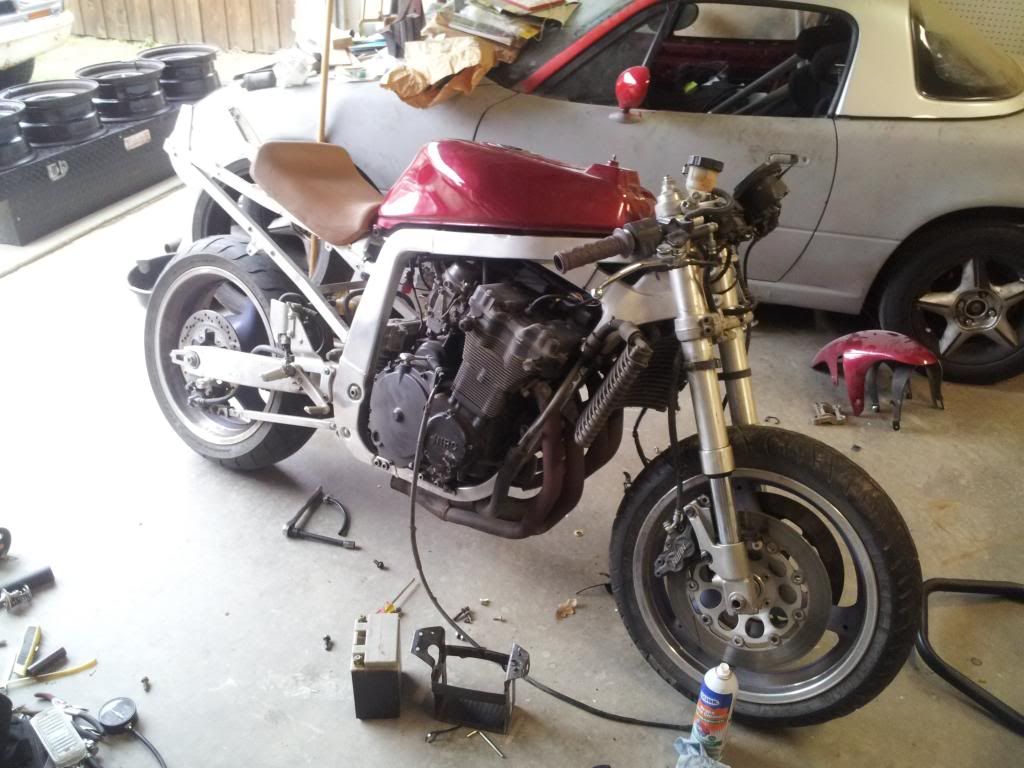 Subframe was already kinda chopped up, and it was majorly cracked so it's good I did away with it.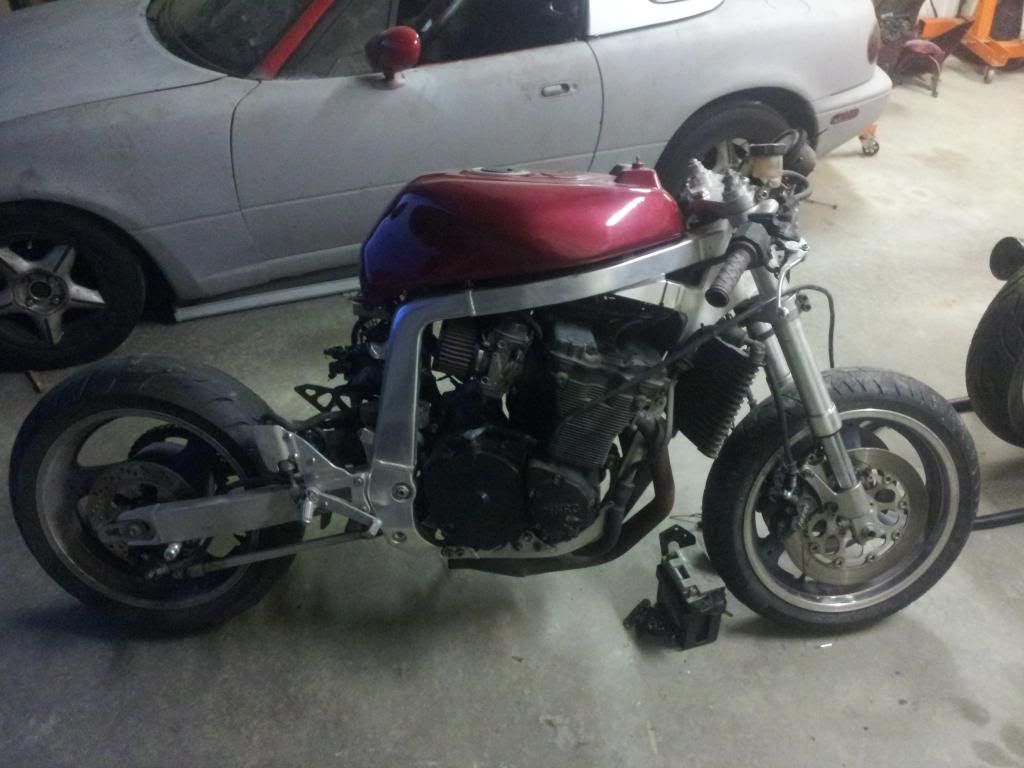 Cleaned up the carbs
The were supprisingly clean for having been in storage for a couple years. I'd suppose the PO must have just cleaned them.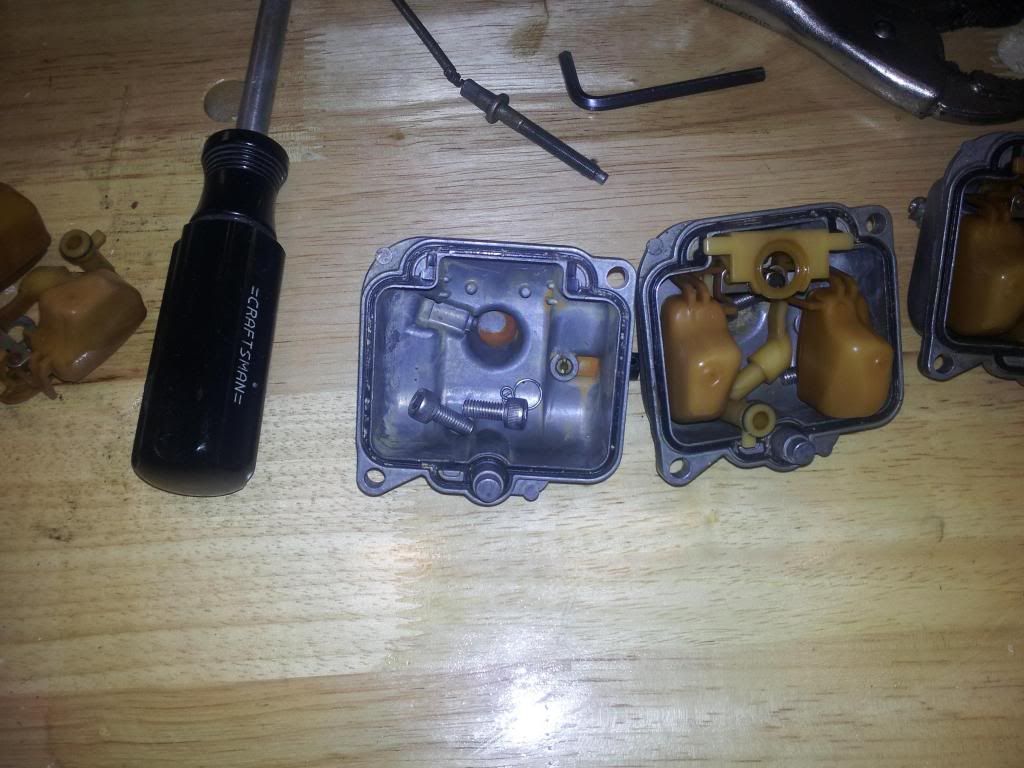 New forks: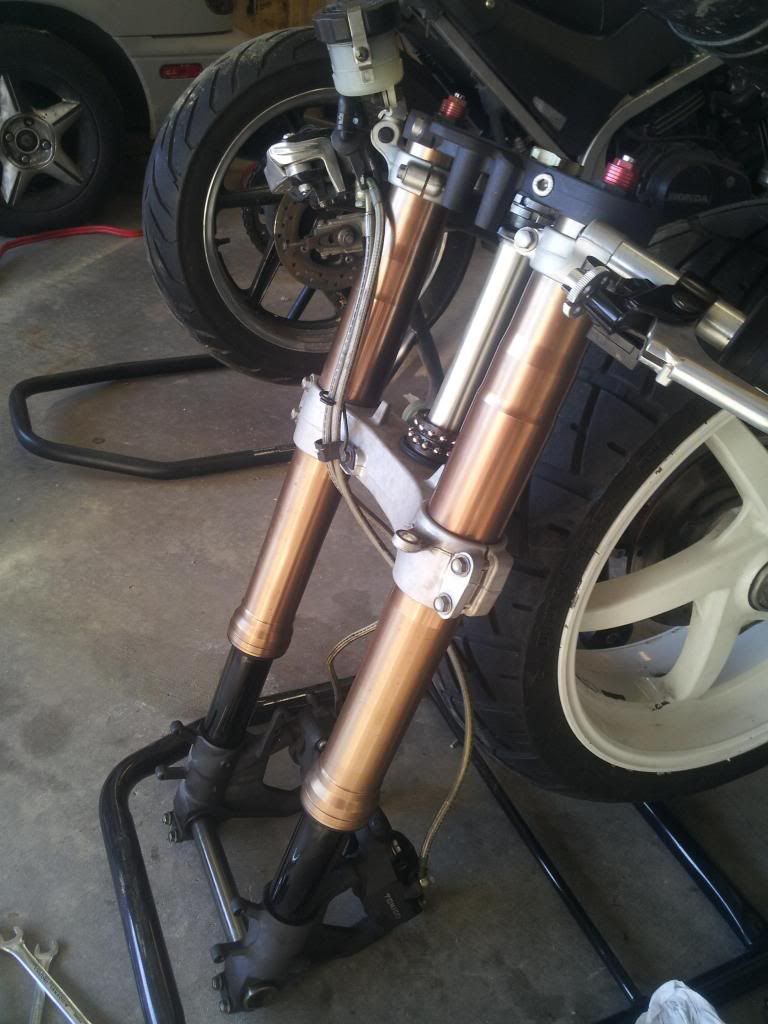 Engine pulled:
Swingarm mocked up kinda: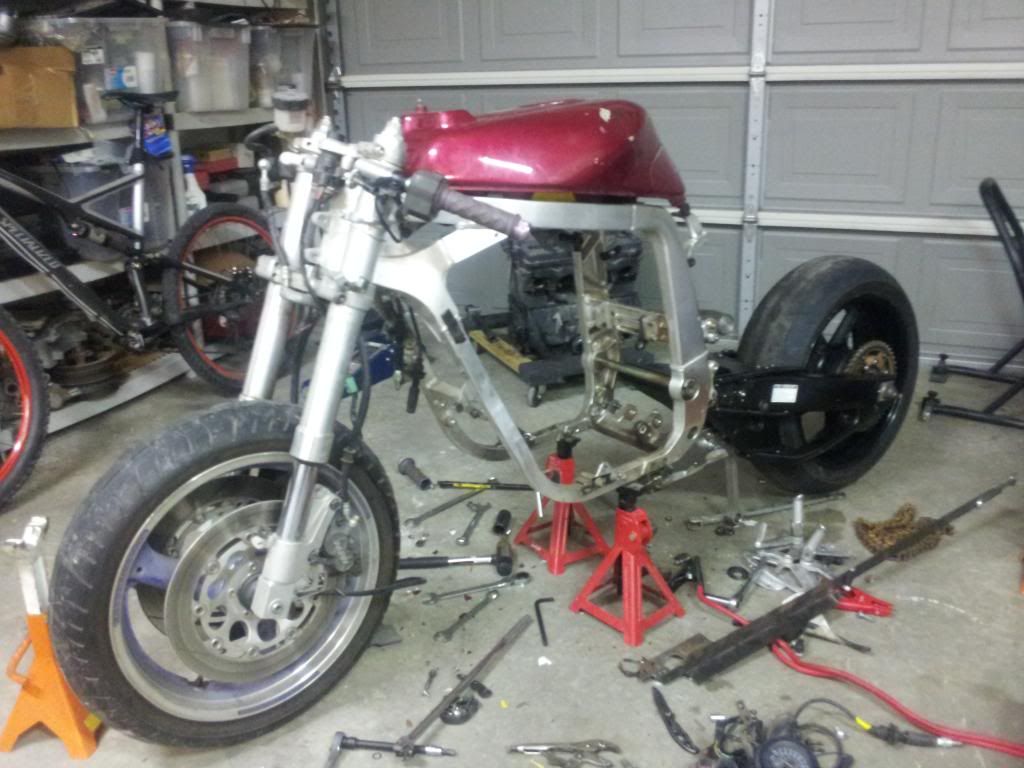 Forks mocked up. I got some bearings in the mail, should be in this week to do this right. but they seem to fit pretty damn easily: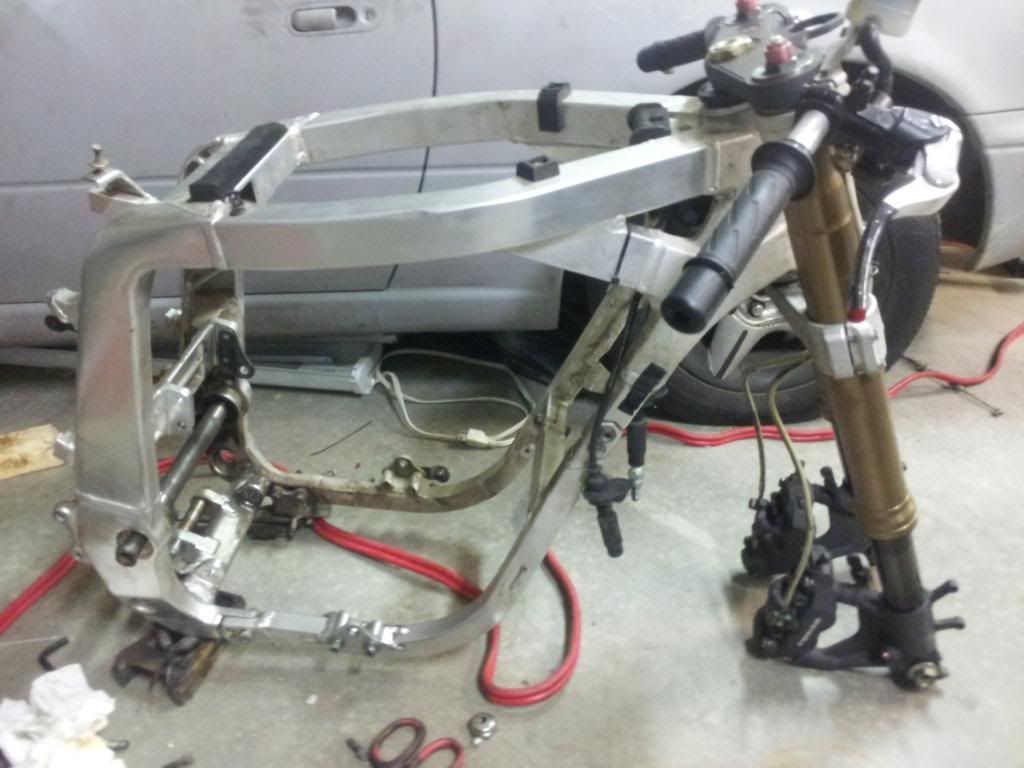 Garage is a mess:
Everything kinda mocked up again.. though since the swingarm was too wide, I couldn't put it in until I narrowed the pivot some.
Got it narrowed and put it in. I have some aluminum to make the bushings in the mail, should also be in this week. I borrowed my dads HF micro lathe. It is perfectly the right size for making bushings and spacers so hopefully I'll be able to turn them quickly.
Made a tool to get the pivot nut off (the bar end isn't part of it, but I just stuck it on there for some reason. what a PITA! welds look like crap because I was out of argon, but it worked. Just got a fresh bottle yesterday. I've got a Hobart 140 I'll use for making the subframe and whatnot.
I got some projectors from a forum member. I'm still trying to figure out what kind of light enclosure I'm going to make. I've got some sketches, but my drawing skills suck so I'm not going to post those. Trying to think of something unique that doesn't rip off someone else's ideas. Its tough though because the basic shape that keeps coming to mind has been done a few times. I'll figure it out. Any ideas are welcome.
And finally the source of my b12 engine. I don't know how much I want to do to upgrade it, but I'm expecting using my 38mil carbs from the 750, and getting a 88-89 750 intake cam for starters. Also, any advice here is welcome. I know bumping the compression on these motors helps a lot, I would like to keep this fairly affordable though since I only have $150 in the engine in the first place.
I also already bought a 2008 R6 tail, looking for the seats on CL or ebay. Once I get all that stuff I can start on the subframe, but for now I'm going to get the suspension sorted out and get it rolling. I've also been contemplating a Bandit tank, but idk. I kinda like the flat tank. We'll see how well it goes with the tail. Heres a photochop I did (please excuse me Burton, I based this off one of your initial build pics. The paint scheme is not yet determined, but for now I suppose I'll just plan on blacking out the bike unless I get a hair up my ass to do something more creative.
btw, should I keep the Jesus sticker on the b12 engine?