Discussion Starter
·
#1
·
So, I got the garage setup this weekend to actually be able to work. Shelving, organized, but tools still in boxes. That's temporary until I get some more stuff taken care of and the room.
On to the build:
Day 1: First things first. Got a mount in the rafters of the garage for a cable for the chain hoist. Chain hoist is up, next is hoist remnants of the bike.
As a recap, This was the bike as it sat when I bought it:
In short, a mess.
So today:
I started with this:
And started a teardown. That's when the fun really got going. Tagged and bagged a lot of bolts, but had to chop through a few where the old broken frame was twisted and locked the bolts in.
Once I got the gas tank off, the radiator, exhaust, airbox, and managed to pry off the old cylinder head cover, I found THIS: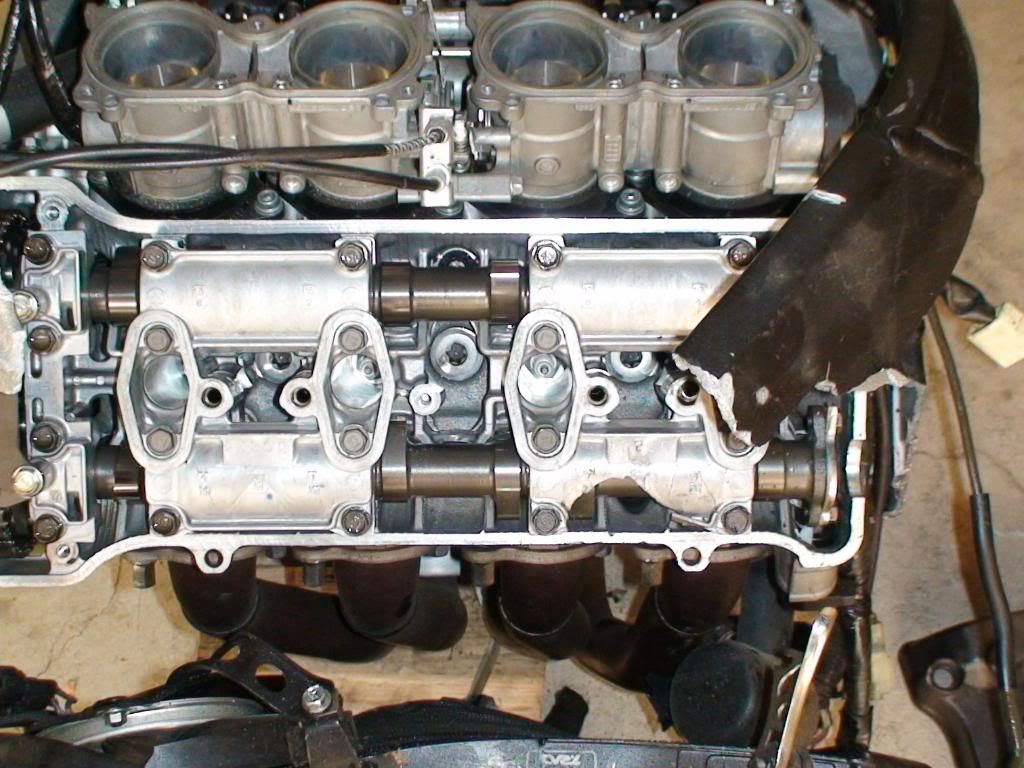 That part just happens to be not listed in the Ron Ayers fiche system. Great. I'm not sure the head is a go right now anyway, and might need to be replaced. I can buy a bone stock one for $700 right from Service Honda, same place I got the replacement frame from.
Got the airpod filters out. I think they'll buff right out.......
Now that the first day I DW is finished, this is the result:
This is the bike in amongst my other babies.
Notice my 695 in front, the SS and the GS500 on stands. The GS is legal now. Cost me a cool $400 to get that done. Still under $1000 so far for a currently running bike!
Next, I need to find a small skid to mount the engine to for storage and repair. I have no idea what to do but a few ideas have popped in my head.
1: HRC piston kit and an overbore
2:
Turbo kit
3: Supercharger
No, it isn't an either/or, it's a 1&2 or a 1&3. (or 1,2 &3, what the hell..) Both supercharger and turbo run about $3000 each, so it's a wash.Build the engine right and I could be looking at about 240+ RWHP!
Right now I need to do some shopping for a cylinder head. I have a replacement for everything else but that. Anybody feel free to chime in on my build discussion about the heads if you know something I don't (which is highly likely).
More to come......