Discussion Starter
·
#1
·
Alright, I know there are quite a few of you guys who have one of these bikes laying around somewhere. what I'm curious of is if you guys who have decent running ones, could get it up to normal operating temp on a ride and take a pic or tell me where the needle should be on average.
So if its cold outside (65F or lower) this is where it likes to run, also where I let it warm up to before riding it.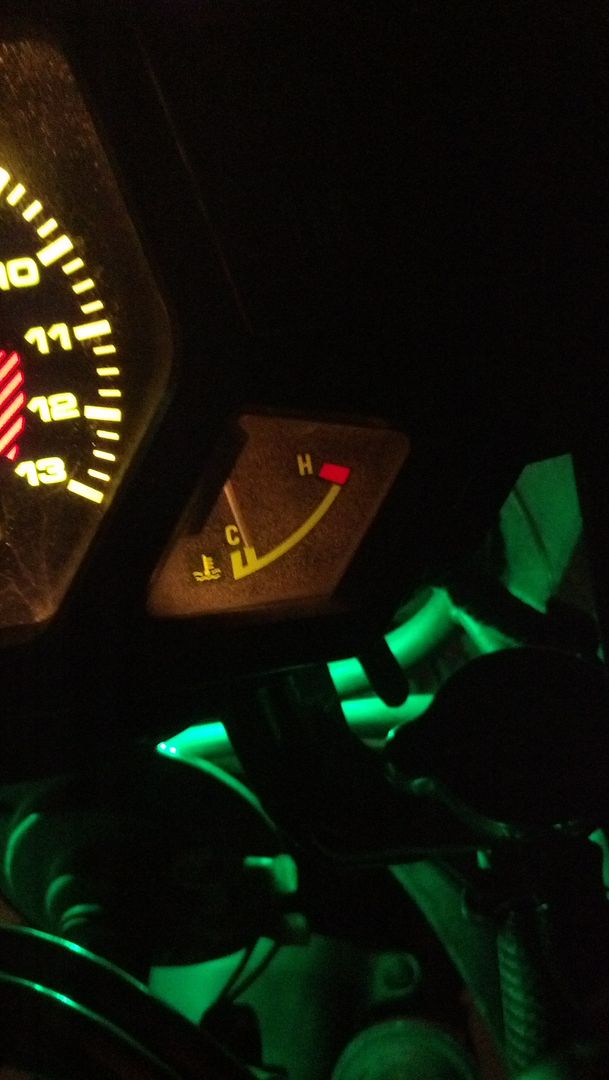 This is what it reads on a normal summer day(105F-120F) out here, cruising at 5,300rpms in 6th gear at about 70mph being nice to it.
and this is where it likes to run on a summer day if I'm cruising at 70 and then downshift to pass a car, or if I'm climbing a hill of any kind... in any gear... at any speed over 50mph This is also right where the fan decides to kick on. Or if I decide to ride it at any constant speed over 70 mph or over 6K rpms.
I'm pretty sure I know what the problem is already, I just want to know what is Normal on average for this bike and where I should really take caution. I have accidently pegged it out twice now trying to keep up with my retarded friends while climbing a hill at 95 mph and ended up having to stop for like a half an hour and let it cool off. Once it got 3/4 of the way up I pulled over and let it idle for about 45 seconds and watched it climb all the way up and peg out. Poured my bottle of water on the Rad and let it cycle and then shut it down and let the fan do its job. It doesn't leak from anywhere at all, and I have never had to add more coolant. I think all the hoses on the bike where new back in 1988, they expand ALOT from hot to cold and all feel like gummy bears. I have new Hoses on the way, have a new thermostat sitting on my desk, already replaced the cap, and have flushed it and replaced the fluid twice and am going to do it again when I get the hoses and everything on it. plus while I have it apart im going to wire up a fan switch override to make it come on when I feel like it should for hill climbs and such.