Discussion Starter
·
#1
·
so my insurance renewals comin up on the Mazda MX5, i wanna move out my rents house n get a place with my girl, and i figured while its summer, not only wil it be cheaper than a car, but itll be a nice ridin time when the sun comes out.
From that basis, i decided i wanted a bike, my original plan was to buy a bsa or triumph n build a bobber from it, expectin that bikes in bits were the same price as they were when my dad used to get em from autojumbles, £50 for a BSA A65 in a box, but ebay ended that, now the world n his wife know how to get all the bargains n slowly but surely prices rose until everything with BSA or Triumph on it became nostalgia, collectors items, and out of reach of my wallet size.
so i got convinced by my dad to look into getting a japanese bike to turn into a bobber, maybe an xs650 or cb550, but the work of hardtailing a bike like that, compared with me not really wanting a jap as my first choice, just didnt fly, so the idea progressed.
until i started looking at sportsbikes, particularly streetfighters, id always loved these, from every motorbike show id been to as a kid, this was what i spent all ma disposable camera shots on. the streetfighter stand and the stunt team show.
so after looking on ebay and deciding on a bandit, because theyre pretty indestructible engines, and then the only ones in my price range being wheelied to death n the forks being f*ked, i started looking for project bikes , or salvage bikes, to build back up to streetfighter condition.
and so 1 week after payday, and with a hefty desire for my project to begin i found the perfect thing.
a 1988 CBR600F that a guy had fell off and scratched the fairing and the engine casing a little. the only other damage is the general condition of the bike, having been kept outside unwashed, and also the forkseals being completely shot.
anyway heres a few pics to show where my story begins.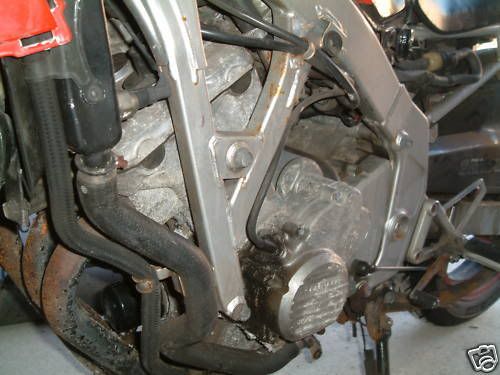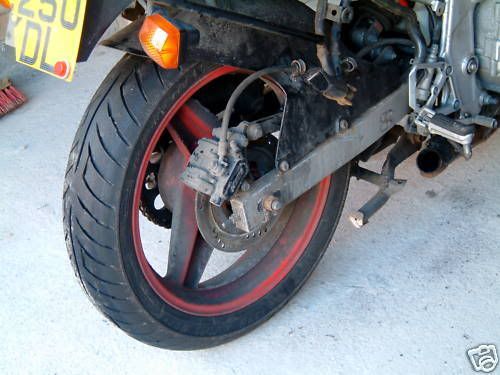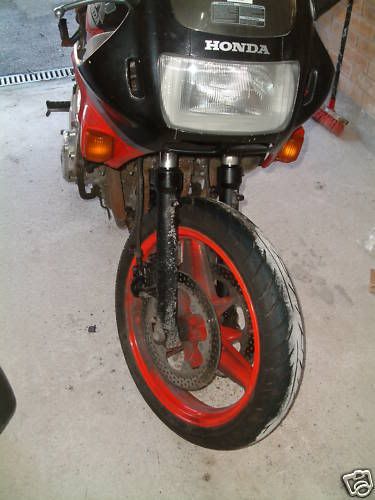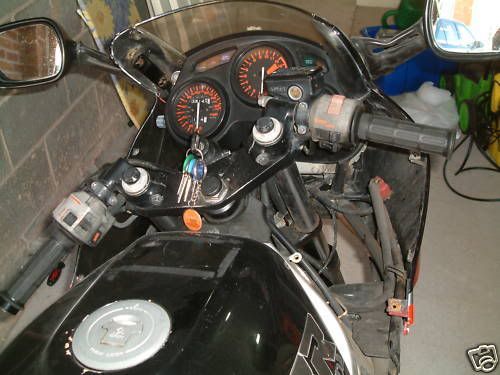 now the only other thing to explain is that i dont have my bike license yet, and in the UK its quite a long process, especially now the test has changed. so today i did my compulsory basic training (CBT) which involved some basic riding skills leanred in a parking lot, and onto a 2 hour road ride accompanied by a tutor, both riding 125cc bikes. It was interesting, especially comparing road riding to road driving (in my car) and seeing things from different views.
Anyway on tuesday i have my Theory test, which i have to complete 50 questions, and get 43 correct, then a hazard perception test which i have to click a mouse every time i see a potential hazard coming on a video of a road ride.
after these two tests im able to legally ride a motorcycle of upto 125cc, which i wont bother doing. To ride anything above that, i have to complete module 1 and 2 of the DAS direct access scheme which ill explain more when i come to it next month. but for now. wish me luck on the theory.
hope you enjoy following my progress, and helping me out with any problems i run into.
Tom