Discussion Starter
·
#1
·
Picked up this 1994 F2 a couple of days ago, for a mere 600$. Has 27000 miles on the ODO, and is in overall good shape.
I did get all the plastics with it, and all are in good shape, just been crappily spray painted black. I won't be using any of them, so if anybody is interested let me know and i'll give you a good price.
The bike has it's pros and it definitely has its cons as well. It was 600$ though, I can't expect perfection!
Pros: (I'll update this list as I get through the bike.)
Clear Title (Last bike I bought ended up with all kinds of title issues, so this is huge for me haha)
Clean Frame
Gas tank is internally clean
Forks are in good condition
everything rolls freely
Partially new wiring harness
Cons:
Dented tank
Isn't currently running (Get into that later)
Missing some misc nuts and bolts
Alright so to start this off i'll start with where I got the bike. Got the bike from an old man that lives near me. He bought the bike to flip it, before he even got it finished a boy bought it (on a payment plan), when the boy couldn't pay him he returned the bike.
When the boy he sold it to had it he was in the process of swapping in a new stator, that install never got completed. So this is why the bike does not run as of right now, but I believe that once the stator is installed it should start. (I haven't got down to the carbs or anything yet though.)
One section of the wiring harness has already been replaced. Which is fine by me but i'll be cutting it up to reroute it anyway :rock:
It is missing the gas cap bolts, which is fine, I want a new cap anyway.
Other then that I haven't found to much wrong with the bike
as of yet.
So here is what I got last night (Plastics and extras are off to the side. Need to finish cleaning out my shed to make room for everything.):
I spent about half an hour or so last night stripping some things off.
Removed the tank, removed the air filter (the one in there had mildewed for some reason.), removed the gauge cluster, removed the front fairing stay, and removed those god awful spiked bar ends. The night ended like this: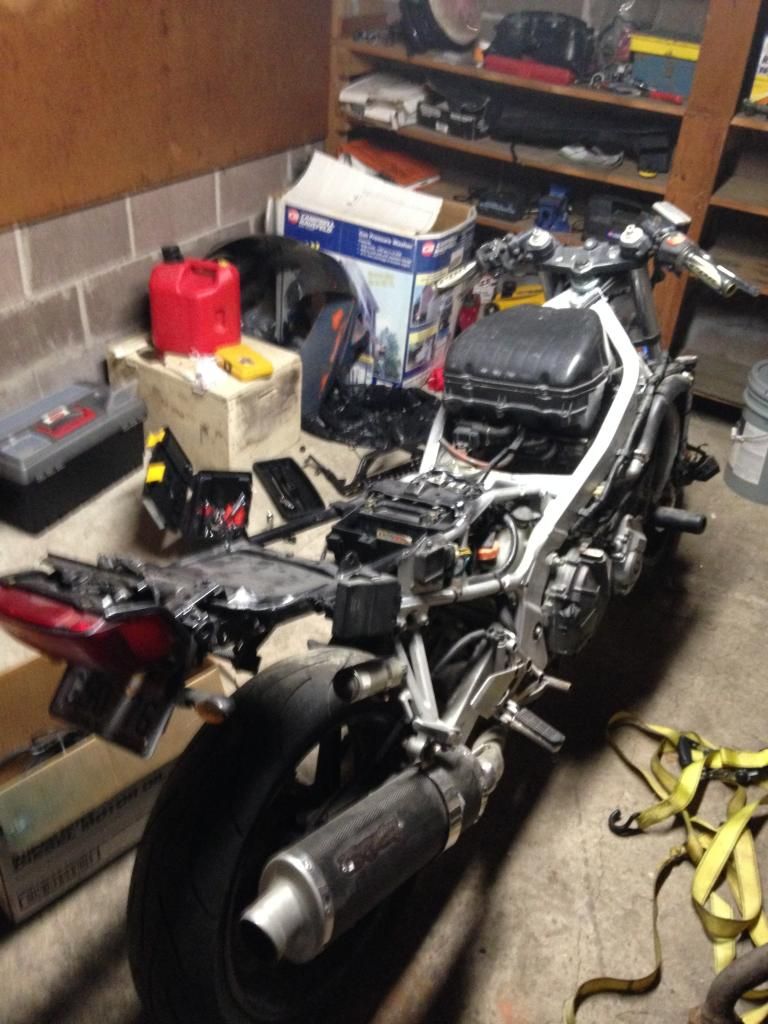 I am looking forward to this build more then any build i've ever done. A streetfighter has always been what I wanted, but I just never had the time or space to do it.
My plans that I know for a fact right now are:
Fix the dents of course
Pull the motor and get on a stand so I can clean, dismantle, and reassemble.
Replace all gaskets/bearings
Heighten the rear subframe, install a 06-07 R6 tail.
12" LED Light Bar for headlights
The rest is to be determined.
Looking forward to being around here and showing the build progress!
Can anybody tell me what swingarms are a direct bolt on, if any, to replace the stocker on this bike? Wanting to go with a wider rear tire and wheel but I don't have any shops near me I woulc trust to widen the stocker, nor am I a very good welder lol