Discussion Starter
·
#1
·
Hate to make this post.
Im lookin for 2000$ . However due to current situations im forced to be highly motivated to move the sled.
Under 4k miles. Excellent compression motor is totally stock ( 175 h.p. ) and in excellent running condition. Water pump update has been done
Longtravel front susp. 136 ripsaw with 163 1.5" powerpoints . Forward mounted steering post. Crossfire seat .custom tunnel ext/bumper. .
Sled runs real hard... starts awsome .
Primary.....
160/290# spring
66g weights
Secondary.....
60/40 helix
Cat red/wht 116# spring
Cat 020 belt
8t drivers
25/38 gearing 15w
72p chain 15w
This setup pulls hard as fo0k with a big boy pilot. This sled is setup for big boy joy !
07 f1000 rains with coupling blox..... rides amazing and can keep the skis on the ground with them in !!!! Mucho fun factor ...... engages at 3500-3700. Pulls hard all the way to 7900 and then settles nicely to around 8300.... it never EVER over revs .... even outta the hole spinnin hard. It has the black magic tork brace .......
On to the pics.
Heres its belly and stud pattern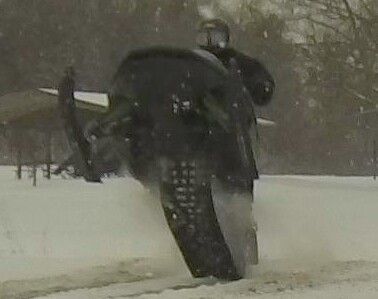 Hi rise seat and steering post mod. You can really get up in her with this setup.!
Mmmmmmm traaaaavel
Bitchin stance.
Nice engine bay.... sexc wrap job.... and lemme tell ya the shit works..... keeps em hot. Gets em hotter . Sure the hell dont hold moisture for very long. Lol.
Lol studdley eh?
And a premium crossfire cover.
.
Heres vids from this winter. And maybe 1 from last
https://www.youtube.com/watch?v=945L44C1cnQ&feature=youtube_gdata_player
https://www.youtube.com/watch?v=GVkQ7Dym4po&feature=youtube_gdata_player
https://www.youtube.com/watch?v=UuDPAig8cjI&feature=youtube_gdata_player
Clicky for flyby .
http://static.photobucket.com/playe...aximusmini/photobucket-3818-1328817239066.mp4