Discussion Starter
·
#1
·
2002 Honda RC-51 RVT1000R Naked Cafe Street fighter I bought this bike crashed (not that bad) off ebay a few years ago from Utah with a clean title and had it shipped to Connecticut (The title is in my name in Connecticut and is clean with accurate mileage).
Since then I have done a lot of work to this bike to make it the way I want it, it is very unique. Due to job loss and having too many bikes I'm going to list it for sale.
This bike is a lot of fun to ride and it is fairly comfortable, if you want to own something different, something Japan never built this may be for you.
The bike has 2440 miles on it and I have put about 1000 on it myself. The mileage is accurate, I sent the crashed gauges to
www.bluegauges.com
and they put the correct mileage on the speedo that is on it now. The frame is straight and so are the forks (replaced and rebuilt) and the wheels run true.
There are some aftermarket components along with a lot of custom work. There is also a fair amount of one off machined brackets which took a long time to make. There are no problems with this bike everything works, charging system, transmission so you don't need to ask. It is very reliable and fun and was built to be that way. There are some used parts on the bike that have been touched up and lots of brand new pieces.
Aftermarket components:
Pyramid rear fender hugger
Rear seat and gasket
Corbin seat
Rear seat bump pad
Nicky Hayden body work (touch ups here and there)
Tracy Cafe fairing (it is removable and they don't make this one anymore)
Front Led turn signals wired to be running lights as well
Changed some led colors around in gauges (blue speedo and red at the redline)
Spiegler brake front and rear and clutch lines
Jim Ahlmans Speedo Recalibrator
Power commander III usb with Dan Kyle's stock map
Wheels are off a CBR 954 which I had to make spacers to make fit (front rim has some tire changing marks)
Header has been ceramic coated to keep the rear shock cooler
SV650 Headlight with Silverstar headlight
Pair valve block off plates
2 Spal radiator fans (no problem keeping this one cool)
BMW handle bars (can't get much more comfortable than these)
Oury Grips
Scott steering dampener and handle bar mount
Chrome front pegs
All balls steering stem bearings
Odyssey Dry cell battery
Mods I MADE:
rear stand and Delrin spools that stand accepts
Delrin sliders in both front and rear axles
Stainless steel intake screen
Nicky front sprocket cover mod
Brackets for Spal fans to mount to radiators
Head light bracket to forks, also the front turn signals mount to them with the wires hidden in the spacers
Gauge bracket
Brake line cable grommets and hangers
Handle bar spacers to mount 7/8" bars into 1 1/8" Clamp
Bar ends with brass inserts in bars for extra weight
Steering stabilizer frame mount and arm
Tracy fairing upper mounts to handlebars
Misc.
Chain and sprockets are new (15t front and 41t rear)
Racing tires
Brake pads are fine
I never made a rear view mirror because I had a little one mounted on my helmet
I'm want 5,000 firm,, if your interested please get back to me at
[email protected]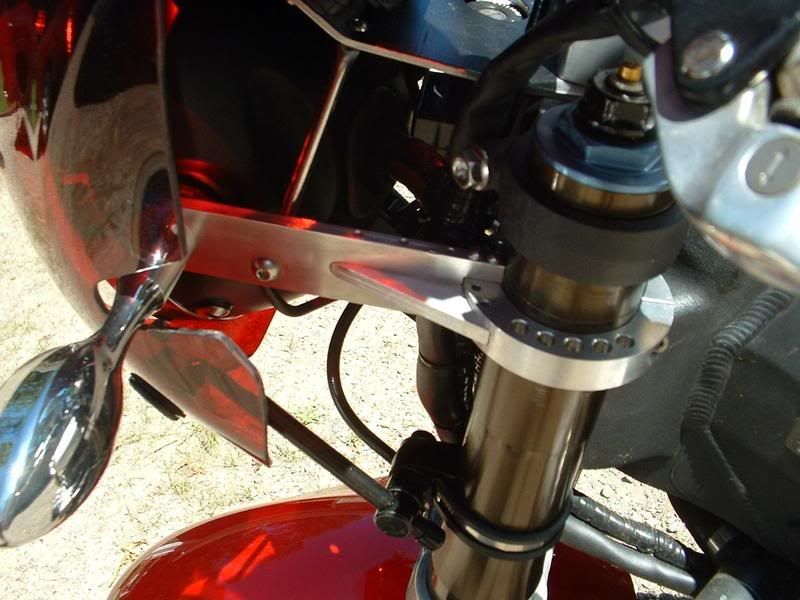 more pics here...
http://s169.photobucket.com/albums/u239/bugsih/rc51 pics/