Discussion Starter
·
#1
·
Pictures of this beast 2007 Street Triple below.
I haven't posted or have even come onto this forum in a very long time. My love for Triumphs has gotten the best of me. First bike I was ever on in my entire life was my dads Triumph Boneville. One of my first memories as well. I've been a huge fan of the Daytona since 2008. Now I'm just converted to a daytona lover who yet doesn't own one. I did check out four 675r's on Wednesday though.
Ok some back story of this beast striple.
What makes this bike even more remarkable is that the guy that rides it is from Aussie land. Where a cop can give you a defection notice for ANY mod basically.
The story about this 2007 Street Triple is that he commuted on it for three years.
Then he wanted more power and checked out a few bikes including the BMW s1000rr, Speed Triple, and some Ducati's.
Yet he still loved his striple.
So he gave it 179hp with a turbo. He then did a road trip of just over 1,000 miles.
He cracked an OEM piston
on this journey.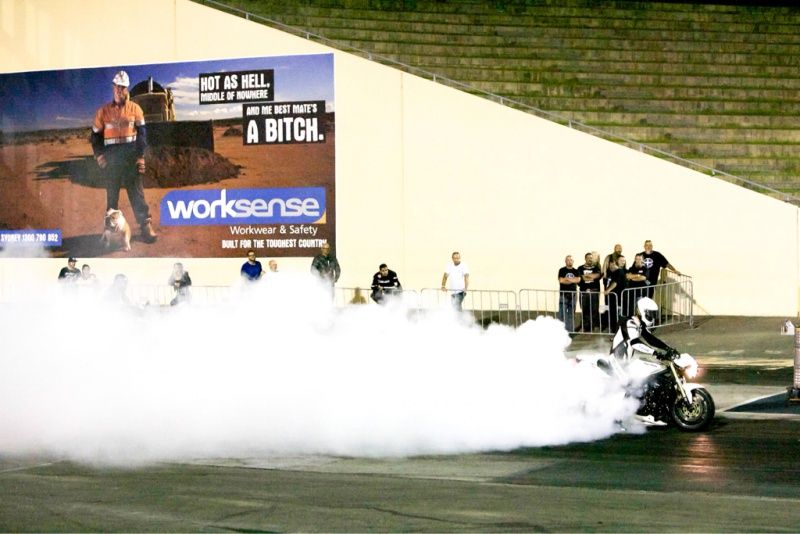 This is when the real project began. He wanted a reliable turbo system so he could ride this bike every day. He didn't care if it went down to 150hp either. After a lot of money because I can't even imagine how much all of this was. He had a monster that puts down 226.5 hp to the ground. That's HP straight off the wheel ok not the crankshaft. So he spent time on the phone with this one company for four months just to get his custom made pistons. Otherwise he uses stock Triumph piston rods and rings. He also uses the stock Triumph transmission. He did buy the most beefy clutch from Barnett Racing yet even their strongest springs couldn't handle the power. So he replaced them with completely custom springs. This bike does power wheelies in 6th gear. He has two boost settings with one being 8psi and
11psi his max setting for the 226.5 WHP.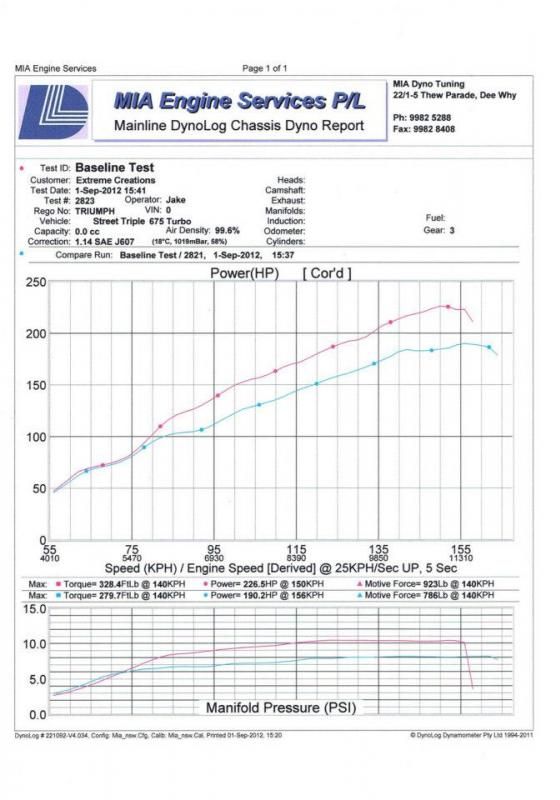 This is just an off of the top of his head list of parts. It has a vast amount of forgotten ones as well.
Standard Gearing, but with black chain and black sprockets.
Armstrong rear brake rotor.
Powder coated brake calipers.
Removed chain guard and sprocket cover.
Removed OEM rear fender, replaced with R&G. Currently making a custom unit.
Triumph gel seat.
Triumph Seat Cowl.
Rizoma Rear Sets.
Powder coated gear selector rod and brackets.
Rizoma Fuel cap.
Rizoma Oil cap.
Powder coated headlight cups.
Removed mirrors.
Pazzo 'shorty' levers.
Modified Garrett GT20 Turbo.
Walbro scavenge pump.
K&N air filter.
Custom Turbosmart Ultra-Gate38 with screamer pipe.
Turbosmart Single stage boost controller with 2 boost settings, and toggle switch on instrument cluster.
2012 Street Triple R rhs frame insert.
Custom Walbro Fuel Pump. (to fit in standard fuel pumps location)
Turbosmart Fuel Pressure Regulator FPR800 with Gauge
Custom Exhaust.
Triumph Fly Screen.
Rear Hugger removed.
190 rear tyre.
Custom Intake Plenum.
SAI Mod.
1 off custom Turbosmart BOV.
Watsen Design front indicators (low rise from Speed Triple).
Integrated rear light.
Rear pegs removed.
Street Triple R radiator cowls.
Radiator Guard.
Comp Mods Piggy Back ECU.
Low Comp custom pistons.
Custom fabricated intercooler.
Barnett Racing Clutch (with completely custom springs to handle power)