Discussion Starter
·
#1
·
So, I'm new here, as my lack of avatar and incredibly low postcount might indicate. A member here found my build thread over on BARF, and intimated that you guys might get a kick out of my build.
Now, I'm not 100% sure what I've built is a streetfighter. It certainly meets some of the criteria, so I wouldn't say it's *not* a streetfighter, but it takes bits of inspiration from just about every custom bike subculture.
The backstory to the build begins around 4 years ago. Summer of 05 I bought an SV650S new from the showroom to use as a messenger hack. It wasn't an ideal situation, but my work bike had blown it's motor and wasn't worth salvaging and I didn't have enough cash on hand to pick up a decent used bike that wasn't just going to blow up on me again under the rigors of messenger riding. I'd heard that the SV was dead reliable, fairly comfortable, and it was fairly cheap. I picked a blue one and brought it home.
I did a metric fuckton of miles on her over the next two years; got hit by two or three cars while on the job, tossed her down the track on a rainy track day, rode her off road on more than one occasion, etc. In short, I rode the hell out of the bike.
I had an R6 for "weekend" riding, so when I retired from messengering I pretty much parked the SV, covered it, and didn't think twice about it except as a loaner bike or for teaching my friends the very basics of riding so they'd have some idea whether or not they wanted to get their license and take a proper training course. At the time, I lived close to the pacific ocean (as in, 100 feet away). Needless to say, a lack of riding and maintenance, combined with the salty air, took a toll on the SV. I think the rust on that bike might have become sentient and started building small cities.
Eventually, some assholes stole my R6, and I was left with just the SV to ride. Of course, at this point the SV no longer worked.... so I was pretty much screwed. Too pissed off by having the R6 stolen, I let the SV sit for a few months before deciding to bring it back to life as some kind of custom project.
Then my house burned down. :-\
Needless to say that put the brakes on any extravagant spending on my part. Visions of custom machine work, swingarm swaps, bead blasting, powdercoating, etc, all pretty much vanished. I moved the bike to my new apartment and did what little I could with a 15 dollar racthet set (the fire destroyed *all* of my tools).
At this point, the bike looked like this. These pics were taken in November or December of 07.: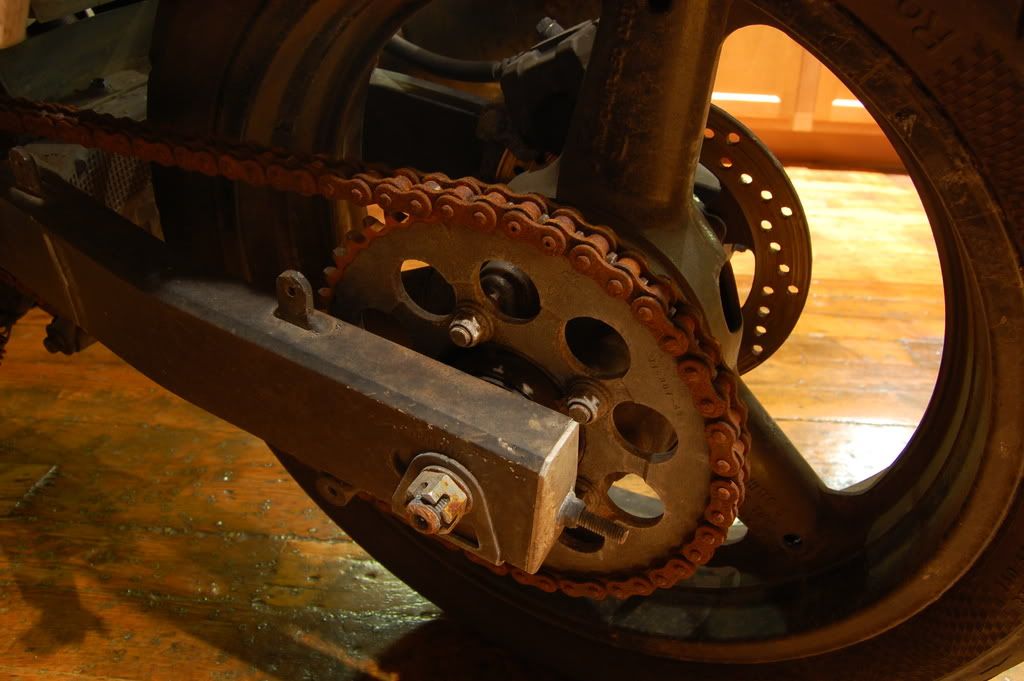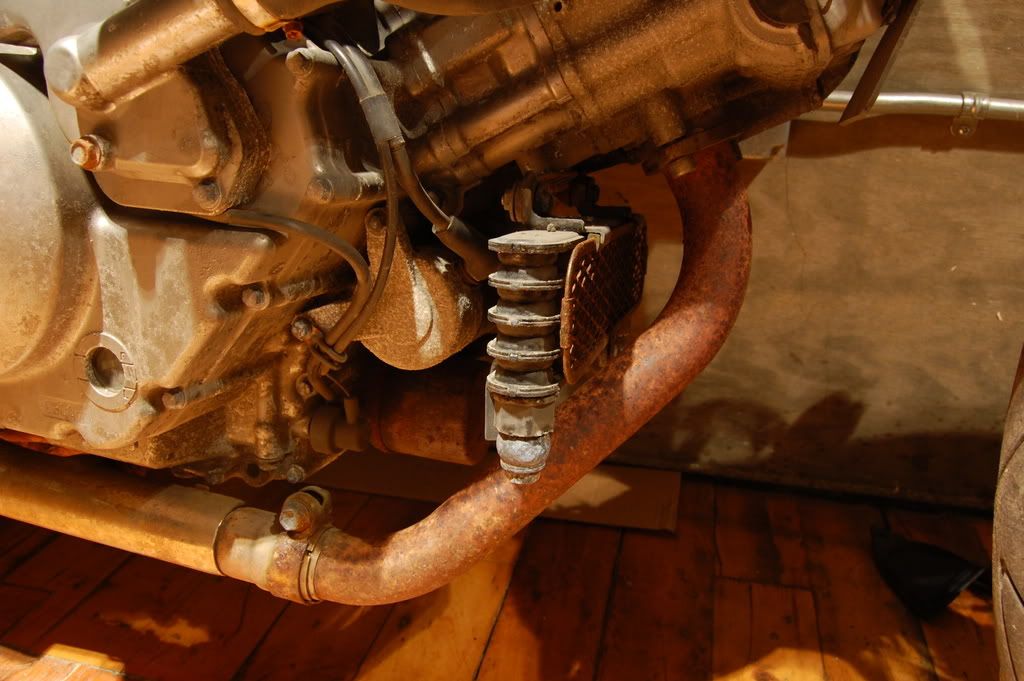 Now, I knew that whatever I did, I wanted to follow the ethos of the 1950s and 60s customization scene: namely, anything the bike didn't need to run or go faster should be removed. I had a pretty good idea of what I wanted the final product to look like, so I started with this stuff: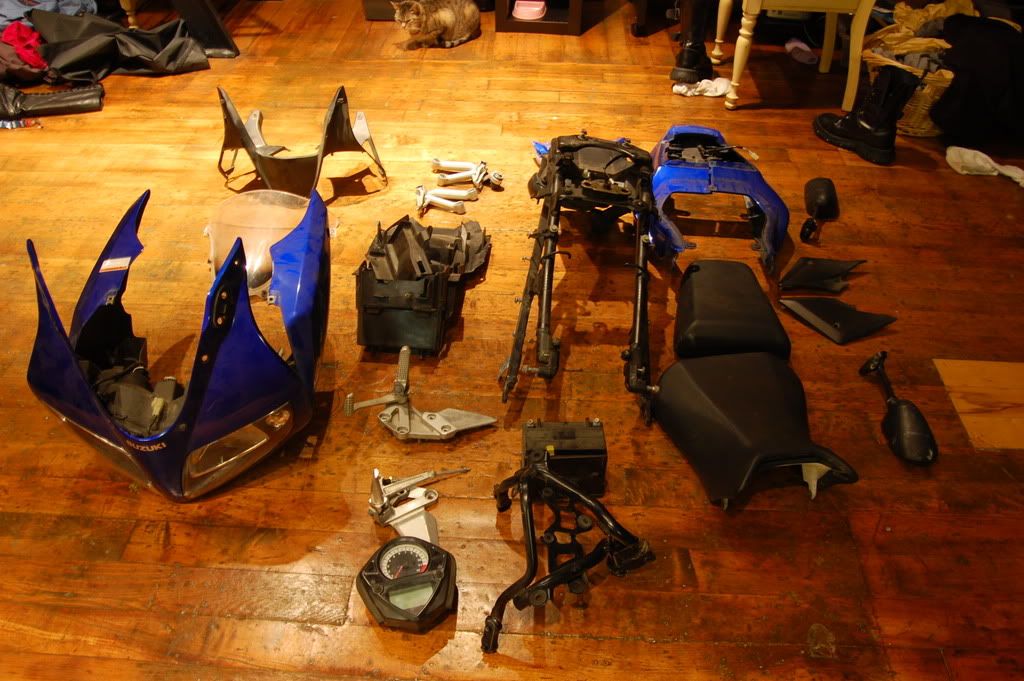 At this point, the fallout from the house fire (evil property managers, bills that went unpaid to scrape together enough cash to get a new place, having to buy all new *everything*) started to hit, so I put the bike in a corner and called it a day. The one cool thing was that I'd managed to get a space in a live/work industrial loft, so I was able to keep the bike inside.
Spring and summer of 08 went without any real progress other than me sketching and doodling and figuring out what I'd like to do, if I had enough spare cash to get the bike running. I pulled the valve covers off the bike, checked clearances, had a peek inside the cylinders to check for corrosion (none, thankfully), removed more bits I didn't need, etc.
A very good friend who was tired of not seeing me on two wheels loaned me his SV1000 so I could sell my car and maybe free up enough $$$ to finish my project. Car didn't sell, but I decided to bite the bullet and start cutting corners wherever I had to to pay for the build.
I stripped off the rest of the bodywork and dropped the motor so I could clean and paint it.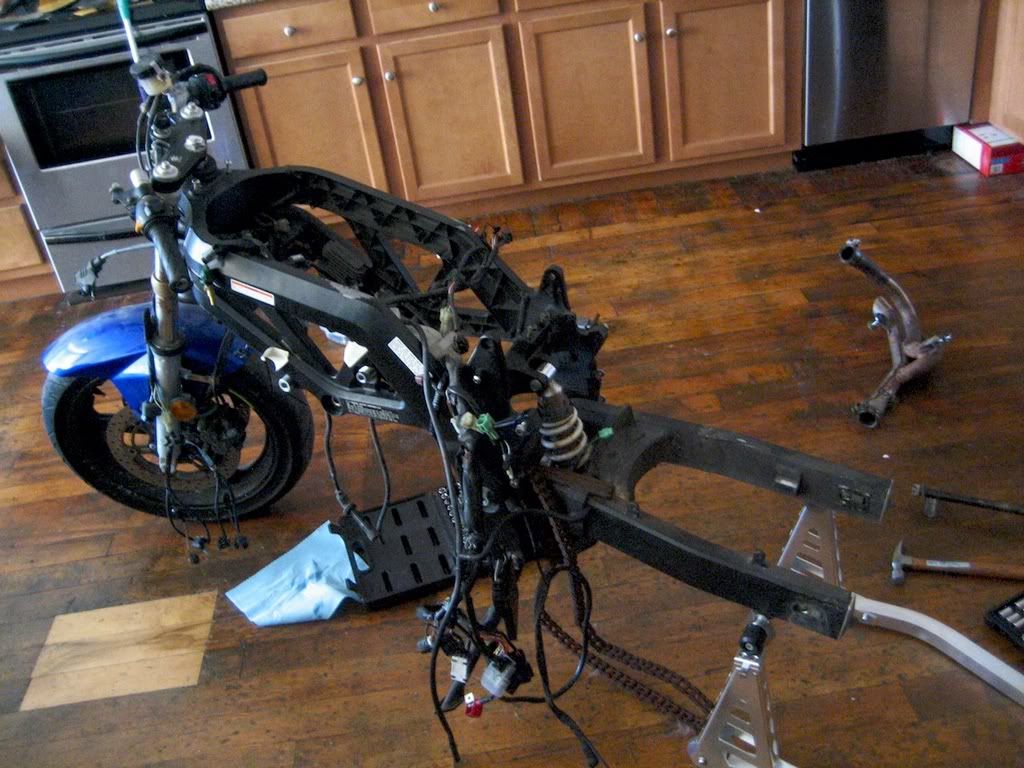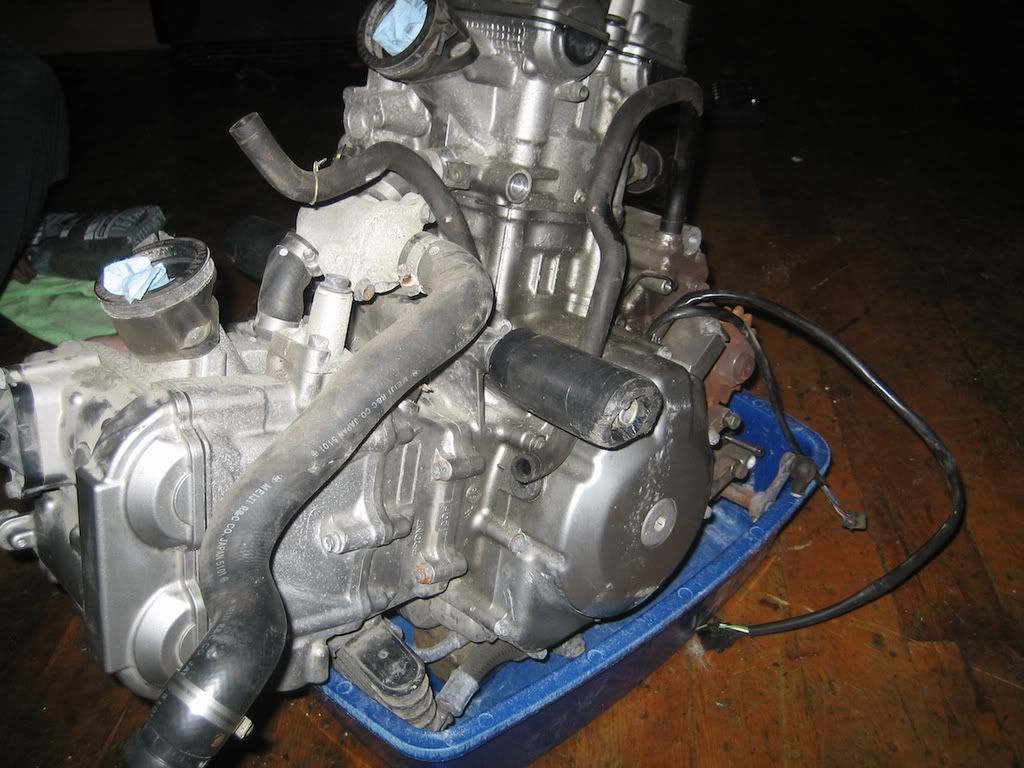 The next thing to tackle was the suspension. MY forks and shock were obviously trash, not that SV suspenders are all that good to start with. A racer friend of mine gave me a deal on some 04/05 GSX-R bits, and a ZX-6R shock. I sourced GSX-R clipons from another friend, a nicer master cylinder, and calipers from an R1.
Paint was next. I didn't have the money to pay anyone to paint it, so I busted out the sandpaper, primer, and rattle cans, and had at it.
I really only had to paint the tank, since I wasn't planning on putting any other bodywork back on the bike.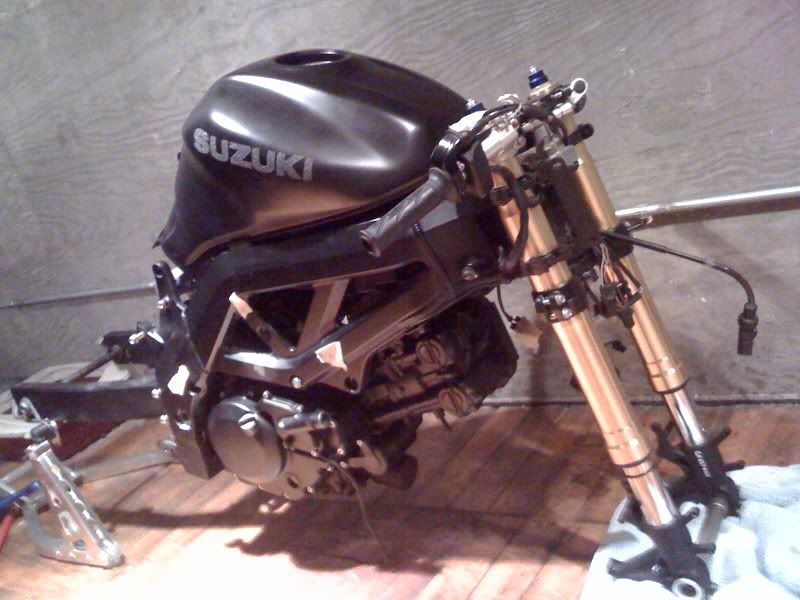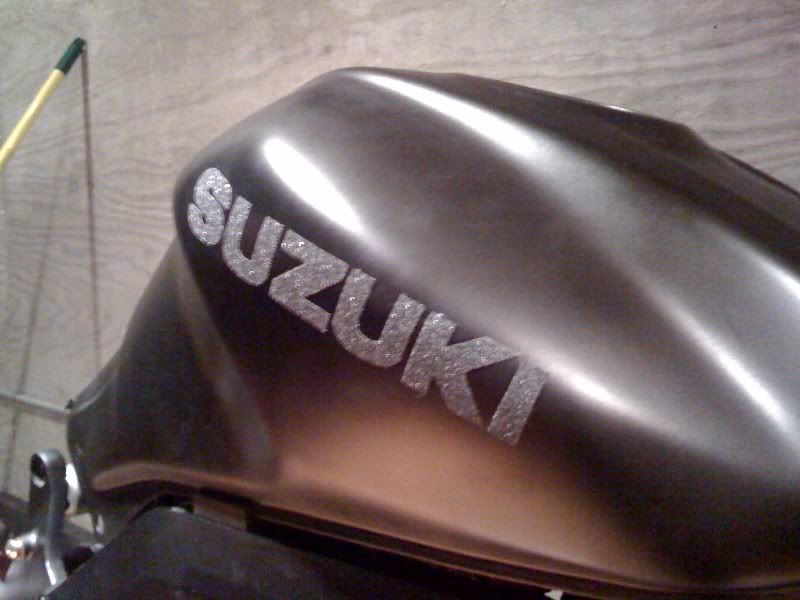 Logos were cut out by hand from skateboard griptape.
At this point I needed wheels, some kind of light system, tires, and a chain/sprocket kit. I gradually pieced those things together. I got a GSX-R front, a CBR600 rear, an Acerbis headlight, and a 15/50/520 chain kit. Somewhere along the line I got the idea to polish my wheels. Of course, I had the bright idea that I'd do it myself. Note that at this point my only power tool is a battery powered dremel, so that meant sandpaper and elbow grease. After way too many evenings spent covered in aluminum dust, the polishing was done (that cast aluminum texture on the center of GSX-R wheels is a bitch to remove by hand).
Obviously it still needed some work at this point. Like, say, a place to sit... and working foot controls.
The seat challenge was one I'd been thinking about since day 1. It occurred to me that the vast majority of a motorcycle's tail is wasted space and unnecessary weight. All you really need is a saddle. So I set about designing a saddle and a way to mount it.
A friend of mine has a machine shop, and was willing to let me use his tools (though we didn't have enough time to mill or lathe anything), so I went down to the metal supply store and got myself some aluminum, and started cutting on the bandsaw, and hammering.
The basic template is like so: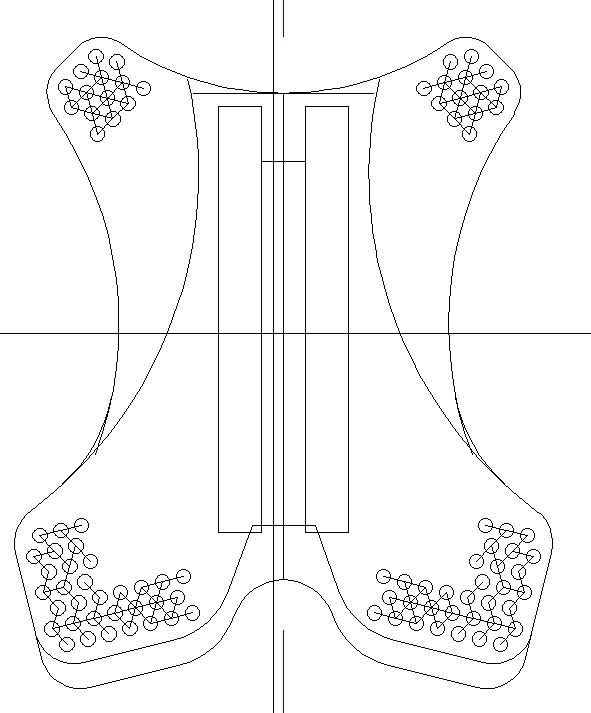 Hurrah for big hammers.
I also decided that since I was going to have nothing more than a saddle sticking out of my tank, I'd really need a place to put all the bike's electronics. To that end, the airbox was replaced with a set of UNI pod filters. I designed, cut, and welded, a custom tray to sit under the tank and hold the battery, sensors, fusebox, and ECU. All I had to do was fold the wiring harness up along the left hand frame rail and everything fit where it needed to, although the ECU didn't quite reach to where I wanted it to go. I padded it with some foam and secured it in place with cable ties. Sadly, I don't have any pics of the under tank area, as every time someone with a camera has been around the tank has been on, and it's kind of a pain to remove at this point.
I added LED signals to the rear, some handguards up front, and a belly pan (guards and pan not strictly necessary, so they kind of violate my ethos, but they were cheap and look good. The guards also give me a place to put front signals and running lights). A friend donated a SportVue HUD system, which I installed but have not yet configured.
That was pretty much it. I'm still waiting on the DMV to process all my registration paperwork, since the bike has been off the road for 2 years, but by this time next week she should be my daily rider. I still plan on embedding strip LED turn signals and running lights into the handguards.
The final product: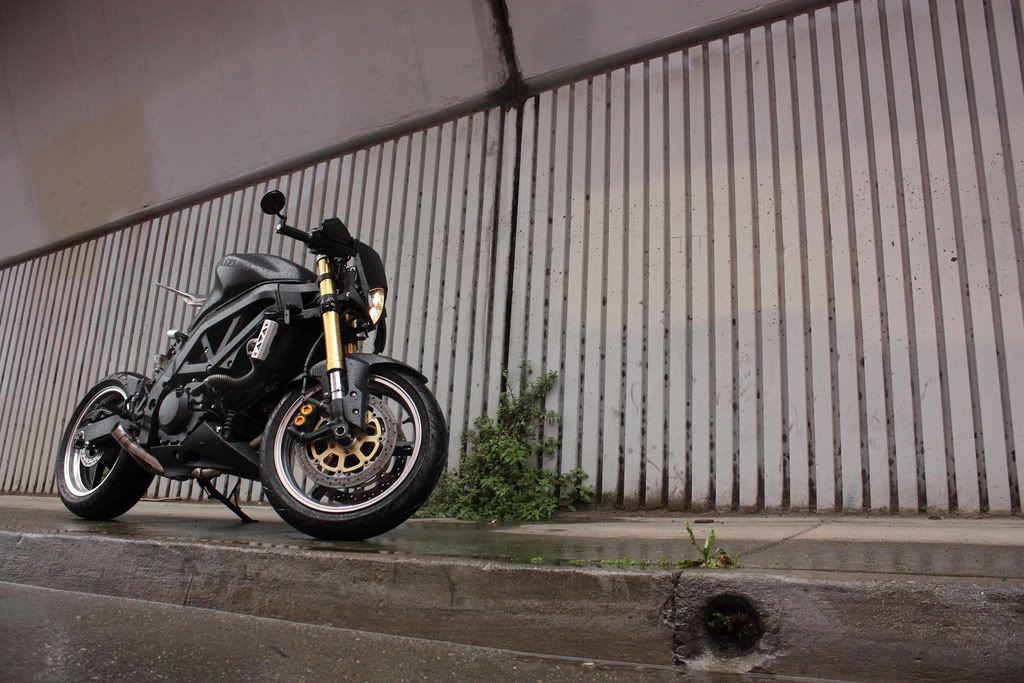 Compared to a stock SV:
And some videos:
http://www.youtube.com/watch?v=mox-YDHE5nc
http://www.youtube.com/watch?v=CUYzyTbxw3Y
http://www.youtube.com/watch?v=GP7I5c8QLPY
And my favorite, just for the sound:
http://www.youtube.com/watch?v=lzAjnga7dMs
The riding position is a little odd, but the seat isn't as high as it looks. Yes, it's high, but the illusion of height is exaggerated by the fact that there's nothing under my ass. I'd put the seat height at around 33.5". High, but not unreasonable. Of course, I'm a pretty tall dude so I make the bike look a bit funny, but who cares. This bike is pretty obviously not about practicality.
So, that's pretty much that. Hope you guys enjoy the story and the pics. :-D