Discussion Starter
·
#1
·
I finally got my duel sport sold and may have rushed in to buying a sports bike a little too quickly, for anybody that lives in the PNW, they probably know Tacoma as not being the nicest city in the area but after talking to some guy on Craigslist for a couple days my girlfriend, my friend and myself made the trip down to checkout a 93 cbr600 that looked to be in good condition. It even had a HID headlight, trailtech speedo, LED turnsignals, integrated rear light and bar end mirrors, small mods but things i planned on doing myself. as we turn the corner to his neighborhood, the first thing everyone in the car saw was close to 400 of the blackest people imaginable at a gigantic park having BBQs and showing off their impallas. We were in the ghetto now.
i got to the kids house and im pretty sure he was the only white family in the neigborhood, i test drove the bike and everything seemed good, it looked like it had been down but i was too tired of waiting to get a bike and the $2k pricetag was exactly what i wanted to spend. i drove it home and was as happy as could be. i knew down the road it would need some work and i planned on pulling it apart when wintertime rolled around but ofcourse i would not be that lucky.
here is how she looked the day i got her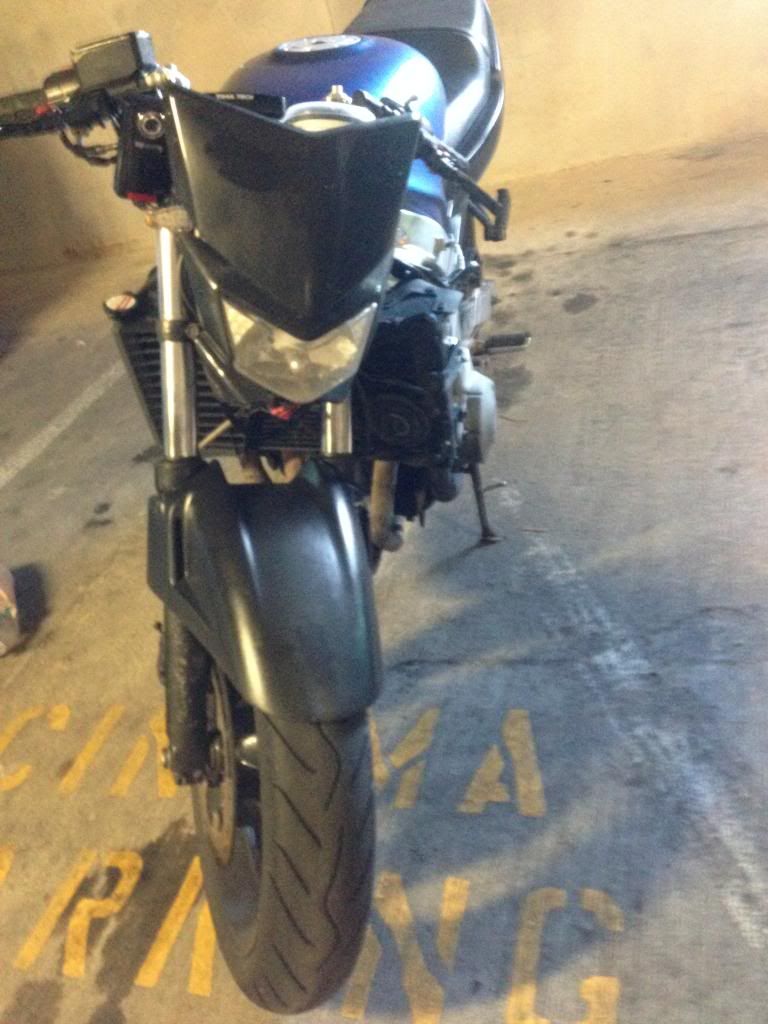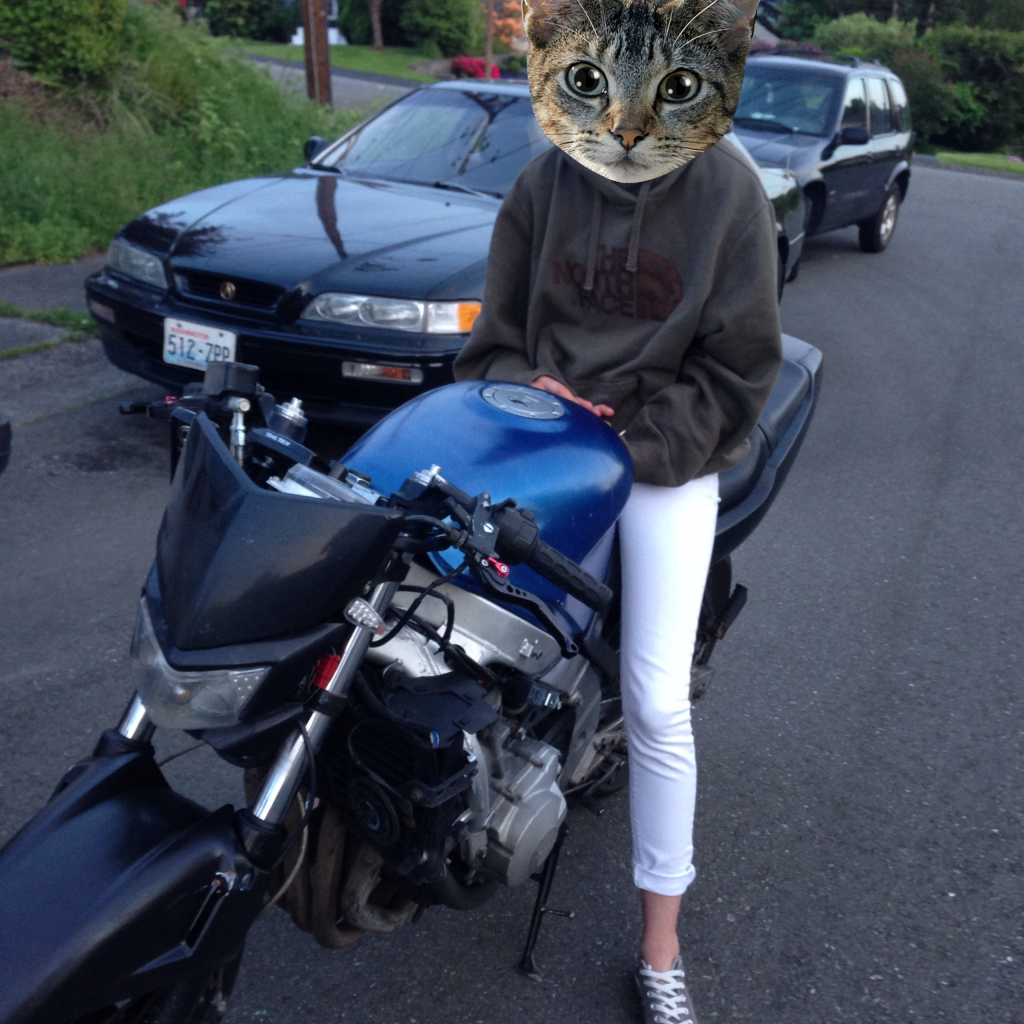 My girlfriend would kill me if i posted this derpy photo of her
My plans were to replace the fugly streetfighter mask with a 7" round and eventually paint her in the winter so i found myself a light for $25 from someone on this forum. While waiting for it to arrive, the bike decided to die on me, luckily only two miles from my house. the culprit was rust in the gastank, when my gas got low enough to need reserve it must have sucked in a chunk and stopped one of the cylinders from getting fuel. So I removed the seat and tank, and of course got carried away and took off the headlight and a lot of the wiring. When I got down to the airbox and carbs i ran in to a new problem. First, the slot where the throttle cable hooks in to the carbs was cracked and it was glues in with some type of epoxy, after taking the carbs all the way off i saw one of the gaskets was replaced with some shitty gel diy epoxy instead of the correct one. i soon found out that he did this beacuse the far left carb was cracked and repaired with the same expoxy :wtf: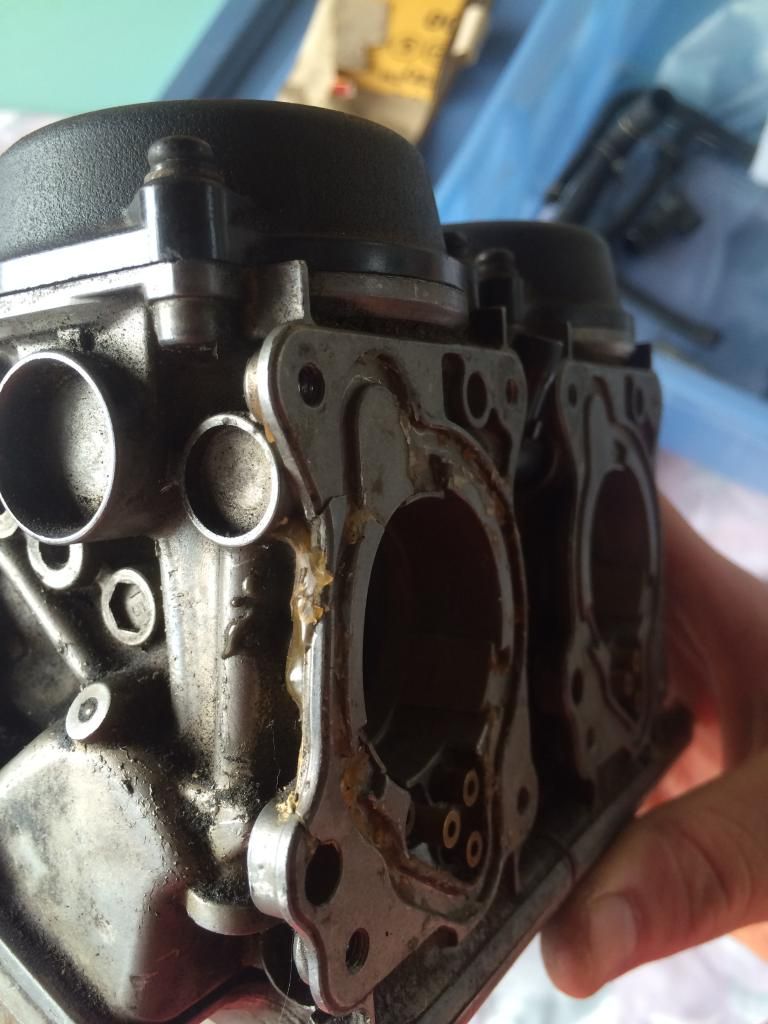 At this point the bike was in a million pieces in my mom's garage so I said screw it and went down to lowes and came back with $50 worth of sandpaper, primer, primer, matte black ,dark grey and high heat rustolium. After lots of masking and taping later, I ended up with a decent enough paintjob. This winter I plan on pulling the engine for real and getting the frame powdercoated and the tank professionally done but this would keep me satisfied for now.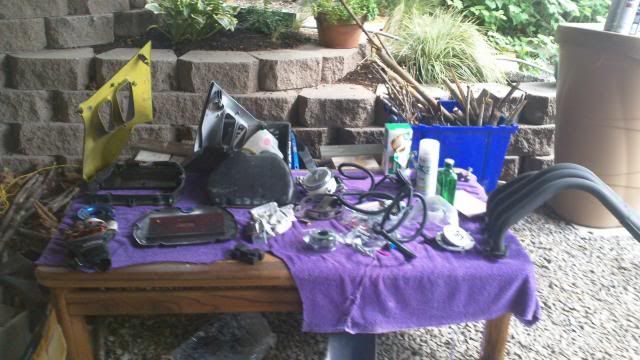 I got my headlight in the mail and after a long time of fighting to get the HID bulb out of the streetfighter mask (it was also epoxied in the same way, imagine that :CK187
I put it in to my new 7" and got the electrical back together. I ended up removing the stock battery box because it just seemed useless and way bigger than it needed to be, in hindsight it would probably look cleaner with it, ohwell.
So I tracked down a new full set of carbs for $65 on craigslist and after a 3 hour round trip I was back home fighting the carbs to attach to my bike.
After reassembling everything I pray for everything to start up but I know it never works like that. I was close to catching but the battery kept dying so I hooked it up to my old battery tender and tried it every half hour or so until we finally got it. At this point for some reason the petcock shit out on me but luckily the previous owner gave me a whole spare tank so I just took the one off of it. When filling the tank with gas for the first time I tried as hard as I could to not drip any gas on it but I ended up getting one or two. I immediately grabbed a rag and wiped it off but no luck, rustolium clearcoat sucks ass and left me with a huge smear on the tank I had spent the last week painting. I resanded it and painted it again but this time I used duricoat engine enamel which is supposed to resist gas and oil but I have yet to test it out.
some photos mid build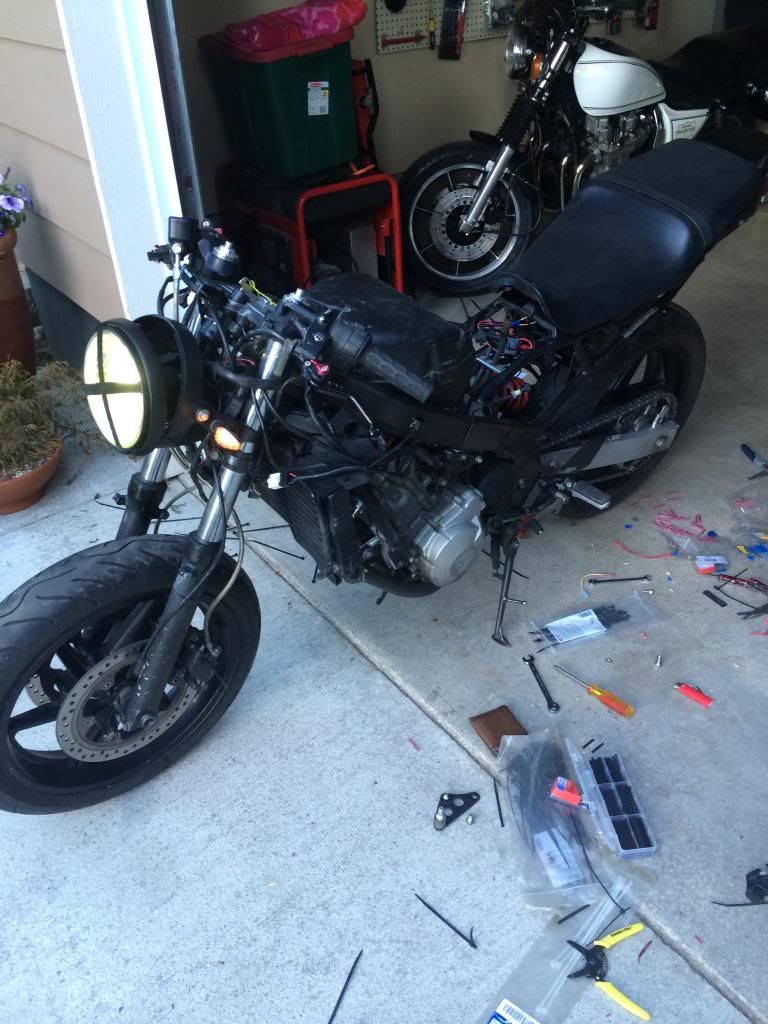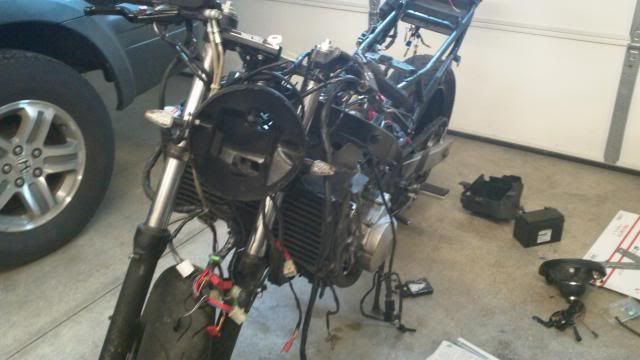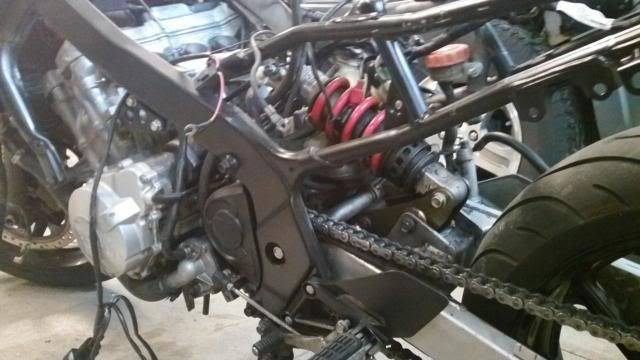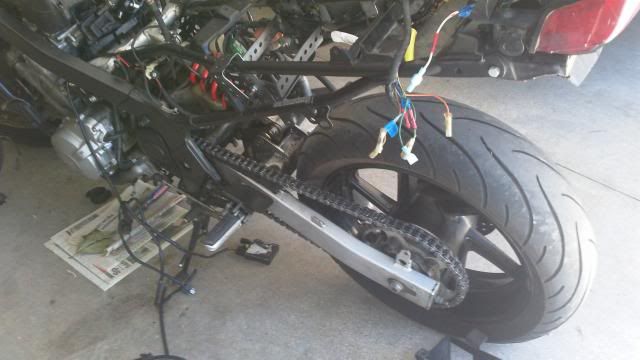 at this point I have everything back together except the key decided to get stuck in the gascap so that's at the locksmiths right now, once I get that back I will hopefully be back on the road in a couple days.
here is the finished product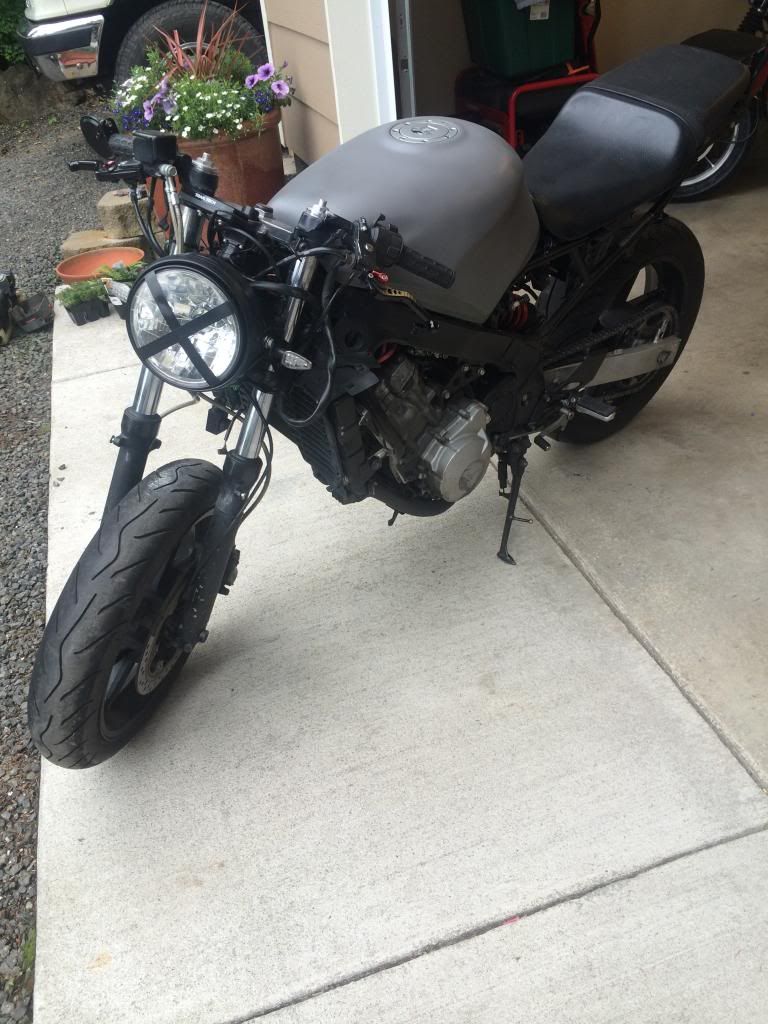 a couple questions, what is this thing attached to the airbox and how important is it? on both the sets of carbs it is stained orange and falls apart in my fingers.
and how are the throttle cables supposed to be routed to the carbs? i originaly had the top one over the bar and the bottom under the bar but it make getting the airbox on much more difficult and i attributed it to why my throttle would stick so i ran them both under and now it seems like it is at an unnatural angle and the throttle sticks anyways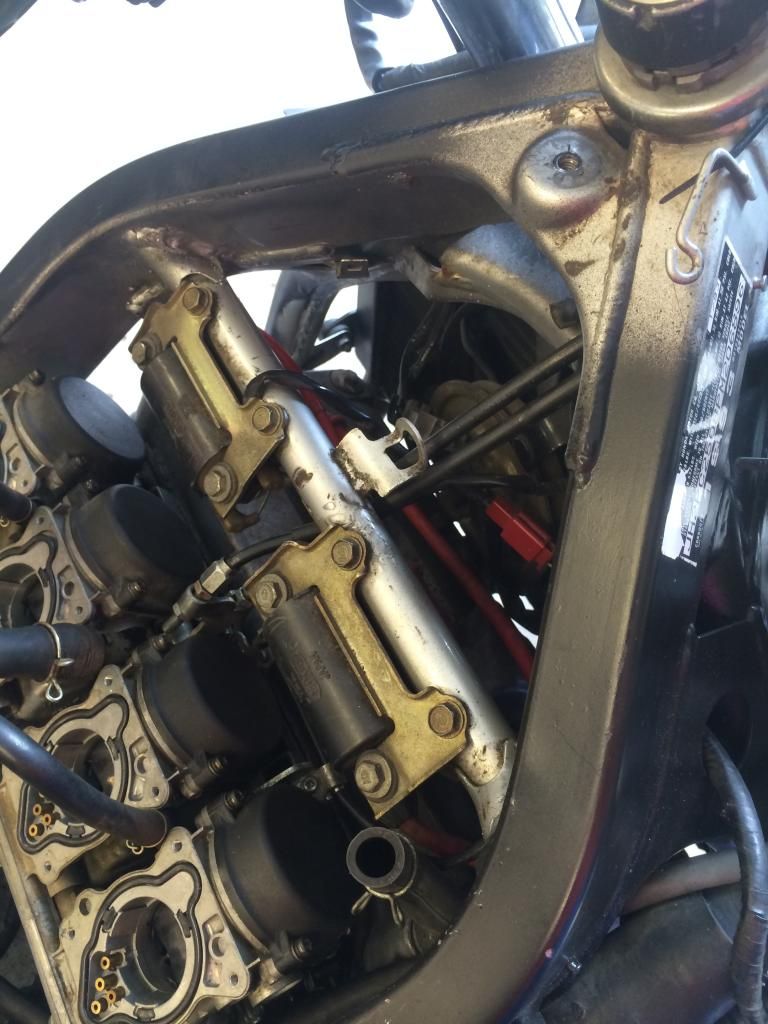 still to do:
recalibrate speedometer
fix throttle
get a new gas cap
remount licenceplate
wire tuck better
hook up trailtech to work as a tach also
micro battery when i get some spare money
and im praying that is it before winter when i can pull it apart and get the engine and get it painted along with the frame and swingarm and maybe replace the screwed up throttle cables
:smiliebiker:
things i have learned, a $2000 bike is not worth it if it needs $1000 in parts and a month worth of labor