Discussion Starter
·
#1
·
here are some pics of my bike. i saw that other ex500 thread so i figured id post mine up too
(i also saw it on the ex500 forum too)
it is a 1993 EX500A. bought it for 600 bucks. didnt run. one of the floats was leaky too. a new set of carbs and a little wrench turning and it runs like a top. it caught on fire before i owned it. two owners ago left a battery charger on. battery caught on fire. dude i bought it from put a new seat on, and redid the wiring harness. said he rode it for about a year, and then it sat for about another year. and thats when i came in
here is a pic of the day i bought it:
i painted it flat black with truck bedliner. 7.99 a can at walmart. the stuff is pretty tough. ive spilled gas on it and dropped wrenches on it and it still looks as good as the day i painted it. if it ever does get bad, ive still got about half a spraycan left for touch up.
here it is now:
still had the stock bars on in this pic:
and in this one too... you can see how i mounted the headlight. i have since moved it back one space and put turn signals in the front holes.
acewell gauge and CRG hindsight mirror: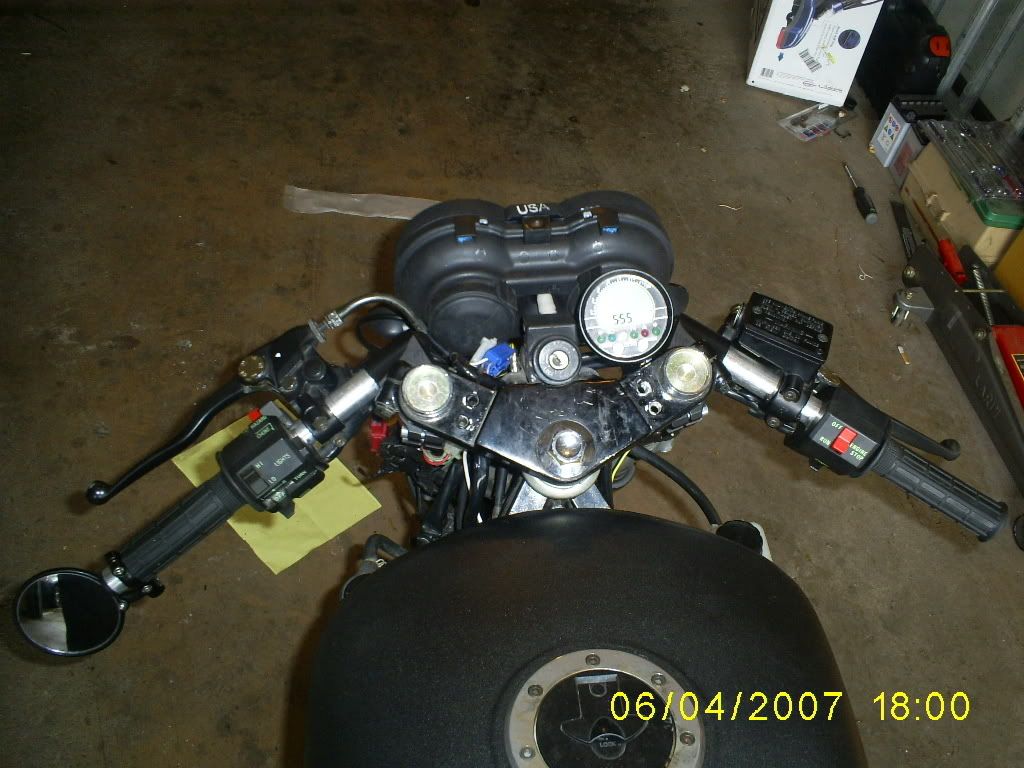 i want to do SOMETHING with the rear end, but am not sure what yet... maybe get a solo seat/race tail? the side covers are held on with duct tape. also i have a nice roll of header tape to cover up my nasty exhaust pipes... just gotta put it on...
i also want to start hiding wires and stuff like that. that will probably be my winter project, as well as just touching up stuff. i kind of put it together in a hurry because i was so anxious to GET OUT AND RIDE!!!
im going to have to get a new tank soon too. this one has recently developed a small fuel leak. i patched it with some JB weld, but it started leaking again. not cool.
parts:
buell headlight
woodcraft clipons
vance and hines exhaust
spraypainted w/ duplicolor truck bedliner
acewell gauge
CRG hindsight mirror
galfer SS front brake line
duct tape
electrical tape
zip ties
:cfrocks: