Discussion Starter
·
#1
·
ok hopefully this makes some sense but it probably wont.
i have an 83 suzuki gs750E which is a steel cradle style frame (i think its called). it was involved in a flood a few years back and has just sat since and then it ended up belonging to me. it has a clear title but is pretty much just a frame and title for me.
picture pre flood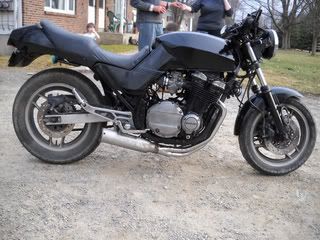 i may be aquiring an 03 gsxr 750 that has a salvage title. runs and rides just fine but cant register it so i got to thinking. how hard would it be to make that gs frame take the newer twin spar style motor? i am guessing it would be similar to the zking in terms of what i would have to do to get it to mount up. yeah? this would also involve a newer inverted front end and a newer rear end with a 200 size tire. any input?