Discussion Starter
·
#1
·
Thought I'd finally post this up because I just got another large piece of the puzzle today. It's going to be a fairly slow build because of the mass amount of time I spend at work, in class, large amount of homework and an online class.
Picked this 1989 FZR 600 roller with title from Craig (CK 187) for dirt cheap and have been trying to come up with good project for it. Has pretty much all the FZR parts that I need for this build, plus some. Already started selling some of the parts I don't need to help keep the cost down. A few parts I don't have I am picking up from Chris (LRC131) from his FZR build over the winter.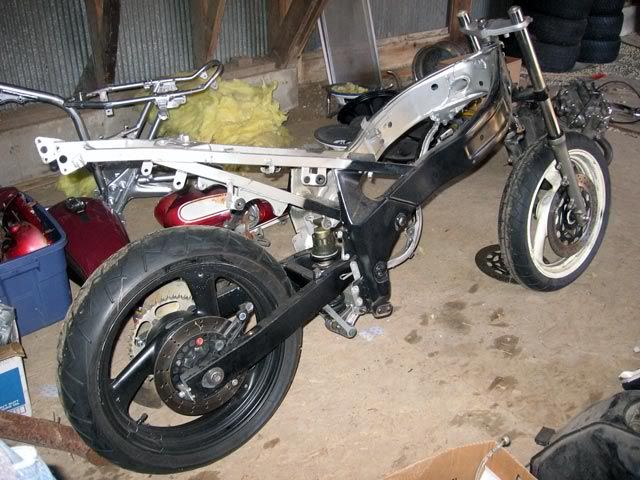 After a bit of searching, I decided on which engine I would really like to put in the frame. I decided on a XS650 engine. Those have always been one of my favorite classic engine and have always wanted to use one in a build. Plus, they are just great looking engines.
I spent a lot of time on Craigslist, forums, ebay....... to try to find an engine for a decent price, but no luck. On a whim, I decided to ask my buddy Jack if happened to have one or knew anyone who had one. That's how I came across this.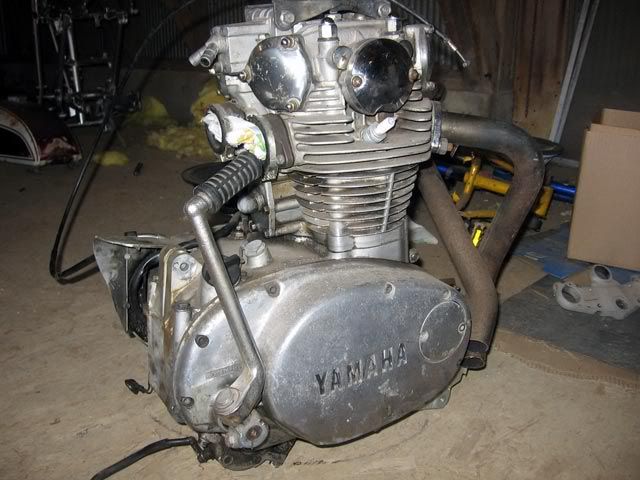 It's a 1977 XS650. Jack said I now have about 80-85% of the complete bike in my possession. Should be everything I need from a XS for this build. He just dropped off the engine and this heap of XS parts this morning.
After a few conversations with Jack, and some research, I found out that this happens to be the engine that Ben (Ratfighter) had in his XS Interceptor hybrid. Guess this engine is lucky and will be going into a second hybrid bike in it's life. I started talking to Ben about the engine, and how much of a beast it really is. Ben suspects that this engine has some work done to is, but doesn't know for sure. I'm going to start tearing it down fairly soon to clean it up and replace seals and gaskets, so I should know what is done to it pretty soon.
Another pleasant surprise that came with the bike. A set of bigger Mikuni carbs that have been modded and tuned for this engine. Ben said that when he got these carbs tuned correctly, this bike pulled like a train. Can't wait to get it going.
Sound like a fun build anyone?:rock: