Discussion Starter
·
#1
·
Bobber or rat/brat bobber…
I don't know anymore and who cares really, either way it's started.
Another between ol mate and myself, he does the foundation work and I put it back together painted & polished.
I do have to mention though where flogging the bike off when its finished, so it's being done around Australian modification regulations more specific Queensland. Turning it into a rigid needs to be done a certain way otherwise it becomes a lot more expensive to rego (engineering certificates) so the hands are tied when it comes to how far we can chop it…Cant alter original suspension mounts basically. So with regulations in mind off we went, grinder in one hand beer in another.
Its a 1986 Suzuki GN250 and I know why bother hey, it's a shit looking bike that no one wants, myself included….it was free and a good runner (only positive aspect about the bike).
See no one wants it, which means now it needs to be turned into something that people want otherwise where stuck with the fricken thing and I aren't riding it like it is….I do have some morals.
Anyhoo, like usual in pieces sandblasted primed and ready to rock n roll (ol mate), a lots done so it shouldn't be a long and drawn out build (unlike the others)….I hope.
This is what it looks like unmolested courtesy of the net...damn they look shit.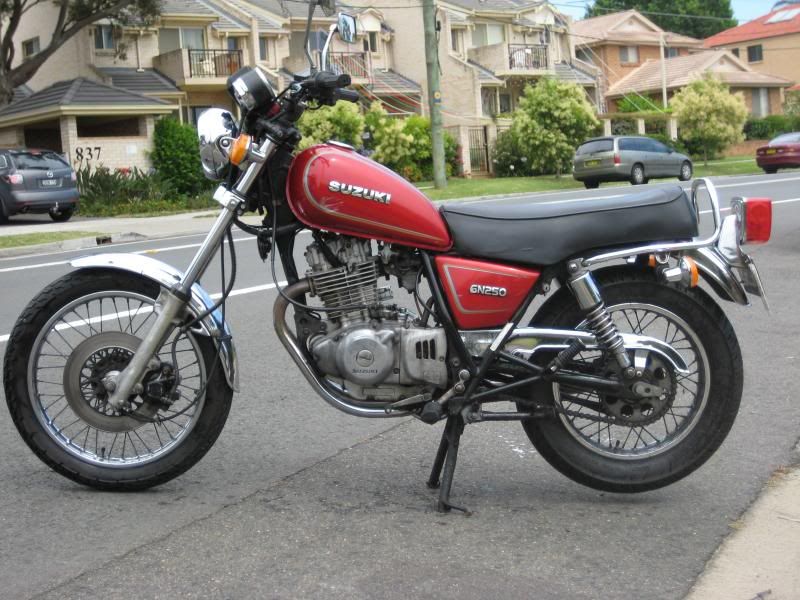 this is how I get it in all its glory, pretty sure there is some more pieces somewhere like the motor.