Discussion Starter
·
#1
·
So here are two photos i found of my x1. Its a 2000 limited edition #137.This first pic is when i first got it. Since then some things have happened.
This second pic is close to what it looks like now, except i dont have the lower chin faring or the front wheel fender. some things that you dont see are:
-Proseries race headers(jet hot coated in high luster silver)
-D&D race can(very loud)
-Ditched fuel injection and converted to carb(let me know if you have an x1 and want to do this also. WAS DEFINETLY WORTH IT)
-Crane HI4E Ignition.
-I polished my own parts
-Force Winder Intake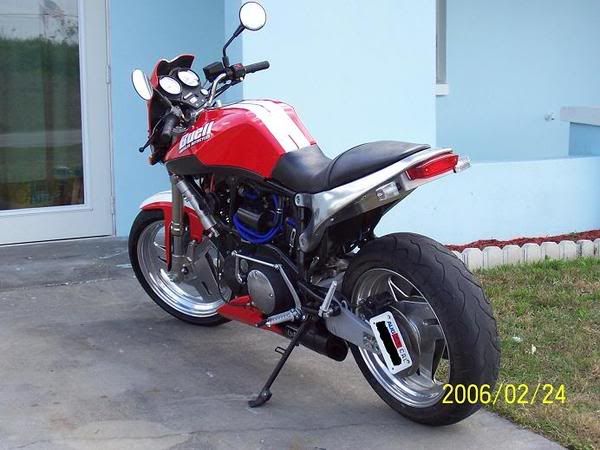 I waiting on my bars to come in so i can switch them out. I bought a pair of moose comps for 12 buc on ebay. I also plan to kick the ass up 2-3 inches(maybe more), make a seat cowl and a whole new seat along with it. I plan to keep the solid alum subframe thats on it now but i got a brake light from a suzuki sv1000 that i want to install. If i cant get the light to look right then ill get rid of the subframe and fab up my own. I have not decided on the color yet. ive played with many ideas. One was to go flat black but anodize red some things and powder coat the rims red. I could also go flat black, keep the rims bare alum and anodize like my rocker covers and controls. ethier way im aiming towards black red.