Discussion Starter
·
#1
·
And R, of course, is for RedEye! Don't worry, the title will be explained in due time
I'm finally just about ready to start doing some work on my '89 CBR 600 F1. This is going to be a very long torturous build, requiring me to acquire skills I don't yet have (like fiberglassing), and relearn skills I haven't used in forever (like welding and painting). So with a long road ahead of us, I'll start with a bit of an intro so you'll know what this build is all about. And just to let you know, I'm going to be picture-whoring my ass off. And writing LOTS of rambling (but for the most part grammatically acceptable) shit along with it.
First, here's what the bike would've looked like fresh from the showroom. Mmmmmmmm, plasticky
And here's what the poor old thing looked like when I got it, 20 years and 50,000 km later: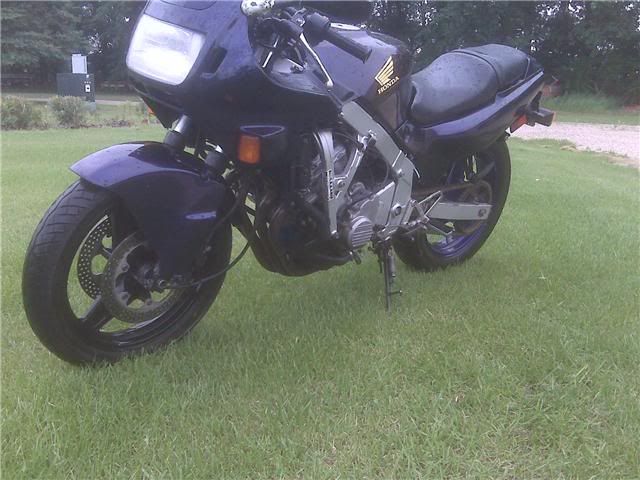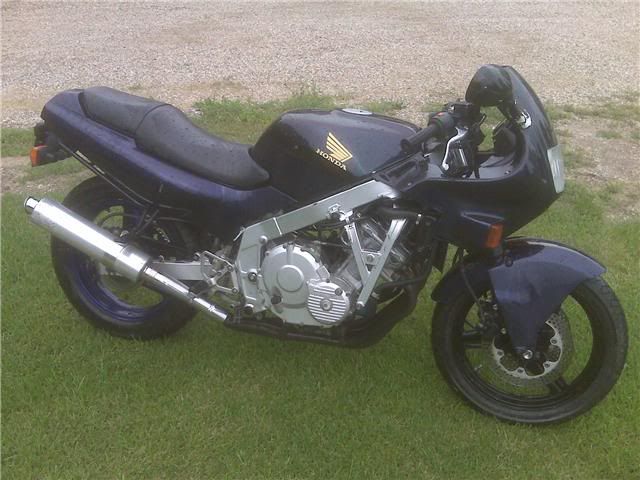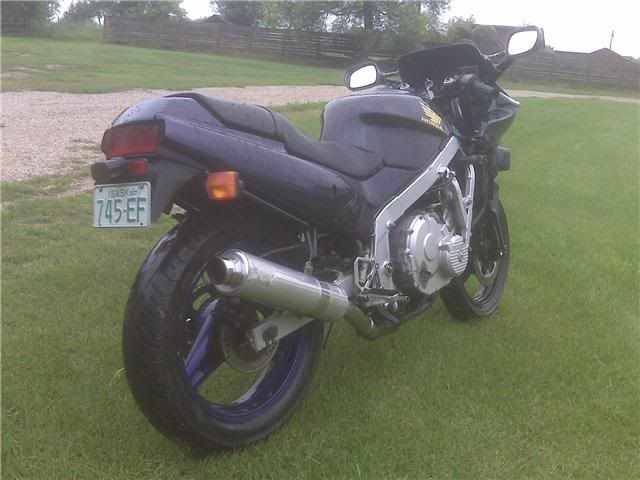 Now then, with a few pics thrown out to appease the clamoring hordes, here's a bit about me and my intentions for the build. First, I'm a noob to streetbikes. I grew up working in the family Honda dealership and pretty much lived on dirtbikes and trikes until I was 16, but at that point my interests turned to cars. They were just so much more practical for loading up half a dozen friends and booze cruising to neighboring towns :shocker: Also, by the time I got my license we weren't selling streetbikes anymore; there just wasn't a market for them in a rural area. But I sure gave my old man a hard time when he wouldn't order in a Hurricane so I could drool over it in the showroom. I didn't get back into bikes until last summer when my gf got a ZZR250 to commute to work with -- because she works in a scuzzhole and won't leave her Harley parked there out of her sight. That's right -- Harley!
RUH RUH RUH RUH! ****!!
:LolLolLolLol:
But anyway, with 2 bikes around I had to get my license so we could go riding together. Somehow I'd forgotten how much I loved riding; I was addicted all over again and after a few weeks I decided to get my own bike. And what else to get but the one I'd lusted after all those years ago? Of course, since I'm saving money for school and hadn't budgeted for a bike, I had to get a beater. Hence, the purple eyesore you see above.

I'm also an old fart compared to a lot of guys here -- I'll be 40 in 3 months -- and I have some very non-streetfighterish (or at least, old-fartish) attitudes. I don't much care for flat black. I hate loud exhausts, I find them tacky and irritating.
RUH RUH RUH RUH!
I don't hate fairings as a matter of principle like so many here; I like some protection from the frigid arctic blast I ride through. Even in July the temperature was often in the single digits early in the morning when I leave for work. I freely admit I'm a big pussy, but I hate being cold and god damn it, after 40 years in Saskatchewan I've paid my fucking dues in that respect

But what I DO like is the talent, craftsmanship, and ingenuity I see on this forum every day, the "built not bought" philosophy, and the close-knit supportive community which is like no other on the internet. So if you can forgive a discreet exhaust, a modest amount of fairing here and there, and
HUGE FUCKING GOBS OF METALLIC CANDY PAINT
, then read on. :thumbsup:
But not right now. Even my weapons-grade insomnia has given up for the night.