·
always a work in progress
Discussion Starter
·
#1
·
I finally decided to make my build thread. I bought this bike completely stock in '09. In 2011, I bought another identical 954, only it had a better top fairing. I was going to swap fairings with it on my bike - and while I had the fairings off getting ready to swap them - I took a ride around the block with no fairings. I loved it, and decided I was never putting fairings back on.
Before I took my bike apart last year, it looked like this.
I have a Buell to ride in the mean time - So I'm going to take my time with the build now and it'll be a slow process, hopefully done by the end of this year. Now, its been in various stages from this :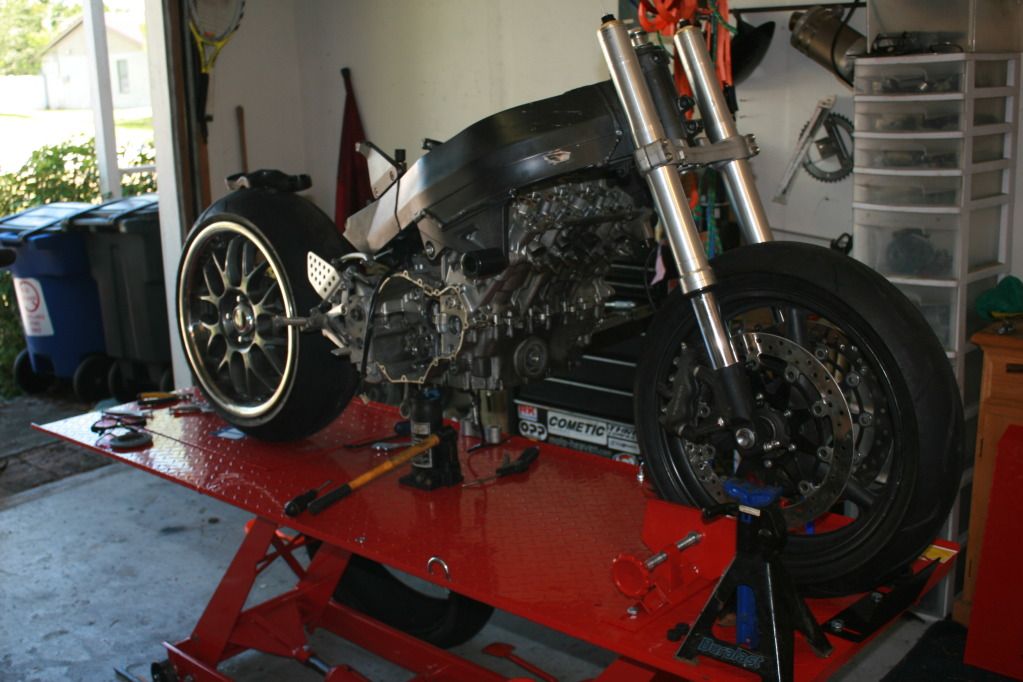 and a pile of parts in the corner. I've moved since I've decided to break it down.
So far:
I've built the motor out to 980cc:
13.5:1 Weisco
Webcam Regrind cams: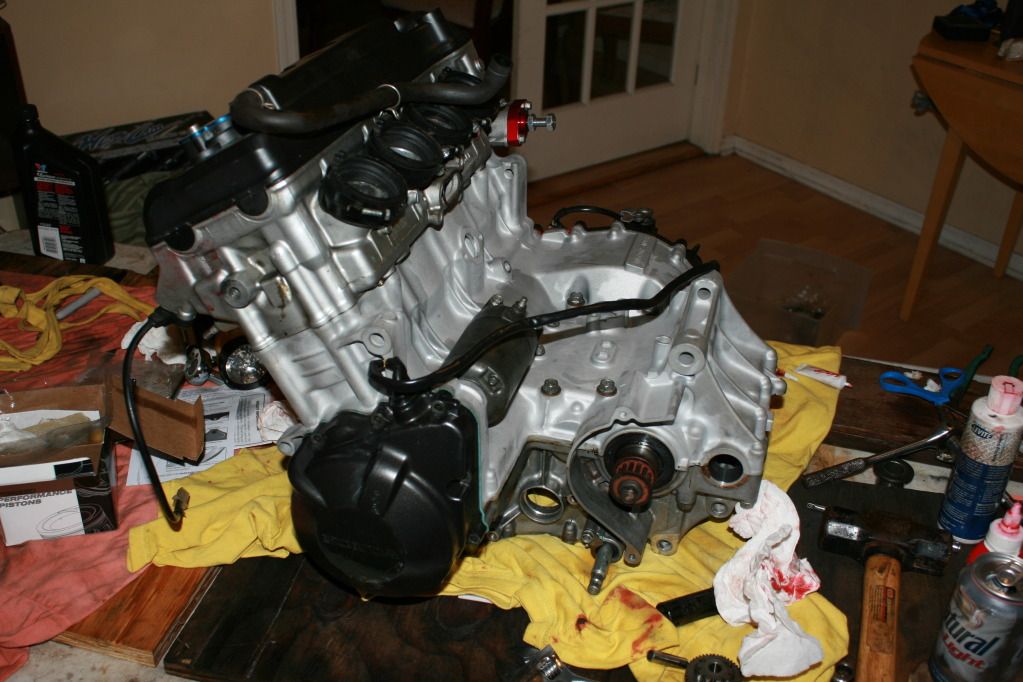 These aren't all the pics from the motor build. You can see it on CBRF if you're really curious. I'm currently building a head that's ported with tighter springs so that I can run 1000rr electronics and spin the bike up to 13.5 rpms. I have to modify the head so that I can fit a Hall type cam pulse sensor that the 08 1000rr uses. I found one from a Ducati that almost fits. I've used Haybusa TB boots to fit the newer 1000rr throttle bodies.
And I've modified the airbox for the 1000rr to fit inside the 954 frame.
I also have Hindle headers to make a custom exhaust with that will be a simple under belly exhaust. I want to use a delkelvic end can for it.
As far as the front end goes:
Diamond Back Designs has made a really nice set of triple trees for me. They are sweet. I'm going to try to put '12 CBR 1000rr BPF in them and use a zx 14 rim (to match the rear wheel) with hopefully some brembo monoblocs (just OEM gixxer ones) with a brembo M/C off of an R1. Right now, I have EXP bars - but I may switch to a drag bar depending on how I like everything when it gets together.
I also have to build a gas tank sort of like the 600rr/1000rr or R1 because the air box with the dual injection is so tall that the oem 954 tank doesn't fit anywhere near the way it should. Plus I'd like to build an airbox cover with gauges frenched into them.
And I'll have to build a subframe that can support my weight only and I'll be doing a different tail. I've already changed my mind 10 times on the tail (rc8 to 600rr to bobber to mini bike to a gemo type etc), and the subframe, so I'm going to wait until the bike is about to be done to decide which way I'm going.
I've also started to shave the various tabs off of the SSSA. It along with the frame, engine mount, dog bones, triangle (that I still have to make), subframe, brake mount, etc will all be powder coated black. The tank and tail will be painted "titanium" as Honda calls it. I love the color and I think it'll be cool to have the same OEM paint on a bike that's going to be completely unrecognizable.
I'll be posting and looking for feedback here in a little while. I have to sell a 600rr that I've been working on - and then that should free up some money.
I'll be trying to figure out the ECU and electronics first, and then I'll be working on the tank/air box cover. I don't really feel comfortable mounting a tank mount to the frame side tubes, so I think the back of the gas tank will be supported on the subframe, and then the front will be supported by brackets that fit around the airbox and onto the brace under the air box. Then the airbox cover will mount to the front of the tank (back of air box cover) and the front will mount to where the stock 954 tank mounts. Does that sound like a good idea to you guys? Something similar to this is what I'm trying to explain