Discussion Starter
·
#1
·
I'm having trouble getting my high beam to work on my 93 CBR f2 (formerly a H4 bulb). My set up is dual h3 headlights, one is aimed low for low beam and the other is aimed out far for high beam. The low beam works fine but when I turn on the high beam the low goes out (like it should) but the high beam does not come on. The ground wire for the low beam becomes very hot.
The first pic is the stock plug, the second is how i set it up on my bike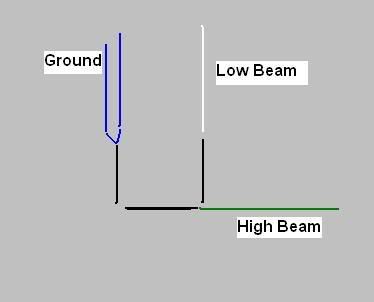 These drawings are crude but give the general idea of what my setup is now.
I would also like to have both lights on for high beam. I was thinking i could bypass the switch for low beam, would that be okay? Thanks