Discussion Starter
·
#1
·
Hey all, got a few questions pertaining to my little project I just picked up.
First off the bike is a 1978 Kawasaki KE100 Enduro, but as soon as I saw it, I only saw a Cafe bike and not an Enduro.. So I've decided, depending on how easy it will be to obtain a title (I live in Michigan), that I will turn this little bad boy into the Cafe bike I've always wanted to cruise the streets with.
Ugly, isn't it? Believe it or not, this little 2-stroke pulls and runs hard. The guy I got it from said it did, I didn't believe it thinking he was just old and didn't know the power of the newer toys today, but as he, I too underestimated the bike. So fortunately, I don't have to do a thing mechanically to it!
After work last night I got right to it. Took off the fenders, threw away the busted one and kept the good ones and prepped them for paint. I'm not sure what I want to do with the front fender yet. Part of me wants to keep it, but if I do, I'm going to chop it down and lower it right down on the front tire. I cleaned up and polished the wheels, which they turned out GREAT. Cleaned up the engine and it's covers, cleaned the carb out, tore the air filter out, cleaned the box and threw away the old filter wrap... I also ripped the exhaust off to clean it and make sure it's clear. Main goal is to get an all new exhaust made up so it goes under the foot pegs instead of over top, maybe even run duels?... the usual stuff.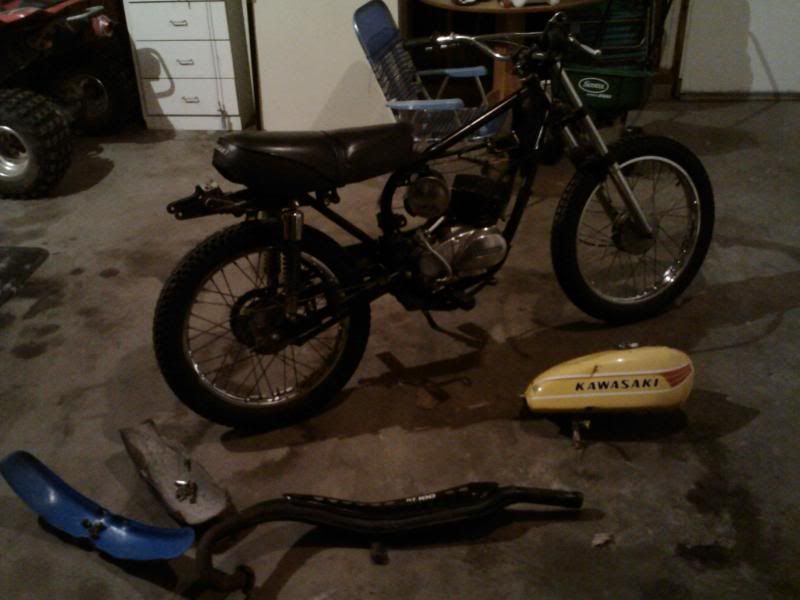 Now, my original plans were going to be to paint the entire bike black, fenders, tank, everything. Paint the wheels white and throw a nice white stripe down the gas tank and call it finished. But now with the shiny, like new wheels, I don't think I could paint them white. I also want to lower the bike, chop the handlebars and do a few other modifications... I'm still at the drawing board, sooo many options.
So onto my questions.
May sound silly, but if I buy any sort of "Cafe seat", will it just bolt right on to my frame with a little bit of modification, or do I need to search for a specific one? The first thing I want to do is slap the proper seat on this thing. It's a shame too, the factory seat is also mint. Oh well, it should sell quick on eBay! This is the seat I'm after, or something close to:
I want to lower this bike. I've never had a low bike and I kind of want to lower this thing as much as I can without modifying the frame. I've NEVER lowered a bike though, so how can I do this? Would it be like a car, could I just cut the springs in the back.. or is it not that simple? Maybe adjust the shocks themselves? Then to the front, how would I lower the front end?
I'm sure I'll have more questions as I come to them, but lowering the bike and getting the seat I'm after are really the two main things right now. The rest is all pretty cut and dry modifications.... or so I think lol
Thanks for the help,
Shane