Discussion Starter
·
#1
·
Started working at Indian Motorcycles of OC in Westminster, Ca. Where I was brought on to sell the new Piaggio line of bikes (Piaggio, Vespa, Moto Guzzi and Aprilia) since the other salesmen are American Cruiser guys and know very little about sport bikes. And since it's best I ride what I sell, a few weeks ago I picked up one of our 2016 Moto Guzzi v7II Stones as my first bike.
So now I finally get to post up a mod thread about my bike. Last night I ordered up a few parts that should be trickling in over the next couple of weeks.
Future mods include:
A set of Mistral Full Carbon Mufflers.
Racing Rear Sets to move the foot position back 3" and up 5/8".
Clear Headlight Bikini Fairing for a Breva 750 to mod to the v7 and paint black.
PC Bro's strut mount license plate bracket with vintage "STOP" light.
Pair of LED license plate bolts.
Pair of 12mm LED accent bolts for rear turn signals.
Clubman style handle bars.
Black bar end mirrors.
Ti Pazzo shorty adjustable levers
Mods to still to come:
Fab up a single cafe racer seat.
Ti or Black header wrap (will wait until I get the CF mufflers in before I decide).
MotoGadget bar end turn signals.
Headlight cage
USD forks with dual rotors (Buell would be ideal.)
Upraged rear shocks with external preload adjuster.
Big bore kit
Way Way down the line if I keep the bike:
Supercharger or dual turbos.
Pic from the day I took it out of the showroom.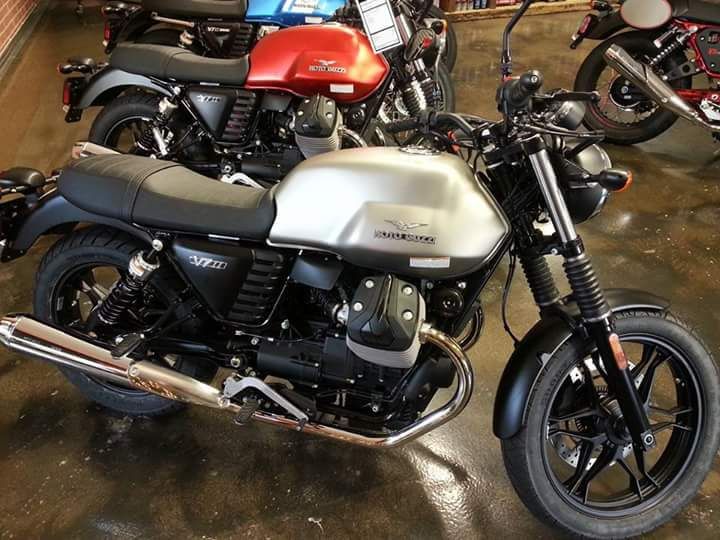 Got some goodies in yesterday (1/7/16)