Discussion Starter
·
#1
·
well i thought i better post some pics of my progress and what not
firstly what she looked like before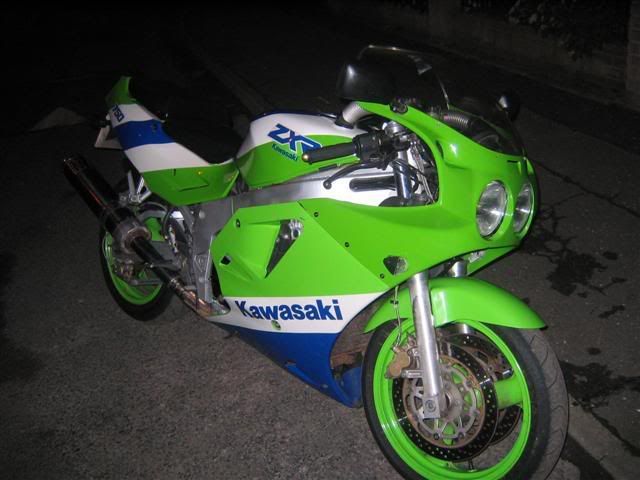 my first mission after stripping all the fairings off was clocks and a new headlight, both of which i got from germany for pritty good prices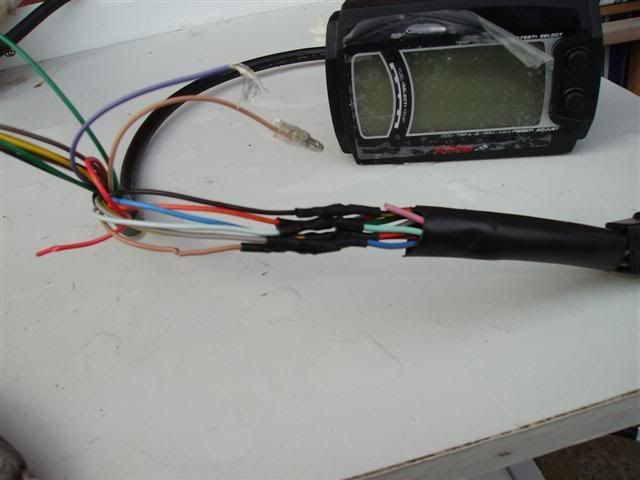 as you can see i just cut all the wires from the original and soldered them to the new clocks wires, so i could use the original plugs on the harness. cool aye
thats it mounted, it came with, a bracket to mount it to the bars, but since i had fitted risers and moto x type bars with the support, it really wasn't a viable option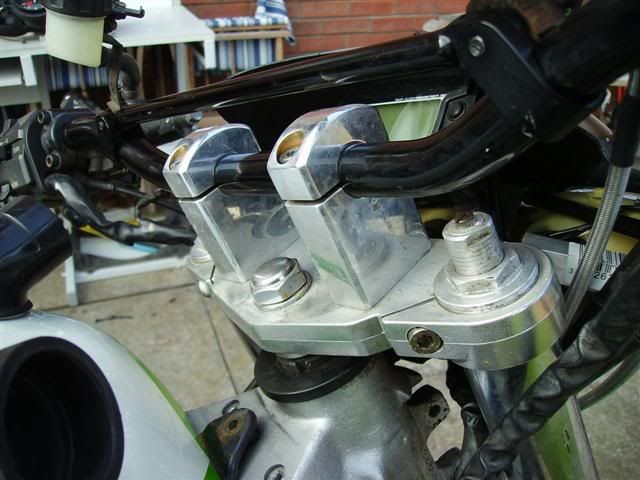 .
so i just made up some brackets from some aluminium i got from b&q
i did the same for the headlight used all the original wiring including the original bulbs and made some brackets again ali (amazing what you can do with a pair of pliers and a hacksaw )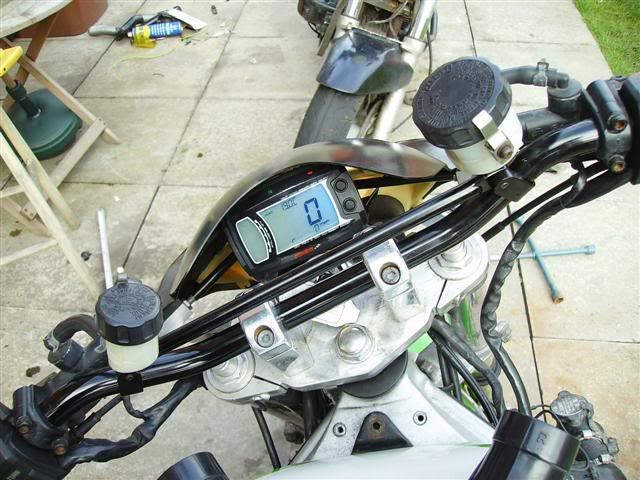 next issue was the thermostat housing, its seperate from the engine and radiator and was mounted to part of the fairing support
all i did was bought a bit of flexible rad hose and again got a bit of L shaped ali from b&q and made a little bracket up and bolted it to the side where there was an old fairing support hole in the frame and ended with this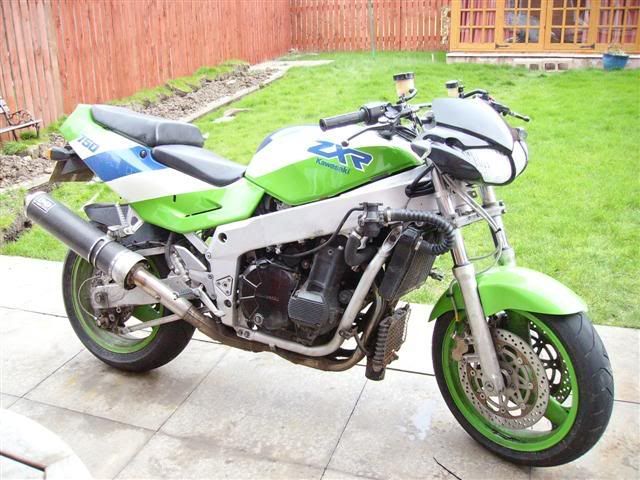 next on the cards was trying to find a tail that i like the look of and would go past the front of the seat to hide all the crap under the tank,
the best looking thing i could find was a speed triple tail unit, which again i got shipped over from germany for a very reasonable price
heres the bike with her naked bum showing,
i didnt want to alter the subframe this time, as i wanted to if need be, go back to the original bike, but i discovered that wasn't meant to be..... out came mr hacksaw again to do some trimming,
after the seat was made to fit and what not it was time to paint it and the mudguard and then deal with the huge exhaust,
this is the original bazooka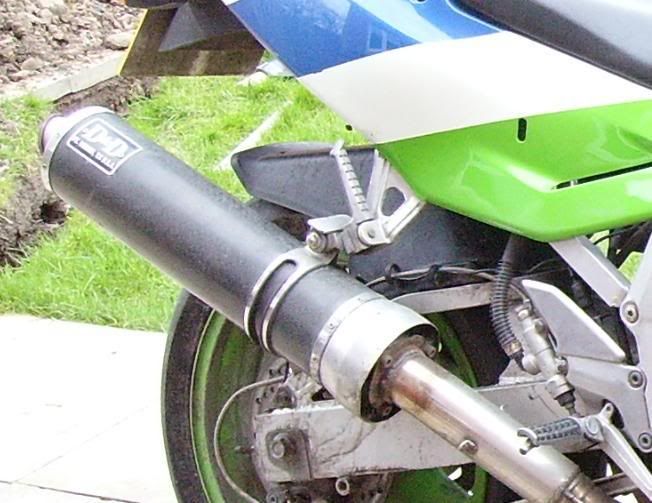 and with the use of a pop riviter and mr hacksaw again i ended up with a nice loud stubby can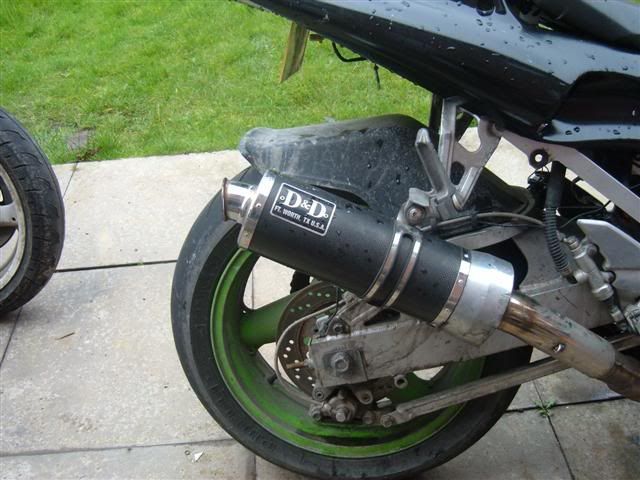 then all the plastics back on now that they were painted and dryed,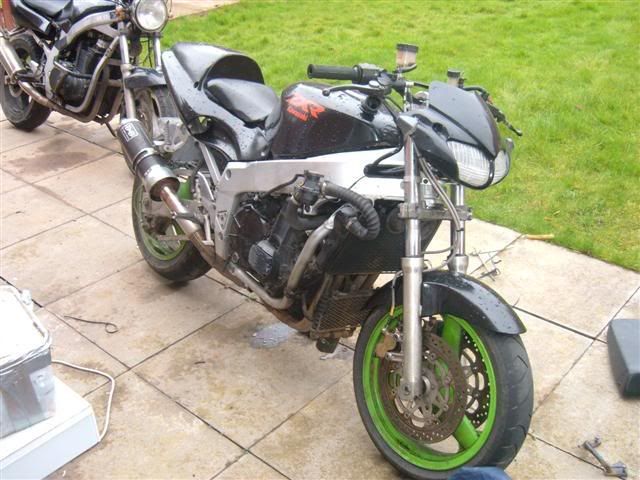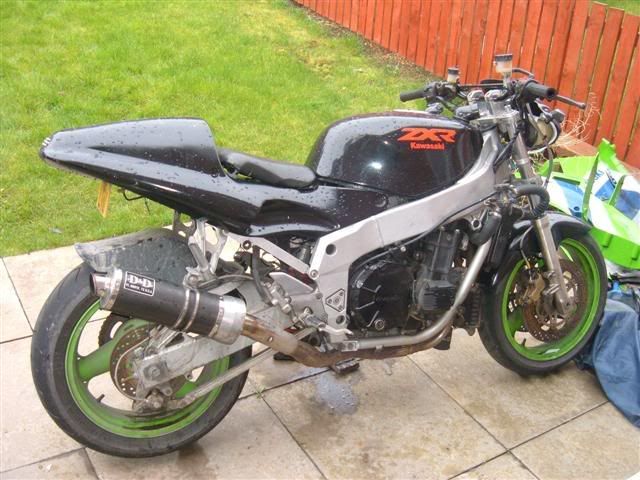 and thats how she stands at the moment.
i still have to do the wheels but ill wait till i need new tyres as ill need to get them powdercoated,
i did some leds for the tail light but i dint mount them perfectly (which im very pissed off at myself for) so i have got one coming from portugal on the way that i will use instead.
and i also have a small analogue rev counter to install, as the digital is fine for reading the temp and speed but i like to see a needle move when it comes to revs.
im fairly happy with the result, and its defently a whole lot more comfatable to ride with the bars being 6inchs higher than the clip on height, (although that meant buying new extended brake lines)
and thats all for now