Discussion Starter
·
#1
·
So I just picked up this $400 dollar beauty to basically just finish up and legal up.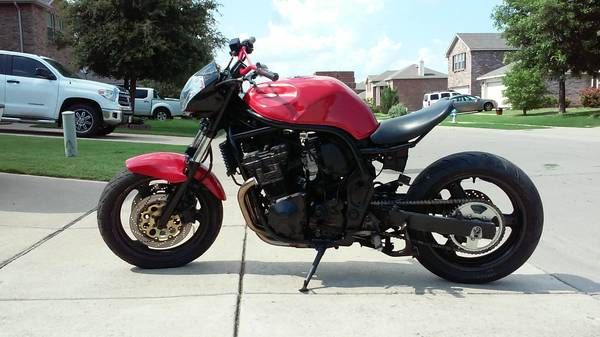 it WAS a 96' bandit 600, PO had plans to do a gsxr 1000 tail conversion, but decided not to, so now it just needs brackets for the seat basically.
This is my second, my current DD bike is an 07' ninja 250 that I bought with 1,800 miles on it, for only $200, (I know, score right?)
anyways, hope y'all like the bike, and hopefully I'll have her on the streets within a month or two.
*EDIT*
I forgot to add this in the beginning. but I'll say it now. I love the handlebars on this, coming from a motocross background, they look sweet buttttt, I have a problem. I love the look of the straight bar, and the, sport bike like low bars I see on some fighters, anyone know the best way to go, and which would be the most comfortable. I'm 5' 10" 140lbs btw. (sorry metric peeps, I have a hell of a time trying to convert)